Return to Previous Page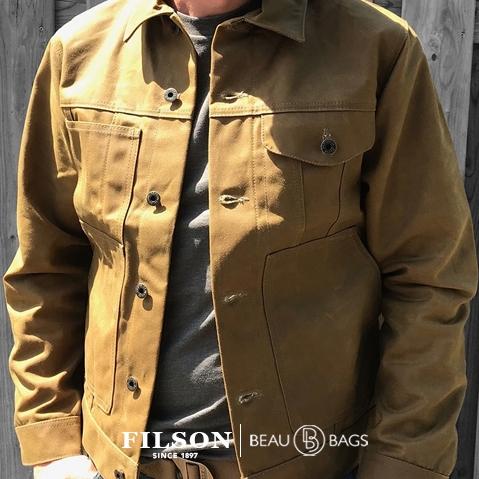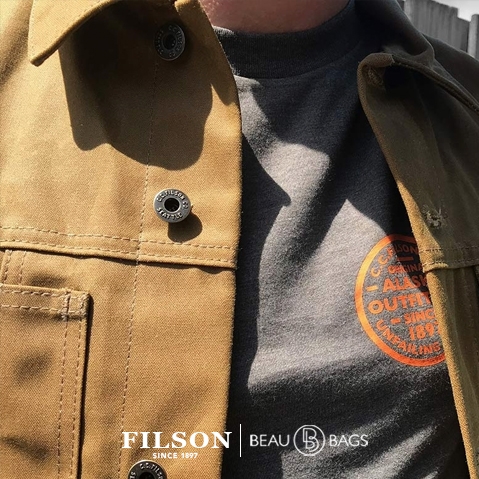 FILSON TIN CLOTH SHORT LINED CRUISER JACKET DARK TAN,

water-repellent

and

abrasion-resistant

work jacket, the best of the best.
The Filson Short Lined Cruiser is the ideal work jacket for cold, wet weather. Water-repellent, abrasion-resistant oil finish Tin Cloth repels wind, rain and snow while holding up through tough jobs.
The dry finish Cover Cloth lining adds light insulating warmth and durability, and synthetic-lined sleeves allow easy on and off. The hip-length hem eliminates excess fabric for snag-free wear. Button-adjustable cuffs and waist for a custom fit.
To ensure you have plenty space to stash essentials, Filson built the Cruiser with a left chest pocket with a button-down flap and two roomy hand pockets.
If you intend to use the Filson Short Lined Cruiser primarily as a wet-weather jacket, Filson recommends that you order one size larger than normal, as the Cruiser does not come preshrunk and may shrink with repeated soaking in the rain. If you're mostly going to wear the Cruiser in dry weather, just go with your normal size.
MADE IN THE USA, legendary and indestructible.
The Filson Short Lined Cruiser is made of the legendary super strong, lightweight, and oil impregnated 15-oz. 'Tin Cloth' canvas. This 'oil finish Tin Cloth' offers the greatest protection against weather influences and wear. Because the cloth is impregnated with a paraffin wax a wax layer creates a canvas that very water repellent and wind resistant. Also gives the a layer of wax this Filson jacket a slightly darker and more used look, fresh out of the package itself.
Brand
Filson
Color
Dark Tan
Size guide
Small: 37-39 / chest: 93-100 cm
Medium: 40-42 / chest: 100-110
Large: 43-45 / chest: 110-115
Extra Large: 46-48 / chest: 115-126
Material
15-oz. oil finish Tin Cloth + 6-oz. dry finish Cover Cloth lining
Features
>Metal shank button closure
>1 slotted utility pocket, 1 flap pocket, 2 handwarmer pockets
>Tab-adjustable cuffs
>Fully lined with durable dry finish Cover Cloth in the body and synthetic lining in the sleeves
>Made of abrasion-resistant, water-repellent oil finish Tin Cloth
>Hip-length hem provides comfort while seated
>Tab-adjustable waist for custom fit

Guarantee
Limited Lifetime warranty against material and workmanship defect
Product care
Do not wash or dry clean – brush or wipe clean with a damp rag. Rewax as needed to maintain maximum water resistance. To prevent the transfer of oils, we recommend avoiding prolonged contact between Filson oil finish goods and light-colored fabrics, espec
Made in
United States