Return to Previous Page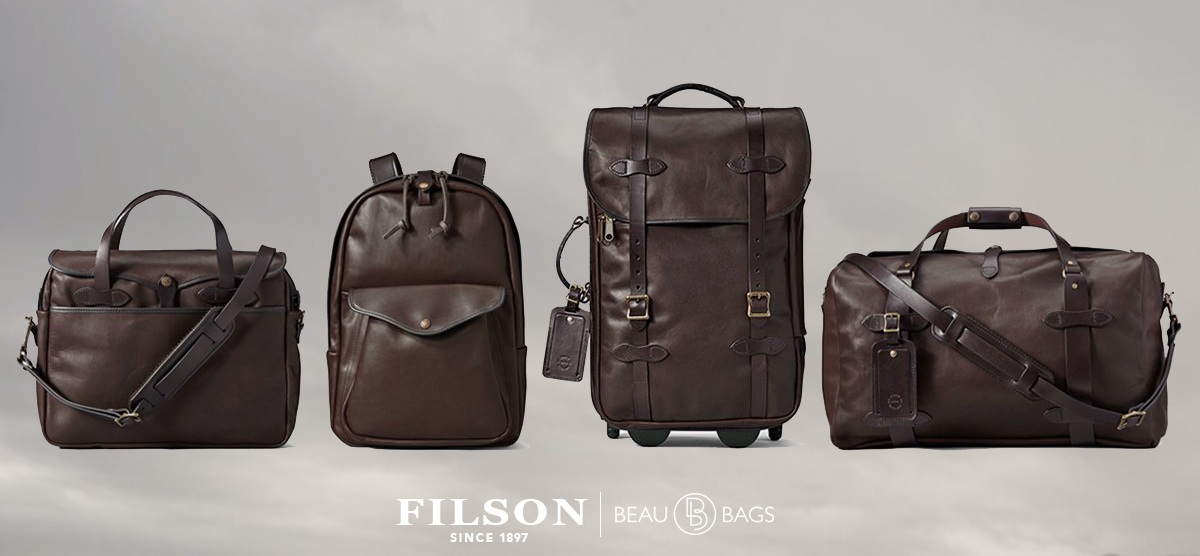 FILSON WEATHERPROOF LEATHER ROLLING CARRY-ON BAG-MEDIUM 11070439, a leather rolling carry-on bag guaranteed for life.
The Filson Weatherproof Leather Rolling Carry-On Bag Sierra Brown is Filson's new Weatherproof Rolling travelbag and made with a proprietary leather that's vegetable-tanned by Wickett & Craig, the 150-year-old Pennsylvania tannery that makes our Bridle Leather. Filson worked with this longtime partner to develop this special boot-grade leather that is weather- and salt water-resistant, then added solid brass hardware a so that this Rolling Carry-On is as tough as the boots on your feet.
VERY CONVENIENT TO USE, and stylishly finished.
Sized to fit into overhead compartments, this rolling suitcase features molded feet, a 20" retractable handle and heavy-duty wheels to keep up on long trips.
Go on tour with the Filson Weatherproof Rolling Carry-On Bag-Medium 11070398. This amazing suitcase is your perfect travel partner for the rest of your life.
MADE IN USA, legendary and indestructible.
Brand
Filson
UPC/Product code
706030388933
Color
Sierra Brown
Dimensions (WxHxD)
35,5x57x23 cm
Material
3.5-oz. Weatherproof Leather + Bridle Leather trim + 11.5-oz. dry finish Tin Cloth lining
Features
>Solid brass zipper closure custom cut at Filson with buckle-secure storm flap for added security
>1 full-width zipper pocket, 1 interior zipper pocket
>Fully lined in dry finish Tin Cloth, with removable Tin Cloth protective panel that can act as a modular interior divider
>Branded, solid brass hardware
>English Bridle Leather accents are tanned in the USA by 120-year-old tannery Wickett & Craig
>U-zipper opening allows full bag access
>Two English Bridle Leather handles for carrying and standing on end
>Molded feet keep the bag upright; heavy-duty wheels handle a variety of terrain

To use as
Rolling Carry-On, suitcase, travelbag
Theme
Travel in style
Guarantee
Limited Lifetime warranty against material and workmanship defect
Brand details
FILSON the AMERICAN EXPERIENCE | BUILT TO LAST.
Established in 1897, Filson is the leading outfitter and manufacturer of unfailing goods for outdoor enthusiasts. Built upon a reputation for reliability, Filson is a favorite among anglers and hunters, engineers and explorers, mariners and miners, and anyone who refuses to stay indoors.
FILSON | RUGGED QUALITY FOR OVER 100 YEARS
Headquartered in Seattle, Washington, and renowned for making products in the USA from fabrics such as heavyweight 22-oz. cotton oil finish Rugged Twill, Tin Cloth, and warm Mackinaw Wool, this company stands for the highest quality and most durable apparel and accessories available.
Made in
United States