Return to Previous Page
FILSON DRY BAG-SMALL FLAME
waterproof bag for use in all weather conditions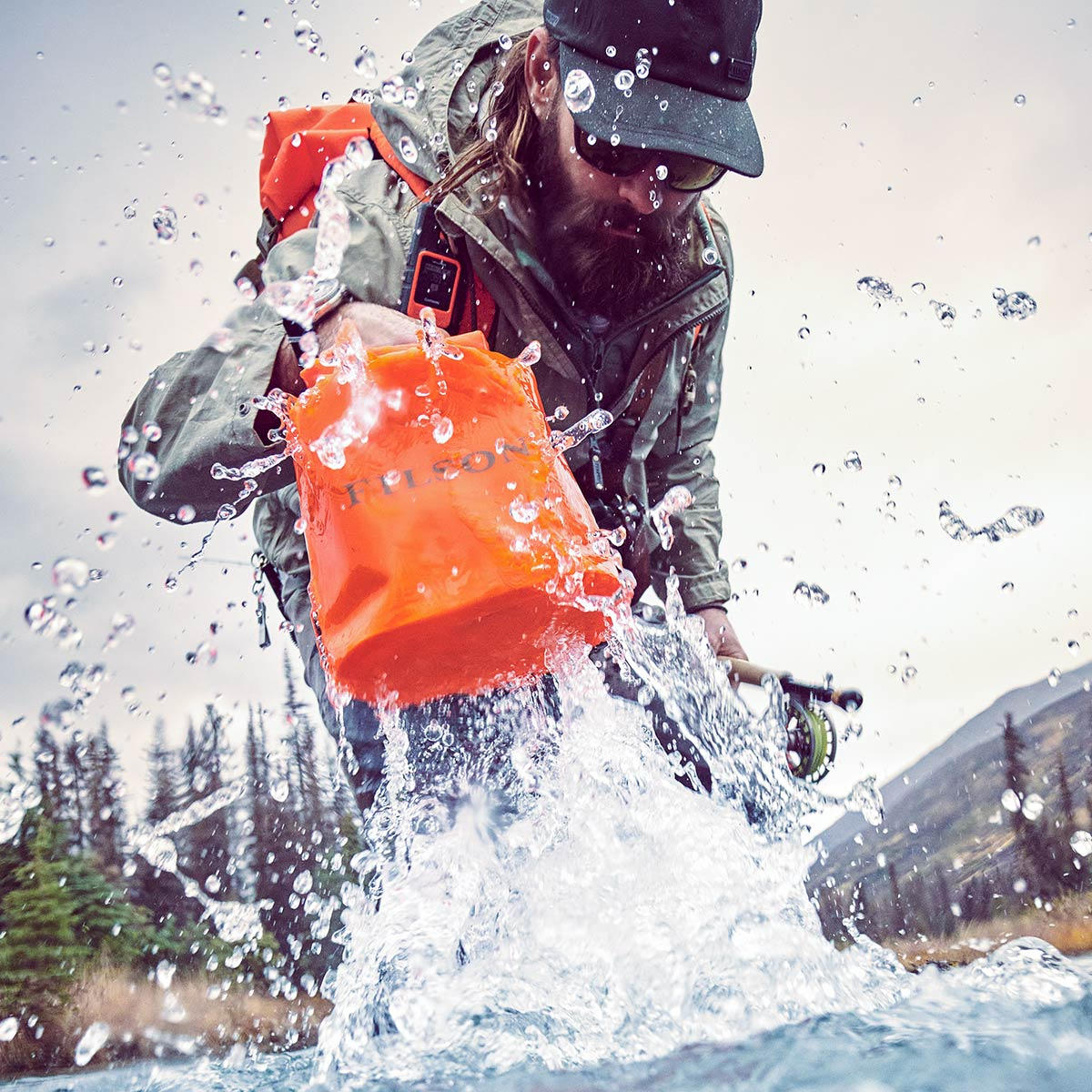 Wet, soaked equipment will ruin any adventure. That's why it's important to keep your gear dry, whether it's clothes, food or electronics. In the city, on the road or in the countryside, this Filson Dry Bag Small will never let you down.
This lightweight, waterproof, polyurethane-coated nylon roll-top Dry Bag with a capacity of 4.5 litres keeps your gear dry and protected, even when fully submerged.
This grab-and-go dry bag has a wide opening for easy loading and unloading of your gear and an oval base that keeps the bag upright and stable for packing. Featuring a roll-top buckle handle and welded seams that hold back sand, dust and water.
WATERPROOF ROLL-TOP CLOSURE, guaranteed waterproof.
This Dry Bag Small closes with a waterproof roll-and-click closure: you first close the bag at the top with the strong Velcro, then you roll up the top a few times to fix it with the straps and click the closure at the top. This way of closing guarantees a waterproof closure under extreme weather conditions.
PU-COATED 840-DENIER NYLON, this high quality, waterproof material is abrasion-resistant and flexible. It ensures that you can store all your belongings dry and safe even if you are caught up in a blizzard, it rains that it pours or you have to swim across a river. This Dry Bag won't let you down.
Filson Dry Bags are designed for the adventurous traveller who likes to travel with a bag that can withstand any storm, rain and even rivers.
The Filson Dry Bag Small is part of the Filsons Dry Bag collection is lightweight, durable and fit for use in all weather conditions. The range comprises a Dry Bag Small and Large, Duffle Bags Medium and Large, and finally a Roll-top Backpack with EVA foam padding. Each piece is made with polyurethane-coated nylon in subdued green, with details like roll-top hook-and-loop-tab closure, adjustable straps and rugged plastic hardware.
Filson Bags, order at BeauBags, Authorized International Filson Dealer and your Filson specialist in Europe. Personal & expert advice | Europe's largest collection | Immediately available | Free delivery & return | 60-day return policy.
Filson Dry Backpack is one of the many bags of Filson in our large and carefully selected collection. Please check out the complete collection of Filson bags in our online shop.
FILSON HERITAGE OF QUALITY, guaranteed excellence in outdoor clothing and bags
Filson makes bags and clothes since 1897. They know exactly what they do at Filson. Filson transforms waterproof, polyurethane-coated nylon to a firm and solid Dry Bag, perfect to protect your travel accessories in any weather.

Filson Dry Bags from Filson on Vimeo.
Brand
Filson
Filson Product code
20115947
Color
Flame
Dimensions (WxHxD)
20x38x11,5 cm | 4,5 ltr
Affailable sizes
Dry Day Backpack, Dry Duffle Backpack and Dry Bags
Material
840D nylon with clear ether TPU + nylon webbing + high-density plastic
Features
>PU-coated 840-denier nylon is waterproof, abrasion-resistant and flexible
>Watertight roll-and-cinch closure
>Roll top secures with buckle for easy-open grab-and-go handle
>Oval base construction keeps pack upright
>Durable high-density plastic hardware

Theme
Travel; Field; Everyday; Workwear
Made in
Brand details
FILSON the AMERICAN EXPERIENCE | BUILT TO LAST.
Established in 1897, Filson is the leading outfitter and manufacturer of unfailing goods for outdoor enthusiasts. Built upon a reputation for reliability, Filson is a favorite among anglers and hunters, engineers and explorers, mariners and miners, and anyone who refuses to stay indoors.

FILSON | RUGGED QUALITY FOR OVER 100 YEARS
Headquartered in Seattle, Washington, and renowned for making products in the USA from fabrics such as heavyweight 22-oz. cotton oil finish Rugged Twill, Tin Cloth and warm Mackinaw Wool, this company stands for the highest quality and most durable apparel and accessories available.