Return to Previous Page
FILSON LIGHTWEIGHT ALASKAN GUIDE SHIRT MIDNIGHT NAVY
setting the standard for year-round versatility and comfort in an outdoor shirt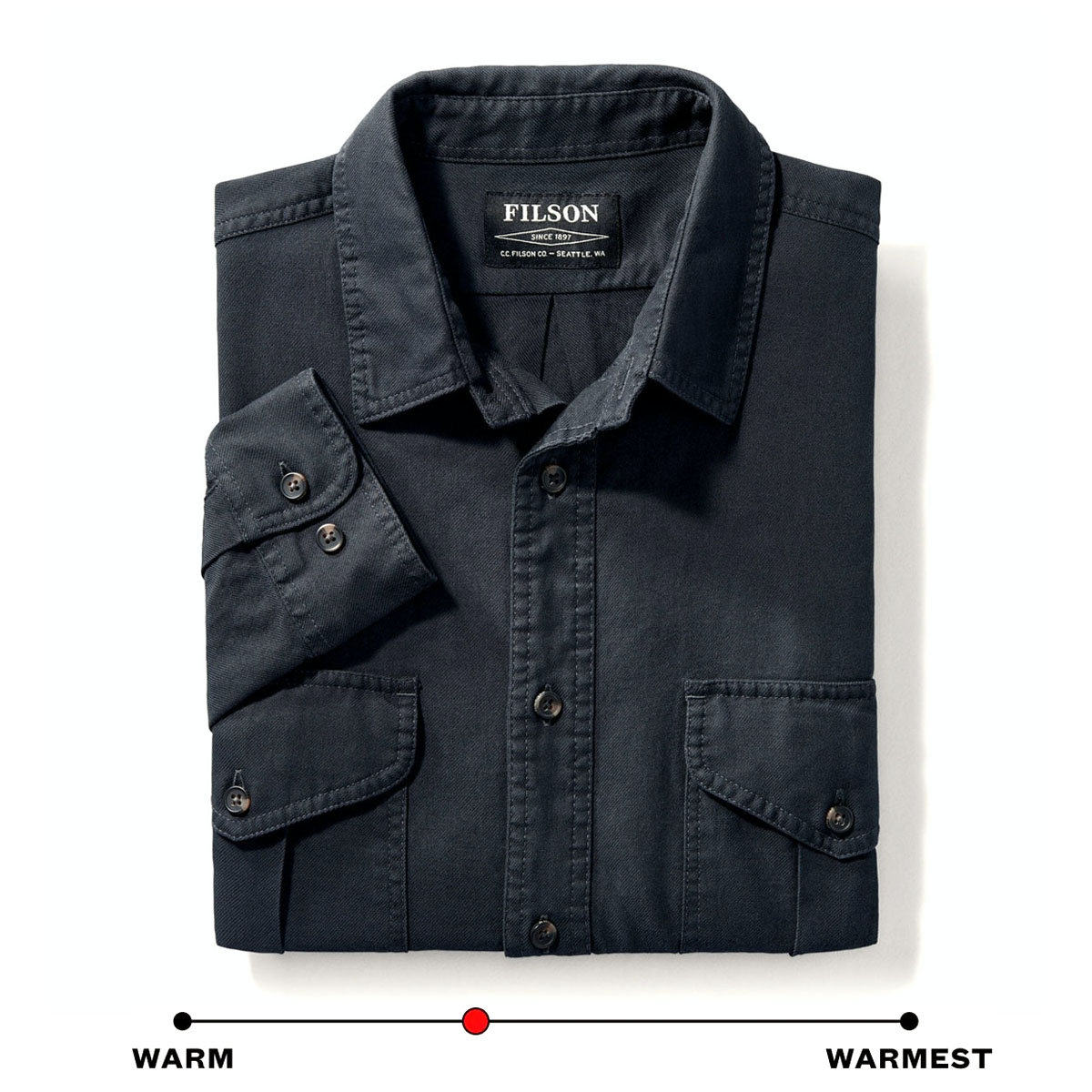 The Filson Lightweight Alaskan Guide Shirt Midnight Navy is an all-season workhorse. It's built for year-round comfort, durability and practical functionality in the field, on the job or just kicking around the ranch. It's a lighter-weight variation of our iconic Alaskan Guide Shirt that's been a go-to, trusted favorite of ranchers, guides and bush pilots since 1996.
The original Alaskan Guide Shirt has proven itself a favorite time and again from Alaska to Maine to the Rockies, and when Filson customers asked for a version that was comfortable in southern climes and warmer months, they listened. The result, now made with lighter-weight 4-oz. cotton twill, exceeds expectations for versatility, comfort and universal utility.
FEATURES
The brushed cotton is soft, yet durable. The relaxed fit and rear-shoulder box pleat allows non-binding ease of motion, while allowing plenty of air circulation. Expandable, gusseted chest pockets with button-close flaps keep small valuables handy and secure. The custom Filson-logo buttons on the front closure and adjustable cuffs are made from chip resistant polyester for years of durability.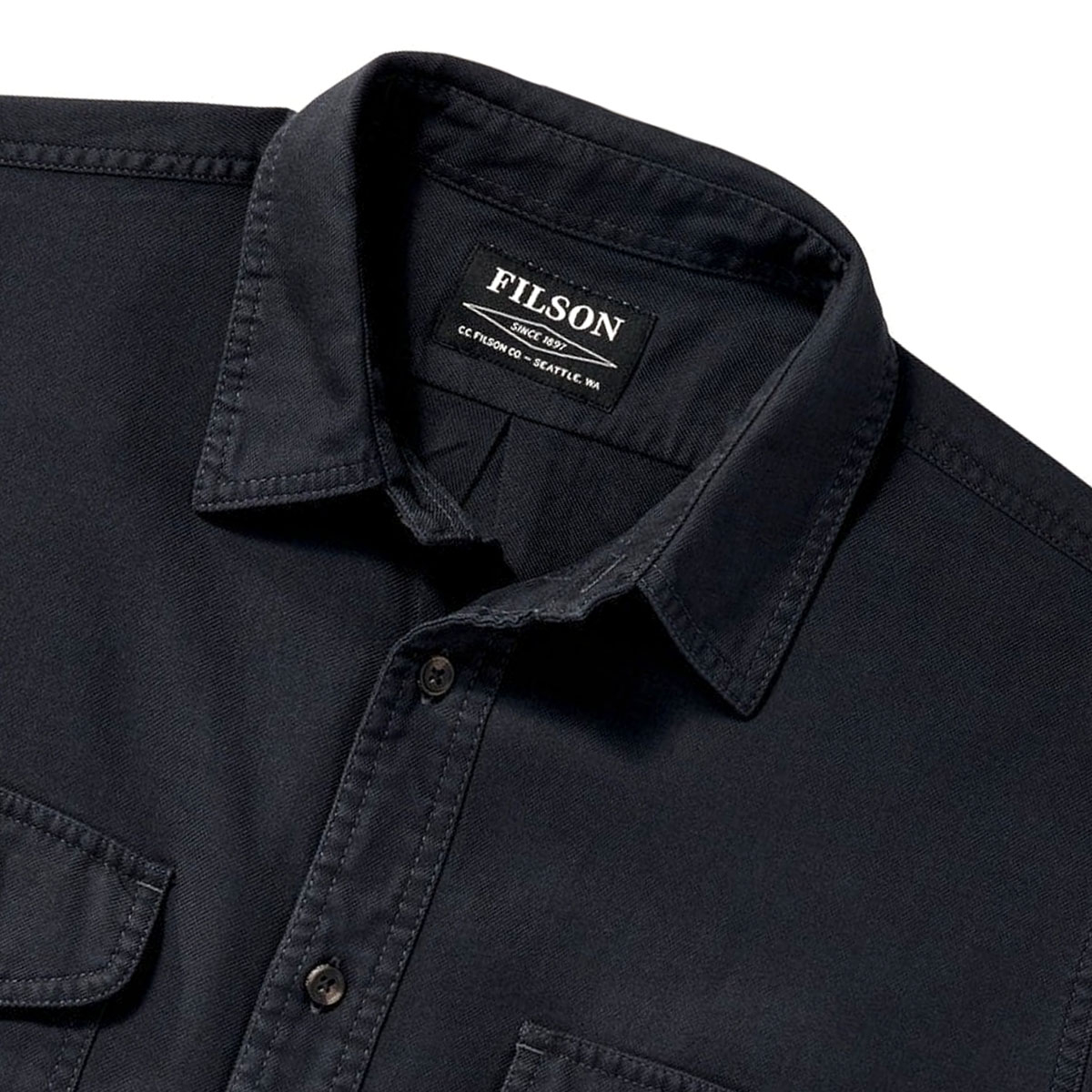 FILSON LIGHTWEIGHT ALASKAN GUIDE SHIRT FIT: True to size through shoulders, relaxed through torso
Filson Fit General: All Filson sizes are US sizes which can be larger for a European stature, so we recommend sizing down. Some people choose to wear Filson clothing slimmer, more fashionable, others prefer a wider fit for easy movement, for example during physical work. If you order your own size then the fit is generous. If you prefer a slimmer silhouette, order one size smaller. For men who normally fall between two sizes, it is advisable to order a smaller size.
On our special FILSON FIT GUIDE page, you will find all sizes: chest, waist, hip, neck and sleeve length.
HIGH QUALITY MATERIALS
Filson has been making bags and clothing since 1897. This way they know exactly what they are doing. Filson transforms high quality materials like the 5-oz. 100% cotton twill to a comfortable shirt, perfect to protect your body in any weather. With so much experience, you can't go wrong with this Filson Lightweight Alaskan Guide Shirt.
FILSON GUARANTEE
Filson guarantees every item made by Filson. No more, no less. Filson believes in their products and stand by the materials, quality, and workmanship for the lifetime of the product. The product lifetime specifically refers to the time at which, through normal use, the product can no longer function in its intended purpose. Filson Guarantee covers: * Failure of materials * Failure of workmanship and craftsmanship * Manufacturer defects * Every item for the lifetime of the product. The life of the product, the normal wear and tear refers specifically to the time when the product can no longer function in its intended purpose due to normal use. The warranty does not cover damage caused by neglect, improper maintenance, accidents or normal wear and tear.
Filson Lightweight Alaskan Guide Shirt, order at BeauBags, Authorized International Filson Dealer and your Filson specialist in Europe. Personal & expert advice | Europe's largest Filson collection | Immediately available, ordered before 22:00, we ship the same day | Free delivery & return | 60-day return policy.
Filson Lightweight Alaskan Guide Shirt is one of the many Filson items in our large and carefully selected collection. View the complete collection of Filson in our online shop.
FILSON, HERITAGE OF QUALITY, guaranteed excellence in outdoor clothing, bags and accessoires.
Brand
Filson
Filson Product code
11010689
Color
Midnight Navy
Size guide
Small: 37-39 / chest: 92-100 cm
Medium: 40-42 / chest: 100-110
Large: 43-45 / chest: 110-115
Extra Large: 46-48 / chest: 115-125
Material
5-oz. pre-washed cotton
Features
>Built with 5-oz. 100% cotton twill
>Button-front and button-adjustable cuffs
>Pleated rear shoulders for ease of motion
>Gusseted button-flap chest pockets
>Relaxed fit
>Machine-washable
Guarantee
Limited Lifetime warranty against material and workmanship defect
Product care
Machine wash
Made in
Bangladesh