Return to Previous Page
FILSON RIPSTOP NYLON COMPACT BRIEFCASE SURPLUS GREEN
lightweight and tough, compact and streamlined for business essentials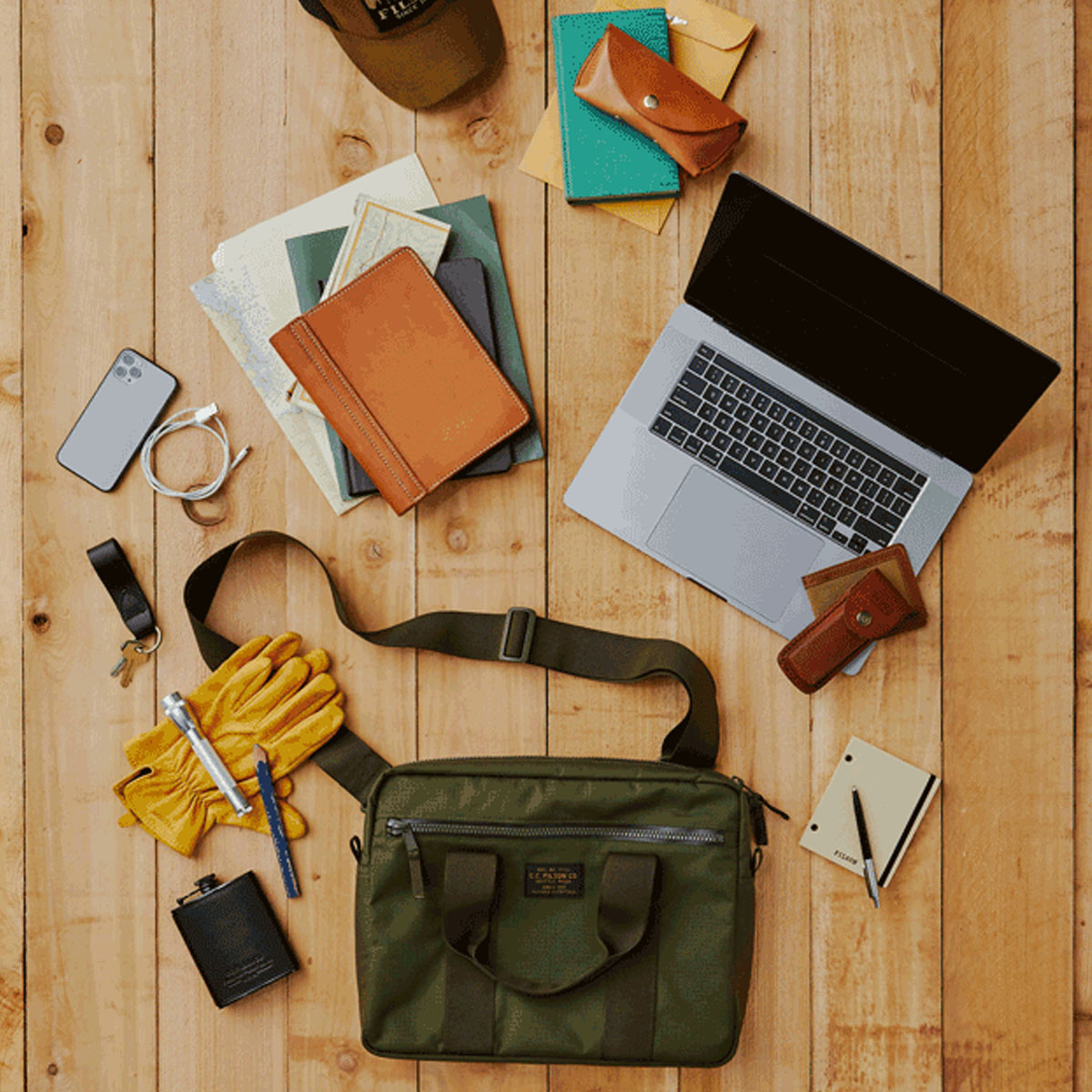 The Heavy-duty Filson Ripstop Nylon Compact Briefcase Surplus Green is made of extremely tough, lightweight 500-denier Cordura® Ripstop that holds up to heavy use. Light, tough and streamlined, this Filson Ripstop Nylon Compact Briefcase is fabricated for maximum durability and engineered to carry your business essentials without excess bulk.
Ripstop nylon was the ingenious solution to replace the silk used for parachutes during WWII when our airborne troops needed an ultralight fabric that could survive combat. The incorporation of a cross-hatch pattern of strong reinforcing threads into the weave of the lightweight nylon fabric prevented any holes that developed from spreading–a critical feature thousands of feet above the earth. We built our Ripstop Nylon Compact Briefcase with a stout variant of that revolutionary fabric to withstand the abuse of travel for countless miles. Made by Cordura®, our 500D ripstop nylon is light in weight, yet sturdy enough to resist abrasion, punctures and tearing.
With room for a 15" laptop, pockets for accessories and a trolley strap that slides over rolling luggage handles, it's the ideal companion when the job requires travel. Interior stow pockets. Removable, adjustable nylon-webbing shoulder strap. Key-clip lanyard.
FEATURES
Built with durable and water-resistant Cordura® Ripstop nylon. Water-resistant YKK® AquaGuard® zipper, Padded pocket for 15" laptop, Rear trolley strap slides over rolling luggage handles, Key-clip lanyard, Removable, adjustable shoulder strap, Two interior stow pockets, one exterior stow and zippered pockets.
CORDURA® CLASSIC FABRIC, designed for living and built to last
The original CORDURA® fabric with textured yarns. Designed for living and built to last, this durable CORDURA® fabric has proven performance in many of the world's toughest environments. Characteristics • Rugged – excellent resistance to abrasion • Strong - excellent tear strength • Water Repellent – quick drying.
FILSON 500D CORDURA® RIPSTOP NYLON, offers true long-term value
500D Cordura® nylon is a quick drying, highly water repellent and abrasion-resistantmedium weight polyurethane coated nylon fabric with a Cordura weave. It is lighter than 1000D Cordura and heavier than 430D Packcloth. 500 denier Cordura is perfect when you want a fabric without the weight and stiffness of 1000D.
Ripstop nylon is a very lightweight, water-resistant nylon. Ripstop nylon integrates a grid of thicker threads sewn directly into the nylon at close intervals. This urethane coated fabric has a strong thread that goes up and across the fabric forming tear resistant squares. The addition of urethane coating makes this a strong yet lightweight waterproof fabric for many uses. This prevents the issue of ripping or unraveling if the nylon is punctured and also helps waterproofing. The use of Ripstop is not limited to ultralight applications, however. Heavier, thicker fabrics can be made exceptionally strong by incorporating Ripstop reinforcement into the weave.
This is exactly what Filson did with their new Filson Ripstop Nylon luggage and bags. The 500D Cordura® nylon fabric is extremely abrasion resistant to start with, and the heavy-duty threads incorporated into Ripstop weave provide exceptional tear strength.
Customers have trusted the toughness of Filson Rugged Twill duffles, field bags and briefcases for decades. Using Cordura Ripstop nylon enables Filson to manufacture lighter-weight gear that matches their Rugged Twill's legendary durability. The thinner fabric also increases Filsons flexibility to include design elements not possible with thicker fabrics. Filson Ripstop Nylon bags are feature-filled, and with Filson dependability, they offer true long-term value.
Ripstop is a very rugged fabric, born in unforgiving situations in which failure was simply not an option. With 80 years of proven durability, Ripstop nylon is the ideal fabric to expand the range of Filson's problem-solving gear.
Filson Ripstop Nylon Compact Briefcase, order at BeauBags, Authorized International Filson Dealer and your Filson specialist in Europe. Personal & expert advice | Europe's largest collection | Immediately available | Free delivery & return | 60-day return policy.
Filson Ripstop Nylon Compact Briefcase is one of the many bags of Filson in our large and carefully selected collection. Please check out the complete collection of Filson bags in our online shop.
FILSON HERITAGE OF QUALITY, guaranteed excellence in outdoor clothing and bags
Filson makes bags and clothes since 1897. They know exactly what they do at Filson. Filson transforms indestructible lightweight 500-denier Cordura® Ripstop nylon to a firm and solid briefcase, perfect to protect your travel accessories in any weather.

Filson Ripstop Nylon Bags from Filson on Vimeo.
Brand
Filson
UPC/Product code
703060690289
Color
Surplus Green
Dimensions (WxHxD)
38x30x7,5 cm | 11 ltr.
Material
500D Cordura® ripstop nylon + nylon webbing
Features
>Built with durable and water-resistant Cordura® Ripstop nylon
>Padded pocket for 15" laptop
>Rear trolley strap slides over rolling luggage handles
>Key-clip lanyard
>Removable, adjustable shoulder strap
>Two interior stow pockets, one exterior stow and zippered pockets
Suitable for laptopsizes
13 inch, 14 inch, 15 inch
Laptop size (WxHxD)
38x28x4 cm
To use as
Briefcase, laptopbag, messenger
Theme
Travel, Field, Casual, Business
Guarantee
Limited Lifetime warranty against material and workmanship defect
Brand details
FILSON, RUGGED QUALITY FOR OVER 120 YEARS
Established in 1897, Filson is the leading outfitter and manufacturer of unfailing goods for outdoor enthusiasts. Built upon a reputation for reliability, Filson is a favorite among anglers and hunters, engineers and explorers, mariners and miners, and anyone who refuses to stay indoors.

FILSON, BUILT TO LAST
Headquartered in Seattle, Washington, and renowned for making products in the USA from fabrics such as heavyweight 22-oz. cotton oil finish Rugged Twill, Tin Cloth, Cordura Nylon, and warm Mackinaw Wool, this company stands for the highest quality and most durable apparel and accessories available.
Made in
Vietnam