Return to Previous Page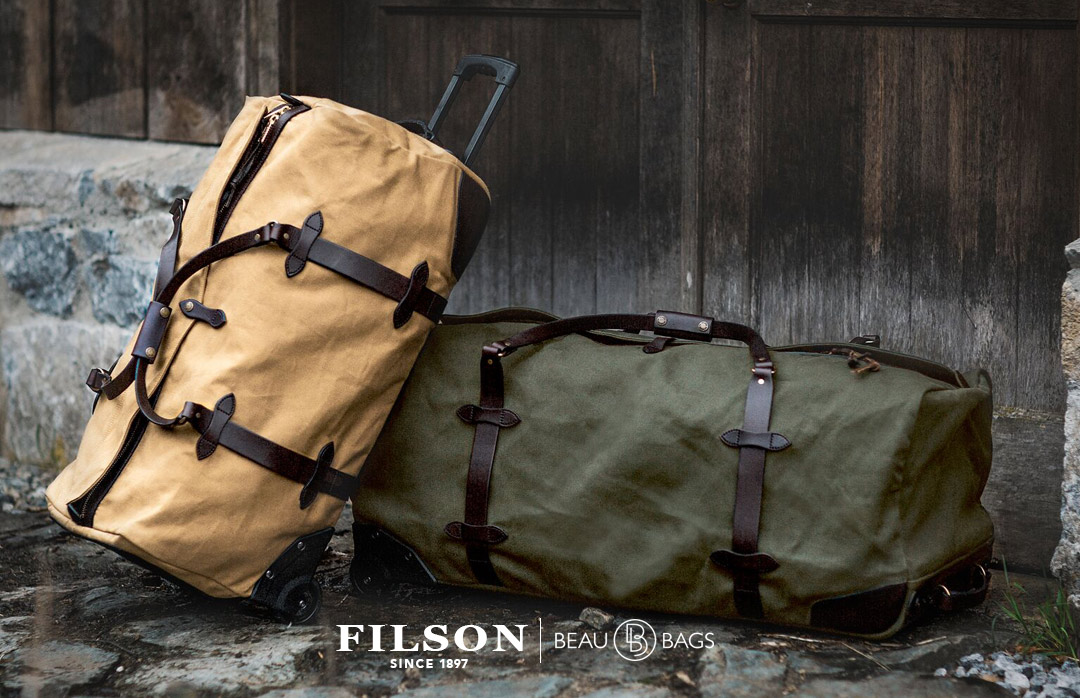 FILSON ROLLING DUFFLE-LARGE TAN,

created for travel in style

.
This heavy-duty, roomy Filson Rolling Duffle Large Tan has Bridle Leather reinforcements and stabilizing rails for added durability. A wide wheelbase and two wide, ball-bearing wheels prevent catching on curbs, for use anywhere. An 8-1/2" retractable handle offers ease of use with this high-capacity bag.
MADE IN USA, "Might as Well Have the Best"
Headquartered in Seattle, Washington, Filson has been the 'gold standard' for rugged outdoor goods since 1897. Filson is known for using quality materials and has developed a well-earned reputation for durability.
Brand
Filson
UPC/Product code
706030388865
Color
Tan
Dimensions (WxHxD)
73x30,5x35,5 cm | 84 ltr
Material
100% cotton Rugged Twill + Bridle Leather
Features
>Solid brass zipper closure custom cut at Filson with leather snap-tab storm flap for added security
>2 interior stow pockets
>Wide, heavy-duty wheels to handle a variety of terrain
>Retractable handle extends to 8-1/2"
>Bridle Leather carrying straps and reinforcement in the corners add durability
>Made with abrasion-resistant, water-resistant fabric
>Rustproof brass hardware
>Includes iconic Filson Bridle Leather body tabs
>Formerly large wheeled duffle, now redesigned and released as #11070375
To use as
Travel
Theme
Travel in style
Guarantee
Limited Lifetime warranty against material and workmanship defect
Brand details
FILSON the AMERICAN EXPERIENCE | BUILT TO LAST.
Established in 1897, Filson is the leading outfitter and manufacturer of unfailing goods for outdoor enthusiasts. Built upon a reputation for reliability, Filson is a favorite among anglers and hunters, engineers and explorers, mariners and miners, and anyone who refuses to stay indoors.
FILSON | RUGGED QUALITY FOR OVER 100 YEARS
Headquartered in Seattle, Washington, and renowned for making products in the USA from fabrics such as heavyweight 22-oz. cotton oil finish Rugged Twill, Tin Cloth, and warm Mackinaw Wool, this company stands for the highest quality and most durable apparel and accessories available.
Made in
United States