Return to Previous Page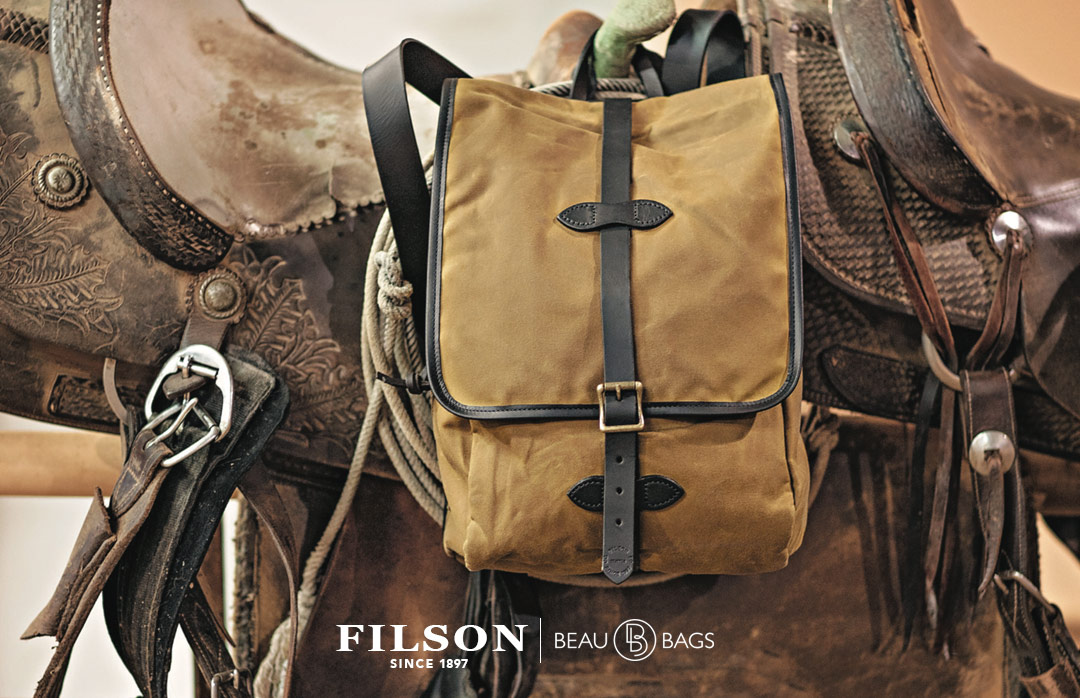 FILSON TIN CLOTH BACKPACK TAN, the ultimate companion for every trip you make.
Filson makes bags and clothes since 1897. They know exactly what they do at Filson. Filson transforms indestructible canvas and tan leather to a firm and solid backpack, perfect to protect your laptop, tablet and mobile phone in any weather.
MADE IN USA, "Might as Well Have the Best".
This waterproof Filson Tin Cloth Backpack is closed with a pull cord and a storm flap for total protection against all weather conditions. The canvas backpack has a widely inside and is big enough for a 15-inch laptop. Delivered with removable tablet/iPad cover. This cover can be closed with push buttons and has more pockets for pencils or business cards. In addition to that, there is enough room for other stuff. The inside is fast accessible through the quick-access zipper at the side of the pack. Because of that the storm flap and upper side doesn't need to open. Under the storm flap is an extra pocket. This Filson Backpack has a quilted, padded back for comfortable carrying of heavy loads.
TIN CLOTH, great protector to all weather influences and wear.
The Filson Tin Cloth Backpack is made of a legendary superstrong, lightweight, and oil impregnated 15-oz. 'Tin Cloth' canvas. This 'oil finish Tin Cloth' has a great protection against weather influences and wear. Because of the impregnated cloth with a layer of wax paraffin, create it a canvas that wind resistant and waterproof is. Also gives the layer of wax this Filson a little darker and used look, even out of the packaging.
The simple but stylish radiance makes this Filson backpack an affected allrounder.
Brand
Filson
Color
Tan
Dimensions (WxHxD)
12" W x 15" H x 5-1/2" D
Material
15-oz. oil finish Tin Cloth + 11.5-oz. dry finish Tin Cloth + matte nylon lining + Bridle Leather
Interior
>1 open pocket inside
>Removable three-pocket snap-closure sleeve for tablet
>Interior is fully lined with nylon

Features
>Drawcord top with buckle-closure storm flap and quick-access side zipper
>1 bellows pocket
>Quilted, padded back for comfortable carrying
>Durable Bridle Leather adjustable shoulder straps and accents
>Loop of leather

Comes with
An extra tin Filson Oil Finish Wax
Suitable for laptopsizes
12 inch, 13 inch, 14 inch, 15 inch
Laptop size (WxHxD)
No
To use as
Backpack, laptop backpack, business back, Apple MacBook back
Theme
Free time and business, practical, travel
Guarantee
Limited Lifetime warranty against material and workmanship defect
Brand details
FILSON the AMERICAN EXPERIENCE | BUILT TO LAST. Established in 1897, Filson is the leading outfitter and manufacturer of unfailing goods for outdoor enthusiasts. Built upon a reputation for reliability, Filson is a favorite among anglers and hunters, engineers and explorers, mariners and miners, and anyone who refuses to stay indoors. FILSON | RUGGED QUALITY FOR OVER 100 YEARS Headquartered in Seattle, Washington, and renowned for making products in the USA from fabrics such as heavyweight 22-oz. cotton oil finish Rugged Twill, Tin Cloth and warm Mackinaw Wool, this company stands for the highest quality and most durable apparel and accessories available.
Made in
United States