Return to Previous Page
TOPO DESIGNS KEY CLIP OLIVE
keep keys handy and visible with the Key Clip.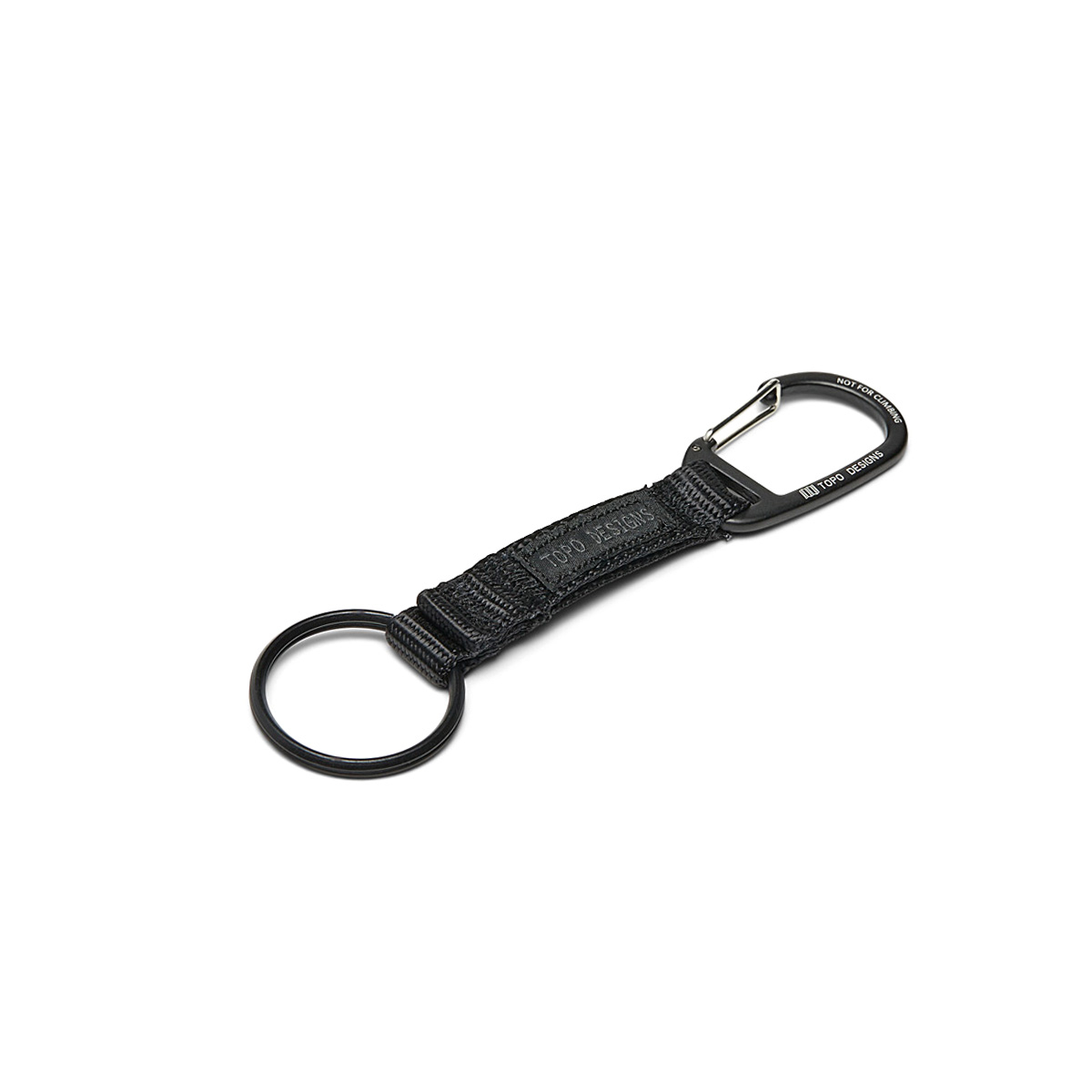 Keep keys handy and visible with the Topo Designs Key Clip Olive. This sturdy aluminum and nylon combo accessory is easily found in a pocket, attached to a pack strap, or clipped to your belt loop for convenience.
Description
Small but mighty. Topo Designs Key Clip is the hero your often-lost keys deserve. Topo Designs built this durable keychain from 3.2 cm heavy-duty nylon webbing and anchored it on each side with a key ring and custom Topo Designs carabiner clip.
Comes with custom Topo Designs aluminum carabiner clip, heavy-duty double nylon webbing, aluminum key ring and is made from lightweight aluminium and nylon webbing.
MAP GUARANTEE™, REASONABLE LIFETIME WARRANTY
The main goal at Topo Designs is to build products that stand the test of time and work anywhere on the map. Topo Designs wants to build fewer things that can be combined in endless ways to work in any environment. Whether traveling the globe or headed to the backcountry, they want to make sure everything they make will go out and come back in one piece, year after year. Topo Designs use the highest quality fabrics, hardware, and materials, and overbuild everything they make.
Topo Designs stand behind their quality and durability on all packs, bags and accessories, which is why Topo Designs offers a reasonable lifetime warranty against defects in materials and workmanship. Topo Designs warranty does not cover any damage caused by neglect, improper care, accident, or normal wear and tear.
Topo Designs bags, apparel and accessoires , order at BeauBags, Authorized International Topo Designs Dealer and your Topo Designs specialist. Personal & expert advice | Europe's largest Topo Designs collection | Free delivery & return | Order before 10PM, we ship the same day | 60-day return policy.
Topo Designs Key Clip are one of the many great accessories of Topo Designs in our large and carefully selected collection.
Please check out the complete collection of Topo Designs in our online shop.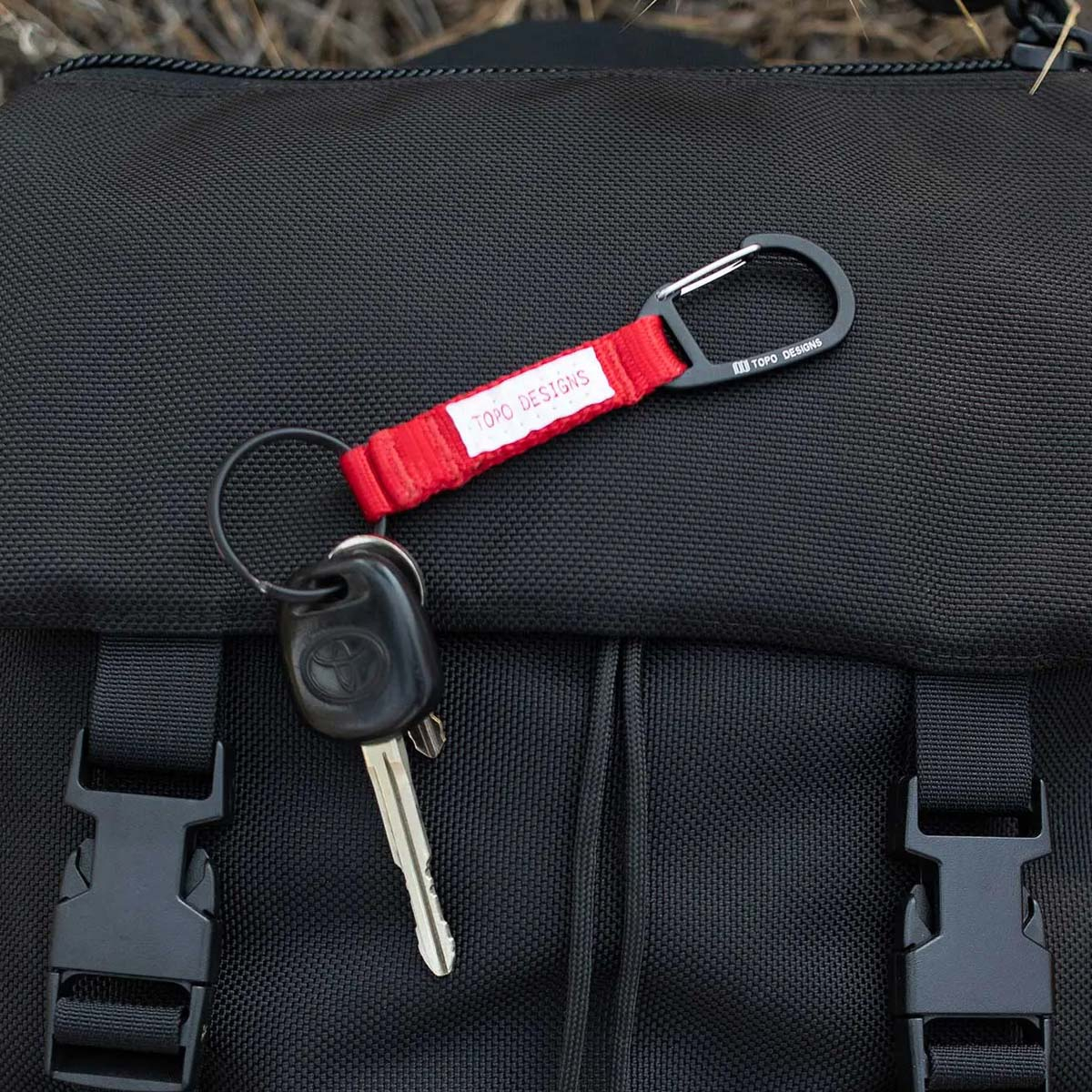 TOPO DESIGNS - Made For Anywhere On Your Map.
Brand
Topo Designs
Color
Olive
Dimensions (WxHxD)
14 cm lang
Volume
No
Material
Lightweight aluminum, nylon webbing
Features
>Custom Topo Designs aluminum carabiner clip
>Heavy-duty double nylon webbing
>Aluminum key ring
Guarantee
MAP Guarantee™. Topo Designs offers a reasonable lifetime warranty against defects in materials and workmanship. Topo Designs warranty does not cover any damage caused by neglect, improper care, accident, or normal wear and tear.
Brand details
Made For Anywhere On Your Map.


Topo Designs all know the old outdoor. It's focused on hyper-specialized gear, the never-ending quest for once in a lifetime activities, and the desire to be part of an exclusive club that few could ever join. They get it, they've been there, and it's one of the reasons they started Topo Designs.

Topo Designs see a New Outdoor, one that expands the very definition of being outside. It's an inclusive place that allows Topo, regardless of who they are, to be both the outsider and the insider, the novice and the pro. It embraces utility, which allows Topo Designs to do more with less, and blur the boundaries between life and outdoor. Above all, it approaches sustainability as a way to design life, rather than an isolated initiative or short-term fix.

Join Topo Designs, invite others, and let's step into The New Outdoor.

Made in
Vietnam