Return to Previous Page
TOPO DESIGNS ROVER PACK CLASSIC BONE WHITE/OLIVE
timeless styling and durable build pack with great functionality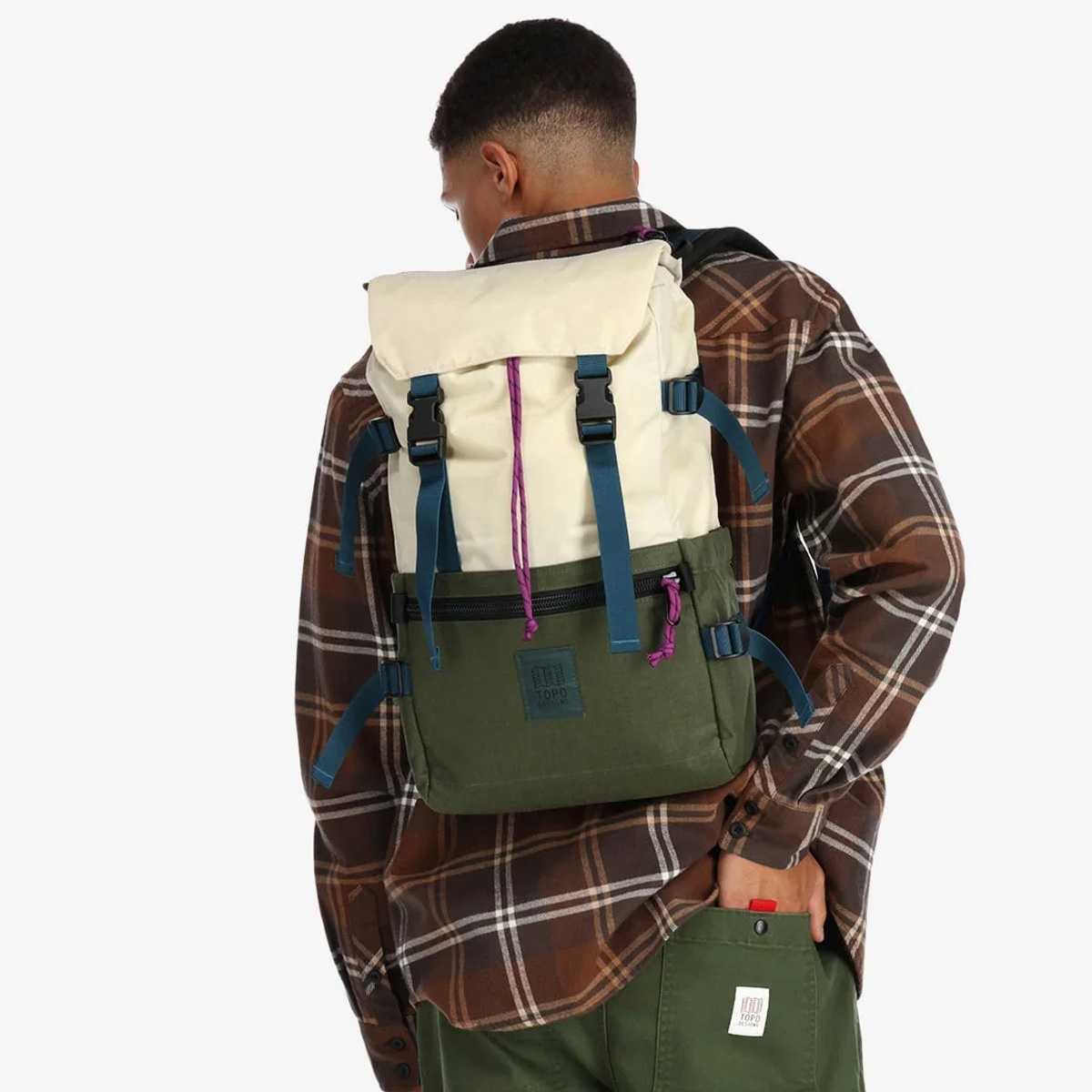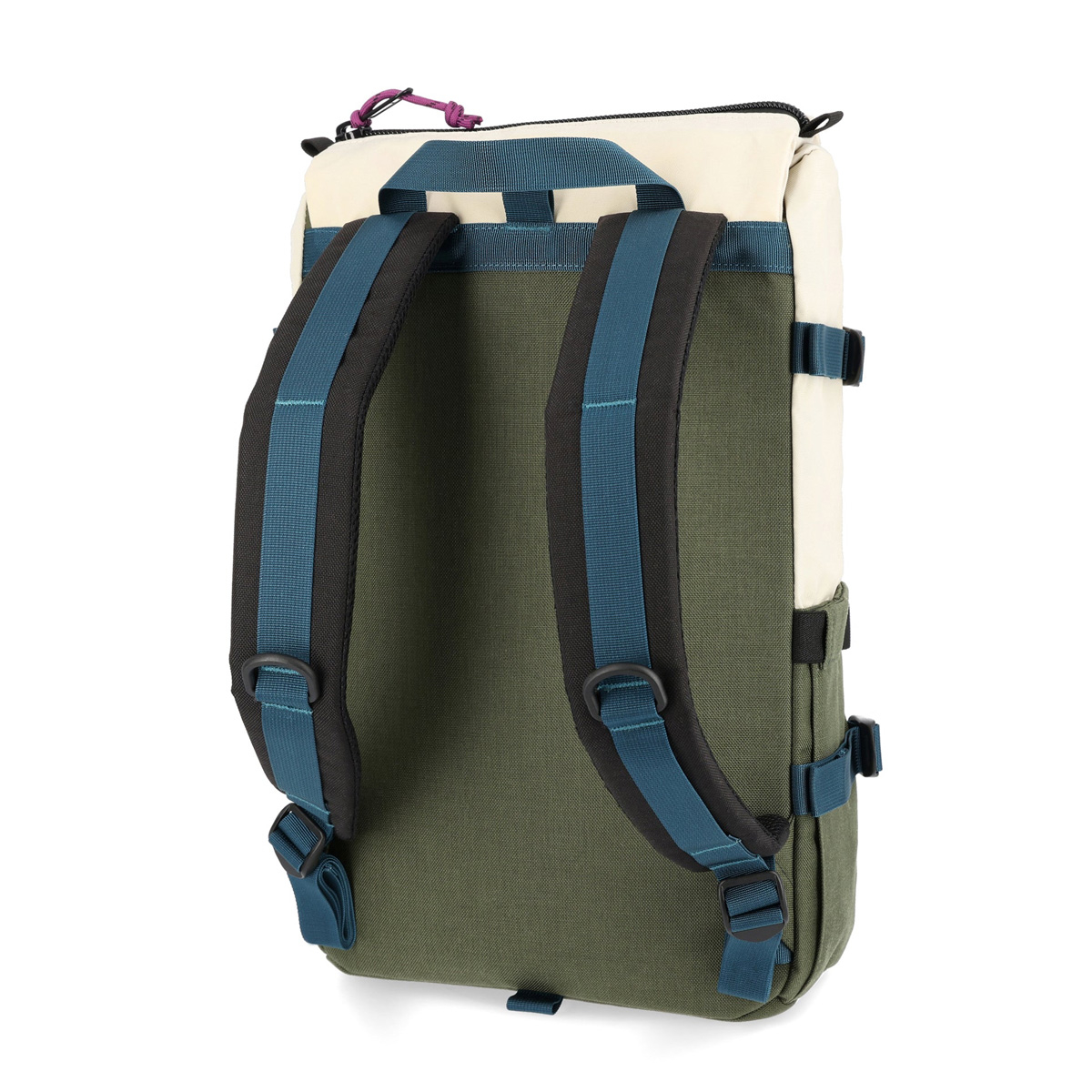 Not too big, not too small, not too fancy, not too simple, Topo Designs Rover Pack Classic Bone White/Olive is the Goldilocks of rucksacks.
Topo Designs wanted a pack that had a timeless silhouette but also wanted to make sure its functionality wasn't stuck in the dark ages. Nowadays this is the most iconic backpack from Topo Designs.
With its timeless styling and durable build, the Rover Pack Classic is Topo Designs most iconic daypack silhouette. Designed for versatility in town or at the trailhead, this durable recycled nylon pack will hold up in any environment and stand out in all of them.
FEATURES
The Rover Pack features a tough 1000D recycled Nylon base for durability and a lightweight, 420D recycled Nylon water-resistant pack cloth upper with a cinch closure. An exterior front pocket and top flap pocket give quick access to smaller items and a internal laptop sleeve keeps your computer secure. Comes with two expandable side pockets for carrying water bottles or extra gear which can be cinched tight with the side compression straps. The low profile backpack straps are backed with a padded mesh, include accessory D-Rings.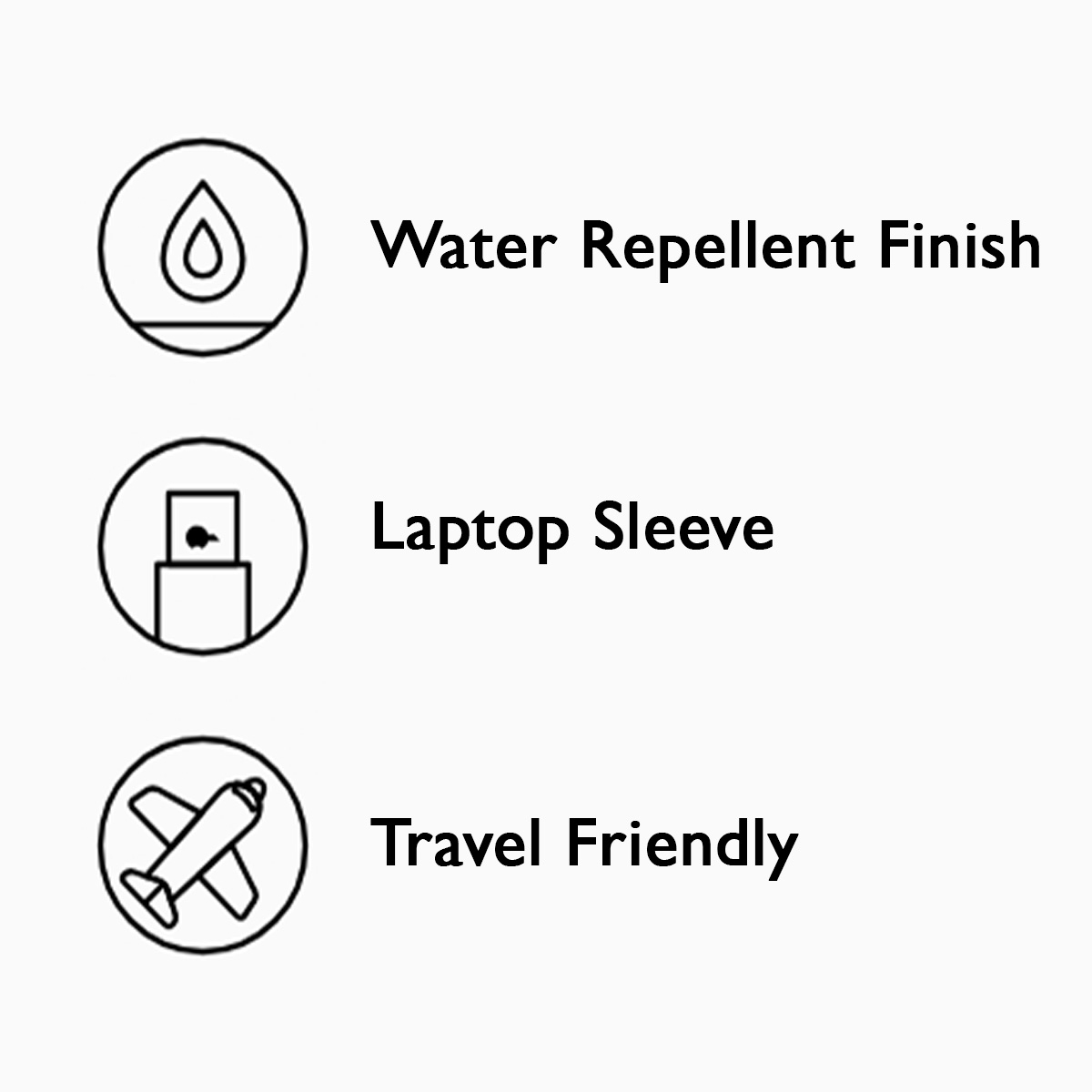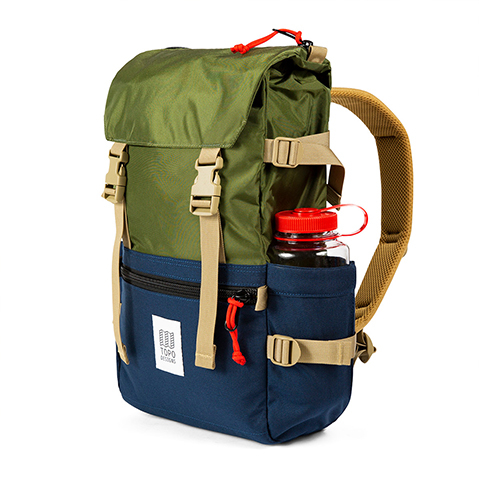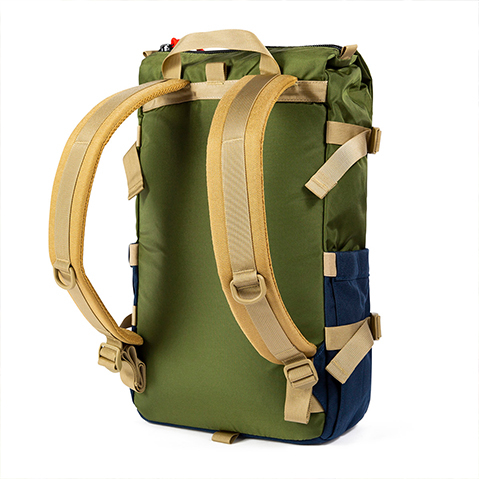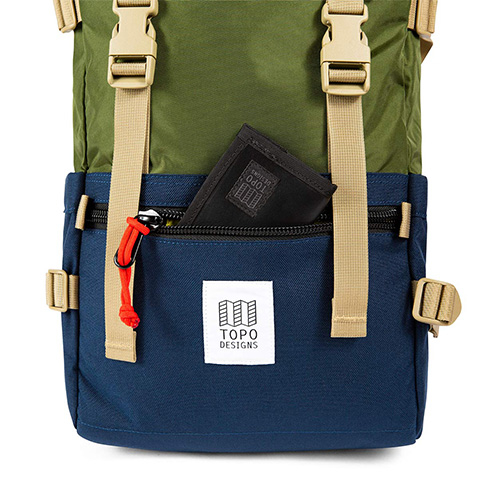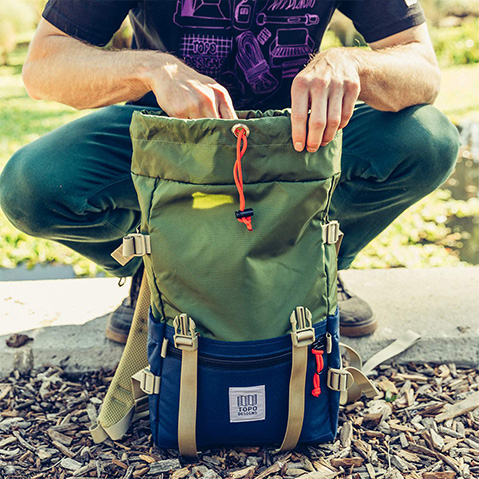 1000D RECYCLED NYLON BASE, 420D RECYCLED NYLON PACK CLOTH BODY, 210D NYLON PACK CLOTH LINER
Topo Designs uses for the base of this Rover Pack Classic 1000D recycled Nylon. This 1000D recycled Nylon is a very strong nylon with a urethane coating which gives it excellent tear resistance and is very durable. It is particularly suitable for the toughest tasks and wear and tear.
For the body Topo Designs uses 420D recycled Nylon Pack Cloth. 420D recycled Nylon Pack Cloth is a lightweight, strong and versatile fabric. Water repellent, flexible and abrasion resistant with a high tear strength, 420 denier packcloth nylon is ideal for the Topo Designs Rover Pack Classic body. 420D Nylon is made from high tenacity nylon yarns and coated on one side, this denier fabric is one of the most popular fabric used in outdoor equipment. Recycled 420D Nylon is 4% lighter and tests 4% higher in tensile strength with equal abrasion resistance than 420D.
210D Nylon is used for the lining. This fully coated, water resistant lining has a striking bright color. This makes the contents stand out more and you can better see what is at the bottom of the bag.
WATER-RESISTANT
The density of the nylon Topo Designs use together with the coated lining mean that this Topo Designs Rover Pack Classic is weatherproof and will keep your gear dry for everyday purposes. We like to think of them as "downpour-proof".
SUSTAINABILITY
Fair Wear certified production, meeting fair labor standards for the safety, health, and wellness of employees.

100% nylon with high abrasion resistance, equating to a longer product lifespan.

Fabrics from certified dye mills, ensuring the chemical composition of textile products consists of healthy and safe materials.

MAP Guarantee™ Repairs Program.
MAP GUARANTEE™, REASONABLE LIFETIME WARRANTY
The main goal at Topo Designs is to build products that stand the test of time and work anywhere on the map. Topo Designs wants to build fewer things that can be combined in endless ways to work in any environment. Whether traveling the globe or headed to the backcountry, they want to make sure everything they make will go out and come back in one piece, year after year. Topo Designs use the highest quality fabrics, hardware, and materials, and overbuild everything they make.
Topo Designs stand behind their quality and durability on all packs, bags and accessories, which is why Topo Designs offers a reasonable lifetime warranty against defects in materials and workmanship. Topo Designs warranty does not cover any damage caused by neglect, improper care, accident, or normal wear and tear.
Topo Designs bags and packs, order at BeauBags, Authorized International Topo Designs Dealer and your Topo Designs specialist. Personal & expert advice | Europe's newest & largest Topo Designs collection | Free delivery & return | Order before 10PM, we ship the same day | 60-day return policy.
Topo Designs Rover Packs are one of the many great bags of Topo Designs in our large and carefully selected collection.
Please check out the complete collection of Topo Designs in our online shop.
TOPO DESIGNS - Made For Anywhere On Your Map.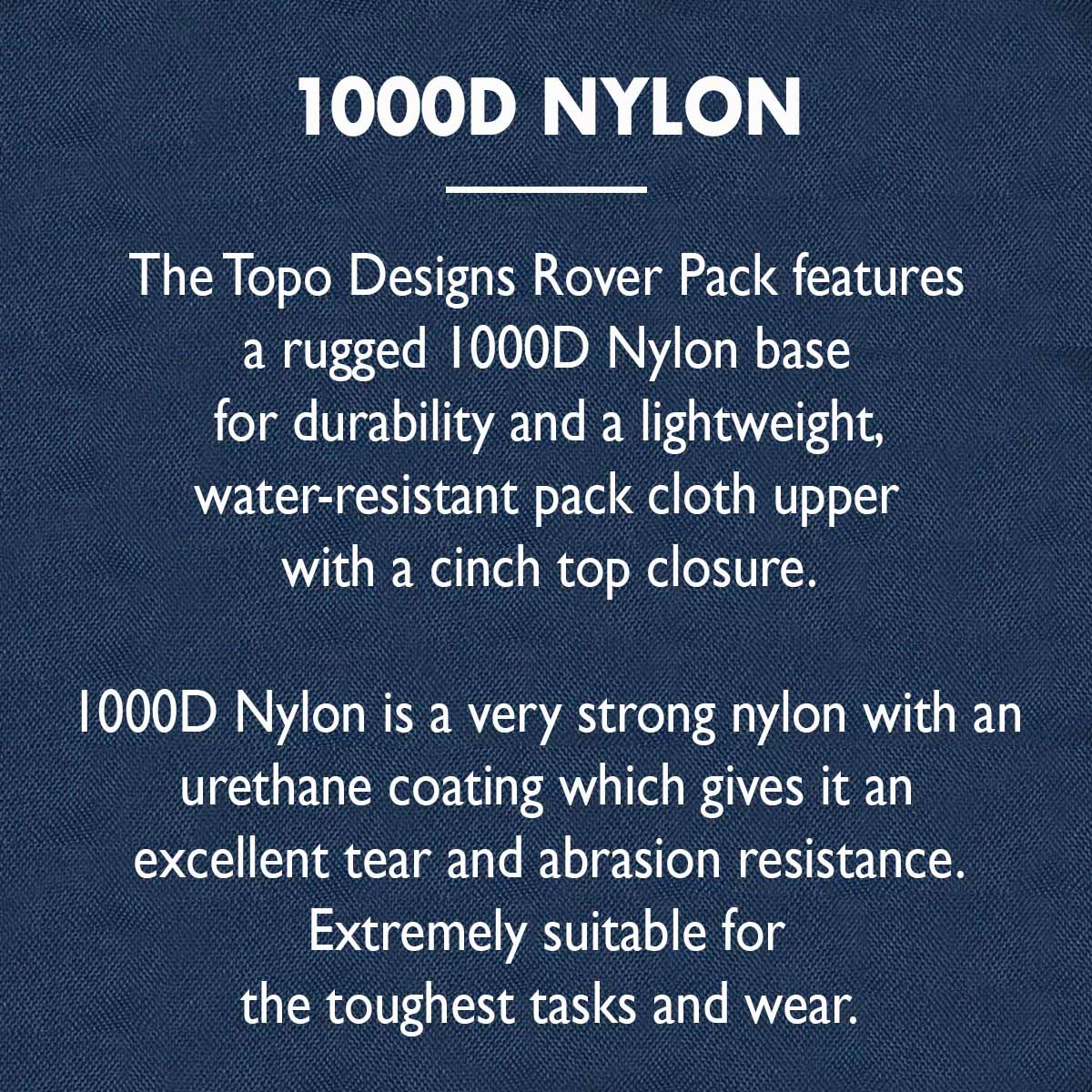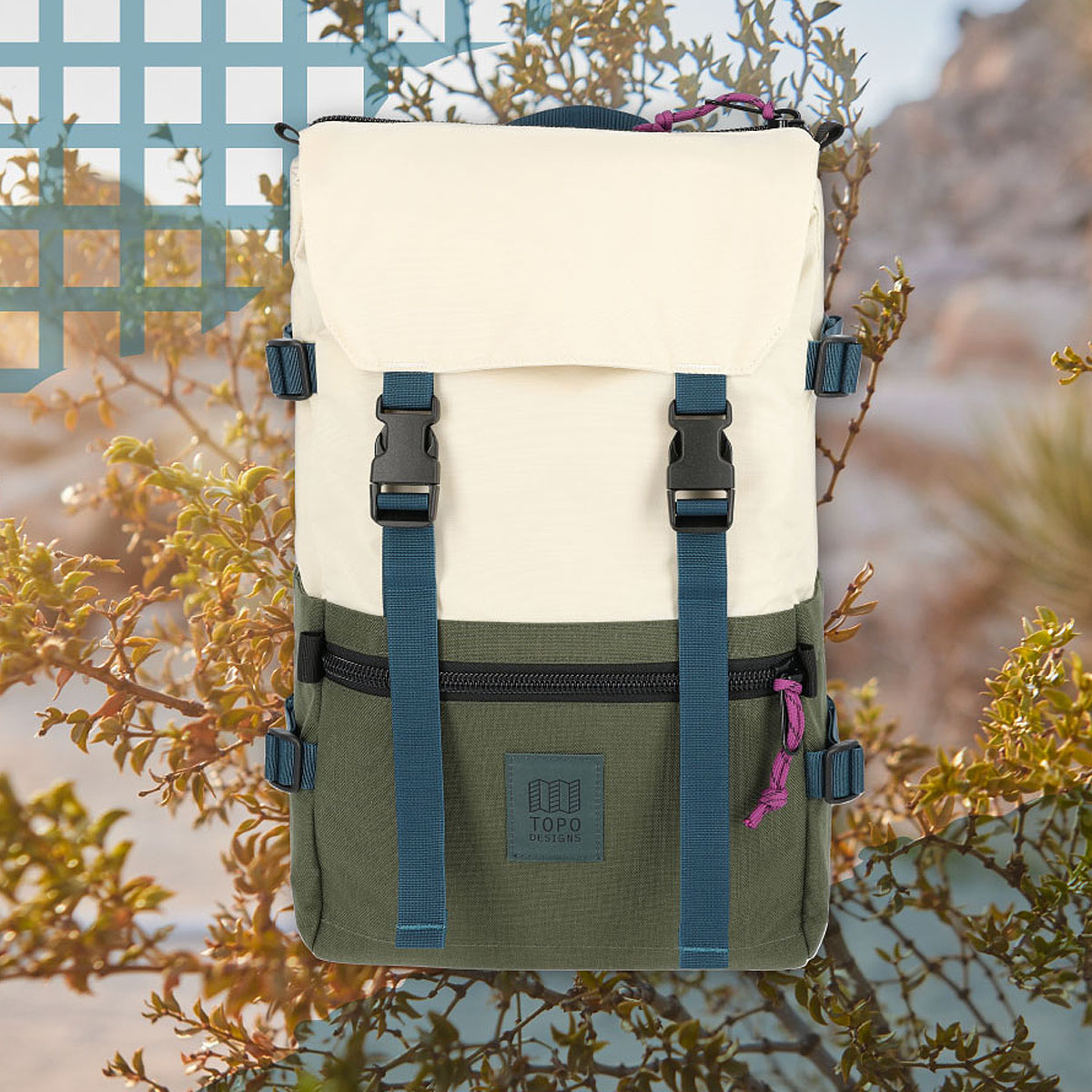 Topo Designs: Rover Pack Classic from Topo Designs on YouTube.
Brand
Topo Designs
Color
Bone White/Olive
Dimensions (WxHxD)
28x43x11,5 cm
Volume
20 L
Material
1000D recycled nylon, 420D recycled nylon, 210D recycled nylon
Features
>Spacious main compartment
>Flap top with dual side-release buckle closures
>Drawstring cinch closure
>Padded internal sleeve fits most 15" laptops
>Large zippered top flap pocket
>Large bottom zippered pocket
>Adjustable side water bottle pockets
>Dual side compression straps
>Spacer mesh shoulder straps
>Top carry handle
>Heavy-duty YKK zippers
>PackFast™ Travel Bag attachment loops
Guarantee
MAP Guarantee™. Topo Designs offers a reasonable lifetime warranty against defects in materials and workmanship. Topo Designs warranty does not cover any damage caused by neglect, improper care, accident, or normal wear and tear.
Brand details
Made For Anywhere On Your Map.


Topo Designs all know the old outdoor. It's focused on hyper-specialized gear, the never-ending quest for once in a lifetime activities, and the desire to be part of an exclusive club that few could ever join. They get it, they've been there, and it's one of the reasons they started Topo Designs.

Topo Designs see a New Outdoor, one that expands the very definition of being outside. It's an inclusive place that allows Topo, regardless of who they are, to be both the outsider and the insider, the novice and the pro. It embraces utility, which allows Topo Designs to do more with less, and blur the boundaries between life and outdoor. Above all, it approaches sustainability as a way to design life, rather than an isolated initiative or short-term fix.

Join Topo Designs, invite others, and let's step into The New Outdoor.

Made in
Vietnam