Return to Previous Page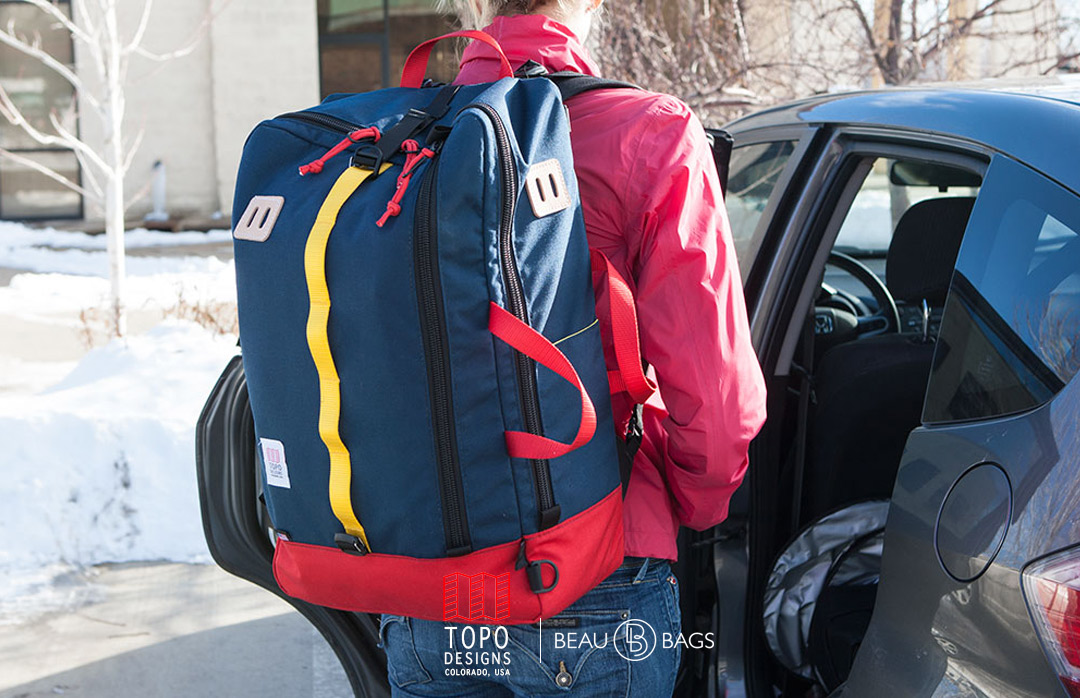 TOPO DESIGNS TRAVEL BAG NAVY, travel bag for a trip lasts a couple days or a trip that lasts forever.
To say Topo Designs like to travel would be a serious understatement. They're out and about every chance they get, so it only made sense that Topo would want a bag that would be welcome on all thier adventures. Topo Designs wanted a bag that would work for a trip that lasts a couple days or a trip that lasts, well, forever. This Travel Bag is the antithesis of the usual brick on wheels; it's a run for the bus, jump on a plane, walk the globe, adventure traveler. Topo Designs made it big enough to hold everything needed but still compact enough to make sure it passed as a carry-on. A 3-sided zip front flap ensures quick and easy flat packing and the inner sleeves make organization a snap. The front zippered pocket has a laptop sleeve, and zippered pockets perfect for an iPad and phone or notebooks and pens. Two side pockets are perfect for water bottles or fly rods, and the front webbing and leather lash tabs allow for securing all kinds of gear to the outside.
Best of all, it works as a system with our Trip Pack by simply hooking the durable plastic hooks on the Travel Bag to the integrated webbing loops on the Trip Pack. The hooks allow both bags to be carried at once and disassembled when you reach your destination.
All Topo Designs Travel Bags are handmade in Colorado.
Brand
Topo Designs
Color
Navy
Dimensions (WxHxD)
14"x22"x6" / 35,5x56x15 cm
Volume
1850 cu. in. / 30.3 L
Material Topo Designs
1000D Cordura®, 420D nylon pack cloth liner
Features
>Natural leather lash tabs
>Internal sleeve with zippered pocket
>Internal mesh sleeve
>3-sided zip front flap
>Front zipper pocket with iPad pocket
>Phone pocket and laptop sleeve that fits most 17" laptops
>Side water bottle pockets
>Padded shoulder straps with accessory D-Rings and top compression cinches
>Meets most carry-on requirements

Brand details
Growing up in the mountains of the West Topo has been using gear from their earliest memories. They are fishers, hunters, ski instructors, hikers, climbers, bikers, travelers, and through it all they have searched for gear that really works - as well as satisfied with the standard fare, Topo sought out ski gear from France, Bags from Japan, all the while honing their tastes and growing a seed of desire to create something ourselves.
Made in
United States