Return to Previous Page
FILSON GRAB 'N' GO TOTE-BAG MEDIUM DARKTAN/BROWN
This versatile Filson Grab 'N' Go Tote-Bag Medium 11070390-DarkTan/Brown is perfect for market shopping and quick trips.
It features easy-carry handles with folded grips for comfort, side pockets for small item organization and 5.1cm-wide reinforcing nylon straps. It's fully lined with matte nylon and made of liquid-repellent oil finish Tin Cloth. Constructed to remain upright while being packed, it's deep enough for containers, rolled towels, bundled herbs and more.
FILSON TIN CLOTH CANVAS, legendary super strong canvas
The Filson Grab 'N' Go Tote-Bag Medium is made entirely of the legendary super strong, lightweight, and oil impregnated 15-oz. 'Tin Cloth' canvas. Tin Cloth is a tool that can be sharpened. A thick cotton canvas that's milled by century-old mills in Scotland, Tin Cloth is coated in a Filson proprietary oil-finish wax. This 'oil finish Tin Cloth' offers the greatest protection against weather influences and wear. Because the cloth is impregnated with a paraffin wax this layer creates a canvas that's very water repellent and wind resistant. Also gives the layer of wax this Filson bag a slightly darker and more used look, fresh out of the package itself.
A NORTHWEST TRADITION FOR 100 YEARS
At the turn of the century, the forests in the Pacific Northwest were filled with prehistoric trees the likes of which explorers had never seen. Men came from all over the world to harvest them. It was a treacherous way to make a living. Between the height, the blades and the dynamite, it's estimated that one out of every 150 loggers who went into the woods didn't come out alive. One in 5 were otherwise injured on the job.
C.C. Filson couldn't do anything about the falls or explosions, but he developed a tightly woven waxed cotton that acted as a barrier between men and brush, limbs, saws and the unrelenting rain. Through the years, his customers started calling the fabric "Tin Cloth," because it protected them like armor.
The name stuck, and for more than 100 years, Filson has outfitted men and women who work outdoors with Tin Cloth pants, jackets, vests and luggage.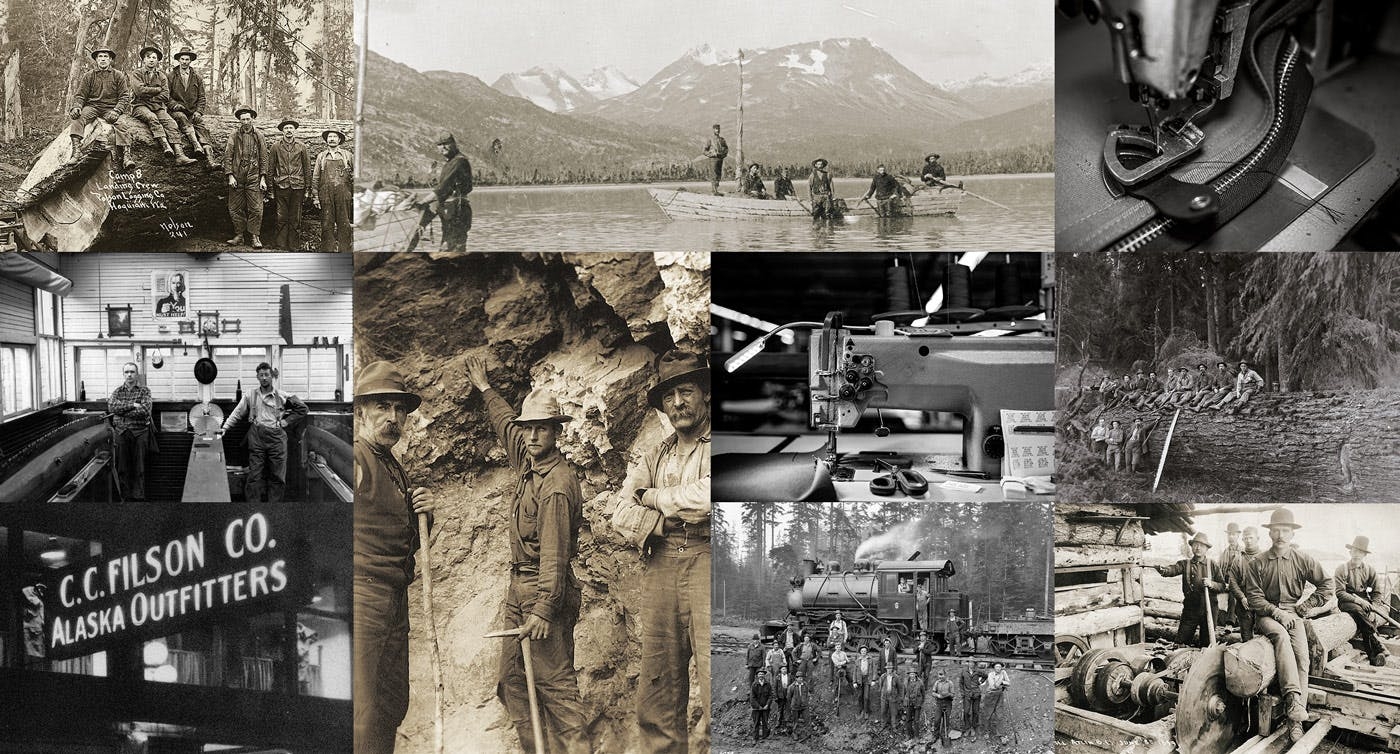 MADE IN USA, "Might as Well Have the Best"
Brand
Filson
UPC/Product code
706030416889
Color
Dark Tan/Brown
Dimensions (WxHxD)
35,5cm x 35,5cm x 20cm | 15,3 L
Material
15-oz. oil finish Tin Cloth + matte nylon lining
Features
>Quick-drying nylon webbing straps have folded handles for carrying comfort
>Fully lined with water-resistant nylon
>Made of abrasion-resistant, moisture-repellent Tin Cloth
>Structured base keeps bag upright while packing
>Reinforcing nylon straps add durability
>Wipe or brush clean

To use as
Everyday
Theme
Free time and business, practical, travel
Guarantee
Limited Lifetime warranty against material and workmanship defect
Brand details
FILSON the AMERICAN EXPERIENCE | BUILT TO LAST.
Established in 1897, Filson is the leading outfitter and manufacturer of unfailing goods for outdoor enthusiasts. Built upon a reputation for reliability, Filson is a favorite among anglers and hunters, engineers and explorers, mariners and miners, and anyone who refuses to stay indoors.
FILSON | RUGGED QUALITY FOR OVER 100 YEARS
Headquartered in Seattle, Washington, and renowned for making products in the USA from fabrics such as heavyweight 22-oz. cotton oil finish Rugged Twill, Tin Cloth, and warm Mackinaw Wool, this company stands for the highest quality and most durable apparel and accessories available.
Made in
United States