Return to Previous Page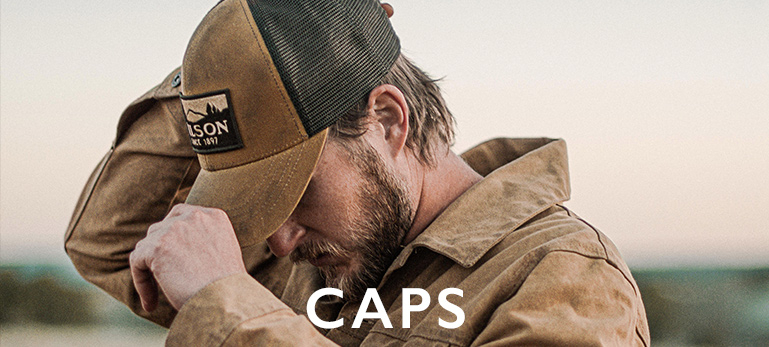 FILSON CAPS, a cap for every adventure.
Choose from one of Filson legendary men's hats like the Filson Logger Mesh Cap or others made with iconic, durable Tin Cloth, oil finish Tin Cloth, cotton Sail Cloth, waterproof laminated fabrics, like Rain Cloth™, and more.
Keep your face shaded and your head cool with one of Filson men's hats like the Filson Mesh Logger Cap. Made with 100% cotton Sail Cloth front panels and breathable polyester mesh it'll keep you comfortable, no matter how hot it gets.
Or keep your head protected from the sun, wind, and rain with the 6-panel Filson Oil Tin Low-Profile Cap. Built with a more rounded crown shape for a streamlined, low-profile look. Made with tough and water-repellent oil finish Tin Cloth.
Or keep your head dry no matter the weather like the Filson Skagit Rain Cap. These hats are made with proprietary Rain Cloth™ fabric and keeps your head dry no matter the weather.
Or shield your head with one of Filsons Watch Cap Beanies or Filson Tin Cloth Hoods. Many of their men's hats for cold weather offer ear protection and an insulated crown.
Filson unfailing hats are built with only the finest materials for their intended use–to keep you comfortable in any weather, Filsons purpose since 1897.
FILSON the AMERICAN EXPERIENCE | BUILT TO LAST
Established in 1897, Filson is the leading outfitter and manufacturer of unfailing goods for outdoor enthusiasts. Built upon a reputation for reliability, Filson is a favorite among anglers and hunters, engineers and explorers, mariners and miners, and anyone who refuses to stay indoors.
FILSON | RUGGED QUALITY FOR OVER 100 YEARS