Return to Previous Page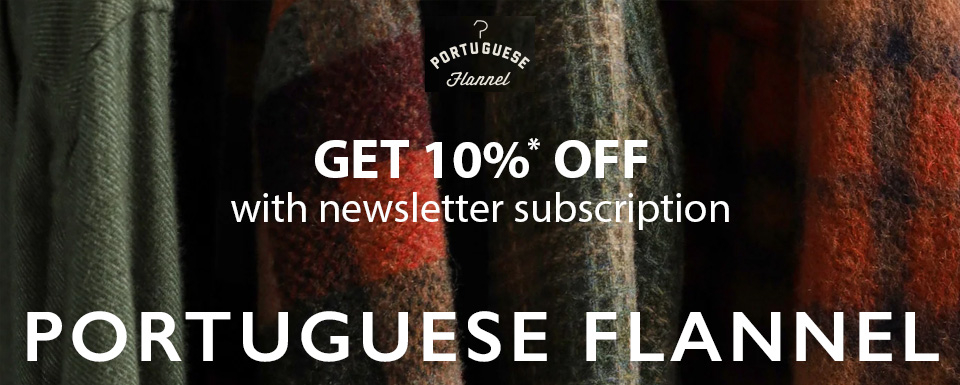 PORTUGUESE FLANNEL, SHIRT KNOWLEDGE IN A NEW WORLD: quality shirts steeped in authenticity, heritage and craftsmanship.
Portuguese Flannel is a family run business spanning four generations, and this shared knowledge, care and authenticity is evident in Their shirting. The brand's mills are situated in and around the city of Guimarães, Portugal, a city renowned for its quality mills and textile industry. The inspiration for Portuguese Flannel shirts comes from the surrounding region and the people that live within. By blending this traditional expertise and contemporary aesthetic, produces shirts that look and feel great whilst telling their story of Portuguese heritage.
The shirts from Portuguese Flannel are manufactured by master craftsmen in the old towns of northern Portugal. Portuguese Flannel uses exclusive fabrics that are produced the traditional way, selecting only the finest ones.
Portuguese Flannel doesn't follow trends or vibes of the moment. Its inspiration comes from genuine people from both the coast and mountains, with brave and challenging ways of living – resulting in a timeless yet contemporary design.
FAMILY BUSINESS spanning four generations.
Portugal and family history play a central role in the creation of Portuguese Flannel. The two brothers behind Portuguese Flannel come from a real clothing family. The Magalhães family has been in the garment industry for generations. This history and Portugal as a country full of knowledge play a central role in the creation of Portuguese Flannel. Much more than the drive to create a brand or an identity, Portuguese Flannel aims to elevate Portuguese knowledge and craftsmanship.
ECO-FRIENDLY
Portuguese Flannel cares for the environment by avoiding plastic, using organic materials and producing in Portugal. Portuguese Flannel uses exclusive fabrics produced in a very sustainable and fair way, selecting only the best, organically grown fibers and buttons. The results are casual shirts you can wear anytime, whether casual or business.
AUTHORIZED PORTUGUESE FLANNEL DEALER
BeauBags is a authorized international Portuguese Flannel Dealer and your Portuguese Flannel specialist. For personal and expert advice you can call or email us, we are happy to help. BeauBags has a large Portuguese Flannel assortment and all products are in stock. If you order on weekdays before 22:00 hours we will ship your order the same day. Delivery and returns are always free of charge and you can always exchange or get your money back.