Return to Previous Page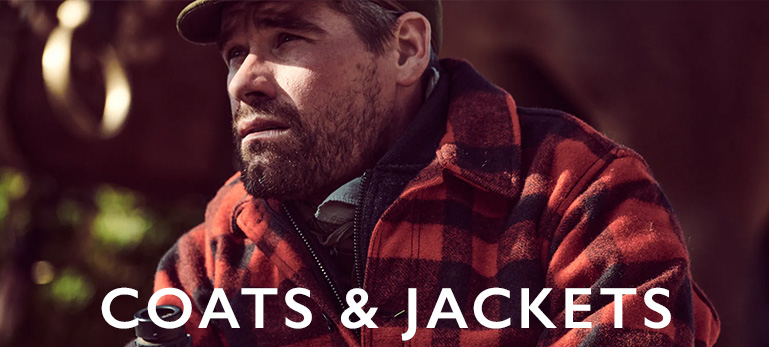 FILSON COATS & JACKETS, are you looking for the perfect jacket? FILSON jackets have been our favorite for years.
FILSON | RUGGED QUALITY FOR OVER 100 YEARS
Over the years, Filson's philosophy has never changed: Make sure it's the absolute best. Clinton Filson spent a lot of time talking to his customers and refining his designs to their specifications. So it's not surprising that the items that worked then still work today, over 120 years later. Comfort, protection and durability never go out of style.
VERSATILE, WEATHER-RESISTANT WOOL JACKETS AND COATS FOR ANY EXCURSION
What worked then, works now. With over a century of proven warmth and durability, Filson wool jackets and coats for men remain a trusted staple for sportsmen, tradesmen or anyone who requires a one-jacket solution for weather protection in the widest range of conditions. From Filsons iconic 1914-patented Mackinaw Wool Cruiser to the unique, limited-edition Lined Wool Packer Coat, their range of men's wool jackets are each purpose-built for the task at hand.
For centuries, the wool jacket has been the tool of choice for protection in cold, wet weather. With wool's complex fiber structure, it can absorb up to 30% of its own weight in water without feeling damp or clammy, actively wicking moisture to the exterior for evaporation. If it does get wet, it holds its structure without matting down, maintaining its loft and continuing to trap body heat.
Filson Mackinaw Wool is constructed with an uncommonly-tight weave, making it wind resistant and exceptionally durable. This is why the U.S. Forest Service chose several variations of a Filson wool jacket to equip their personnel for the unpredictable weather encountered in the wildlands.
Shop Filson's men's wool jackets and coats to find the ideal solution for breathable warmth in any weather conditions for decades to come.
For example the Filson Mackinaw Cruiser Jacket or the Filson Wool Packer. These jackets are versatile, sturdy and made from 100% virgin wool. One with over 100 years of proven quality! Filson has already patented the Mackinaw Wool Cruiser in 1914.
FILSON the AMERICAN EXPERIENCE | BUILT TO LAST
Filson's iconic jackets offer comfort, the material is water-repellent and warm in all weather conditions. Perfect for every outdoor man, but also stands very well with a fashionist.