Return to Previous Page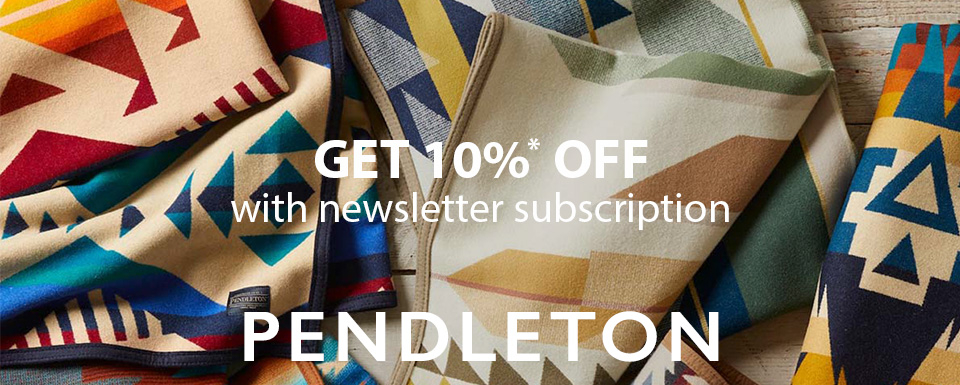 PENDLETON, WORLD CLASS BLANKETS: quality blankets infused with authenticity, heritage and craftsmanship.
Pendleton is a family-owned company established in 1863 and headquartered in Portland, Oregon. Pendleton's Pacific Northwest woolen mills are a testament to the quest for quality established by thier founder six generations ago in 1863. The intricate jacquard blankets and array of wool fabrics Pendleton produce have earned a reputation on par with the greatest mills around the world. For more than 150 years, Pendleton invested in the people and the technology needed to achieve the beautiful color and original patterns that are the hallmarks of this family enterprise.
COLORFUL
Inspired by Native American tradition and crafted from Oregon wool, thier colorful collection of Pendleton throws, wool blankets, pillows and more, are perfect for picnics, camping or curling up indoors. Distinctive and durable, they make ideal gifts or spirited artistic centerpieces in any room of the house.
HISTORY OF PENDLETON
The history of Pendleton Woollen Mills is woven into the history of modern America. It is a story that began over 150 years ago, with the entrepreneurial spirit of British weaver Thomas Kay. Arriving in Oregon in 1863, Kay gradually forged a successful family business, culminating in 1909 with the reopening of the Pendleton Woollen Mill. The mill had been known for its Native American trade blankets, made for the local tribes of the Columbia River. The company introduced new designs, colours and patterns, while expanding their market to the Southwest tribes. Designer Joe Rawnsley visited the Navajo, Hopi and Zuni tribes to learn their customs and colour preferences, so Pendleton blankets would appeal to this new market. Initially, they emulated the multicolour striped patterns of the famous point blankets produced by the Hudson's Bay Company. However, Pendleton subsequently pioneered stunning Native American-inspired designs, which became coveted and much-prized heirloom pieces.
THE STANDARD FOR AMERICAN HERITAGE
Today, Pendleton continues to set the standard for American style. With six generations of family ownership, its textiles are infused with authenticity, heritage and craftsmanship – all still proudly designed and woven in the USA.
Although Pendleton always stayed true to its philosophy of manufacturing high-quality apparel and offering top notch craftsmanship defined by the brand's blue and gold label, the company constantly updates its mills with state-of-the-art looms and eco-friendly technology.
The fine wool blankets, apparel and accessories are all backed by Pendleton's "Warranted to be a Pendleton" assurance of quality.
AUTORIZED PENDLETON DEALER
BeauBags is a authorized international Pendleton Dealer and your Pendleton Specialist. For personal and expert advice, please call or email us, we are happy to help. All Filson products are in stock and ordered on workdays before 10:00 pm we will ship the same day. Delivery and return shipments are always free of charge and you can always exchange or get your money back.