Return to Previous Page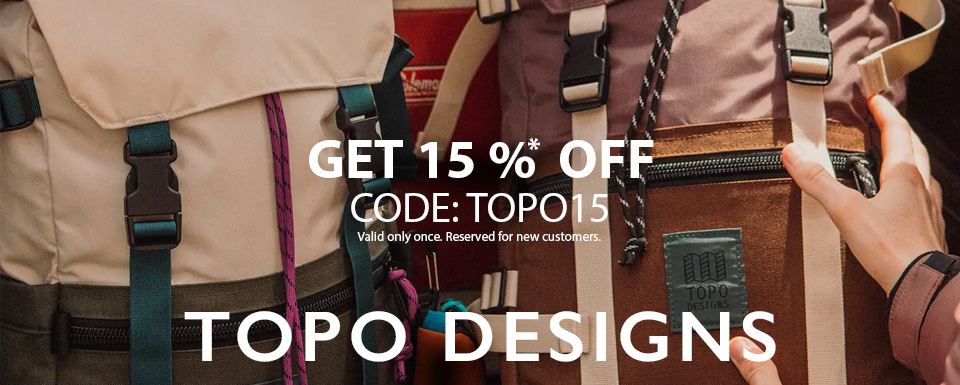 There are no products matching the selection.
TOPO DESIGNS, COLORADO, USA, functional bags & backpacks handmade in Colorado, USA.
Topo Designs makes bags & packs and accessories for hiking, biking, fishing, hunting or traveling.
The idea around simplicity and the sense of connectedness with the things Topo owns is a huge part of Topo Designs. Being outdoors is a very spiritual thing, Topo Designs really enjoy the quietness and calm that is ever-present. Topo Designs wanted to compliment that idea by creating things that worked very well but weren't unnecessarily complicated or overshadowed by the latest technology so the outdoor experience was undisturbed and took center stage. Topo Designs wanted to take off their bag or coat for a rest on the trail and feel like they were removing a little piece of who they were and not a piece of gadgetry that just didn't meld into that natural environment.
Topo Designs strives for contradiction. They are rooted in mountain culture and outdoor living but love exploring cities and world travel. Topo Designs look to proven classics for inspiration, yet take advantage of innovative technologies to ensure a timeless look with modern functionality.
Topo Designs is uncomplicated and utilitarian, but with a sense of design and style through simplicity. Thier goal is to not have to choose a single path, they want to live on both sides of the fence, where life is always greener.
BeauBags is an authorized international Topo Designs Dealer. All bags of Topo Designs are in stock and ordered on workdays before 10:00 pm we will ship the same day. Delivery and return shipments are always free of charge and you can always exchange or get your money back.