Return to Previous Page
FILSON DRY ROLL-TOP TOTE BAG GREEN
waterproof tote bag for use in all weather conditions
This lightweight, waterproof, polyurethane-coated nylon Roll-top Tote Bag keeps your gear dry and protected, even when fully submerged.
In the drift boat, truck bed or strapped to the ATV, this Dry Roll-Top Tote Bag combines 100% waterproof protection with straight-forward design simplicity. The rolled top, when cinched with the side buckle straps, prevents all water entry, so your load stays dry.
The roll-and-cinch closure has a wide-mouth opening for easy loading and ensures that you can quickly access important items.
Built with tough 840-denier nylon tarpaulin fabric coated with thermoplastic polyurethane (TPU), water simply cannot penetrate it. The advantages of using a nylon fabric with this coating are lightness of weight, flexibility and abrasion resistance. The highly-flexible TPU coating is resistant to ultraviolet light and chemicals, ensuring durability and longevity without breakdown from hard use. The seams are radio-frequency (RF) welded, a cement-free process that permanently fuses the fabric layers together, assuring flexible integrity without fail. All webbing and padding is securely stitched to an additional layer of the waterproof fabric, which is then RF-welded to the bag's body. This is the same construction as used in the manufacture of white-water rafting gear, where equipment failure could have fatal consequences.
The true beauty of this waterproof tote bag lies in its simplicity. The roll-top design has been proven for decades–with no moving parts, when the top is rolled down 3 turns and the side buckles cinched down, a waterproof seal is assured. The 28-liter bag rides comfortably at the hip when carried with the detachable, adjustable padded shoulder strap. For hand carry, the 5 cm. wide webbing handles are equipped with a comfortable neoprene grip. They extend down the sides of the tote bag for strength, and feature MOLLE loops and D-rings for attaching additional gear that requires quick access without waterproof protection.
The Dry Roll-Top Tote Bag–combining the versatile convenience that's the hallmark of Filson totes with state-of-the-art waterproof protection.
PU-COATED 840-DENIER NYLON TPU, this high quality, waterproof material is abrasion-resistant and flexible. It ensures that you can store all your belongings dry and safe even if you are caught up in a blizzard, it rains that it pours or you have to swim across a river. This backpack won't let you down.
As its simple name suggests, Filsons Dry Bag collection is lightweight, durable and fit for use in all weather conditions. The range comprises Duffle bags in Medium and Large sizes, and a Roll-Top Backpack with EVA foam padding. Each piece is made with polyurethane-coated nylon in subdued green and frame, with details like roll-top hook-and-loop-tab closure, adjustable straps and rugged plastic hardware.
Filson Dry Bags, order at BeauBags, Authorized International Filson Dealer and your Filson specialist in Europe. Personal & expert advice | Europe's largest collection | Immediately available | Free delivery & return | 60-day return policy.
Filson Dry Roll-Top Tote Mag is one of the many bags of Filson in our large and carefully selected collection. Please check out the complete collection of Filson bags in our online shop.
FILSON HERITAGE OF QUALITY, guaranteed excellence in outdoor clothing and bags
Filson makes bags and clothes since 1897. They know exactly what they do at Filson. Filson transforms waterproof, polyurethane-coated nylon to a firm and solid Dry Tote Bag, perfect to protect your travel accessories in any weather.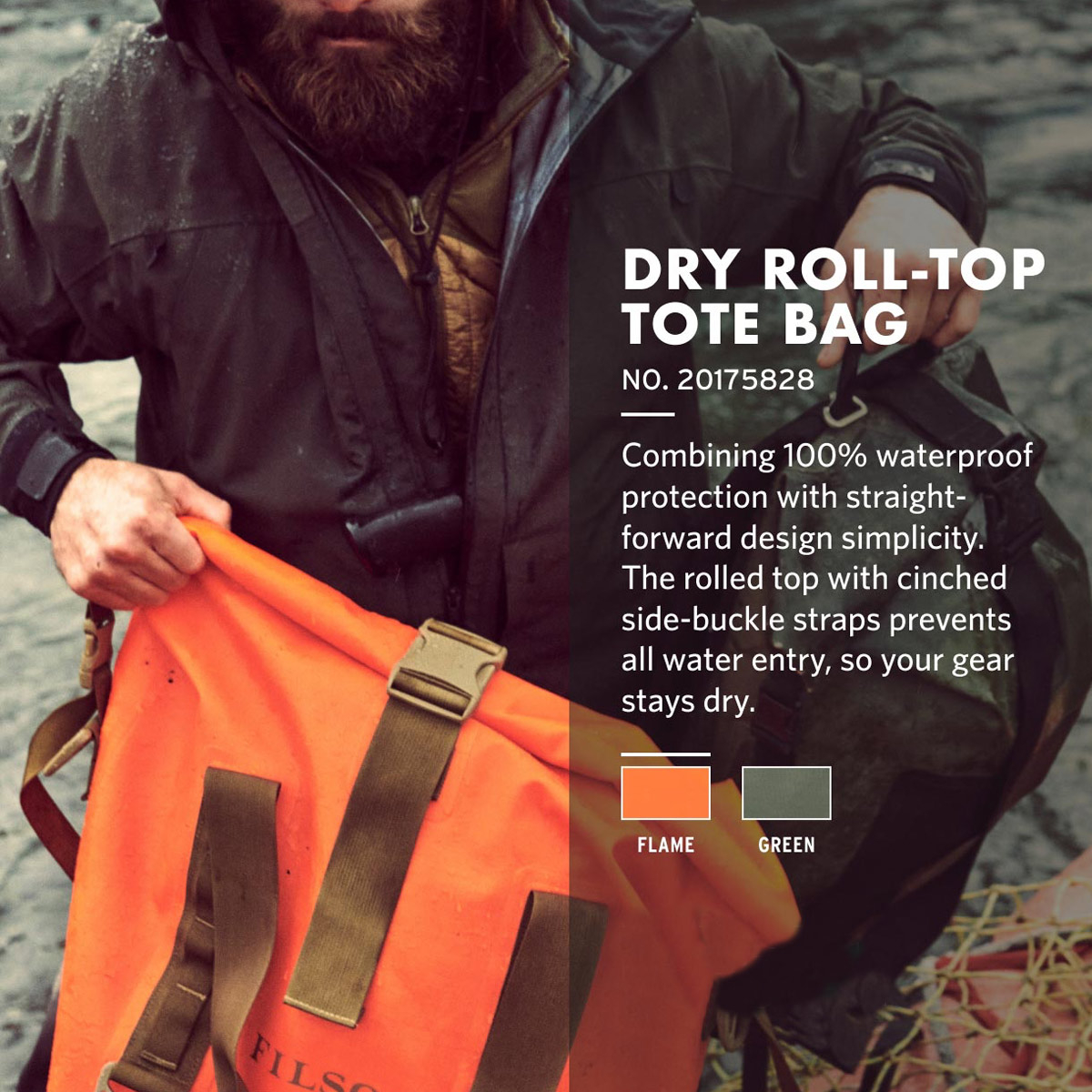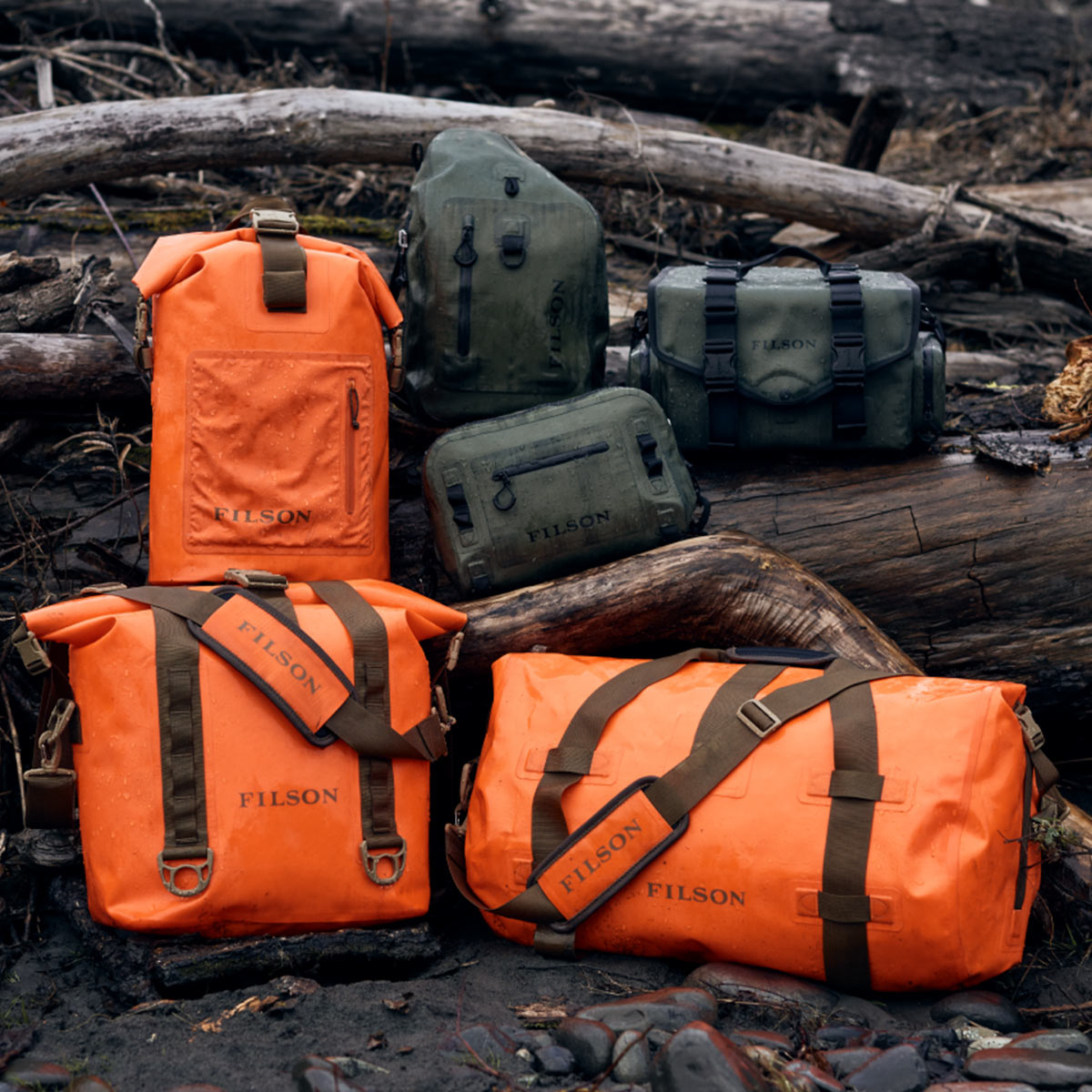 Filson Dry Bags from Filson on Vimeo.
Brand
Filson
Filson Product code
20175828
Color
Green
Dimensions (WxHxD)
32x51x16,5 cm | 28 ltr.
Material
840D nylon with clear ether TPU + nylon webbing + EVA foam + high-density plastic
Features
>Built with tough and flexible 840D nylon TPU, is waterproof, abrasion-resistant and flexible
>RF-welded seams for lasting integrity
>Waterproof roll-top closure with side-cinch buckles
>Roll-and-cinch closure has wide-mouth opening for easy loading
>5 cm. wide webbing handles with neoprene grip
>MOLLE webbing and D-rings for gear attachment
>Adjustable, removeable shoulder strap with pad
>Rugged plastic hardware

To use as
Dry Bag, Dry Tote
Theme
Outdoor; Field; Everyday; Workwear; Fishing
Guarantee
Limited Lifetime warranty against material and workmanship defect
Brand details
FILSON the AMERICAN EXPERIENCE | BUILT TO LAST.
Established in 1897, Filson is the leading outfitter and manufacturer of unfailing goods for outdoor enthusiasts. Built upon a reputation for reliability, Filson is a favorite among anglers and hunters, engineers and explorers, mariners and miners, and anyone who refuses to stay indoors.
FILSON | RUGGED QUALITY FOR OVER 100 YEARS
Headquartered in Seattle, Washington, and renowned for making products in the USA from fabrics such as heavyweight 22-oz. cotton oil finish Rugged Twill, Tin Cloth, and warm Mackinaw Wool, this company stands for the highest quality and most durable apparel and accessories available.
Made in
Philippines