Return to Previous Page
FILSON JOURNEYMAN BACKPACK TAN
the ultimate compagnion for every trip you make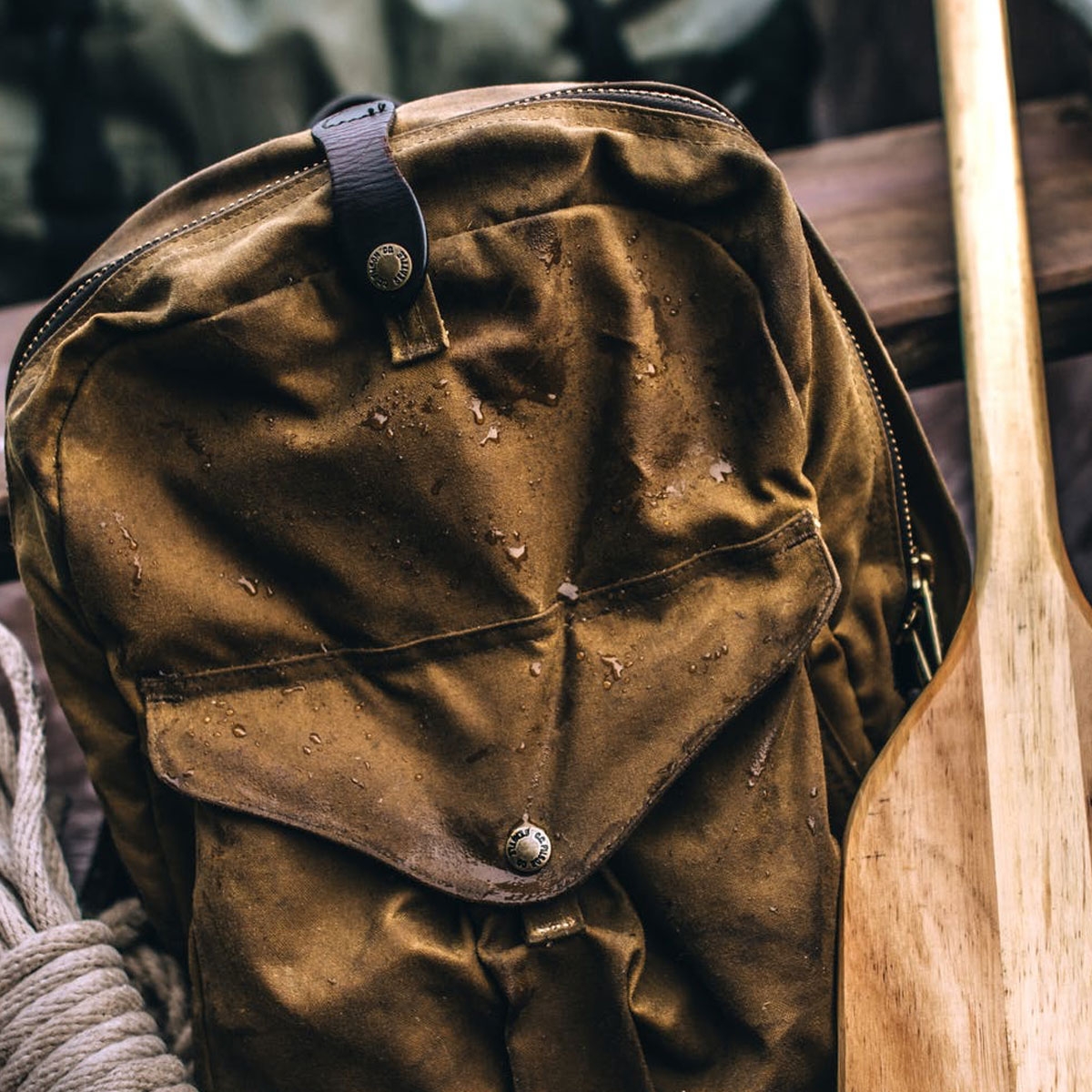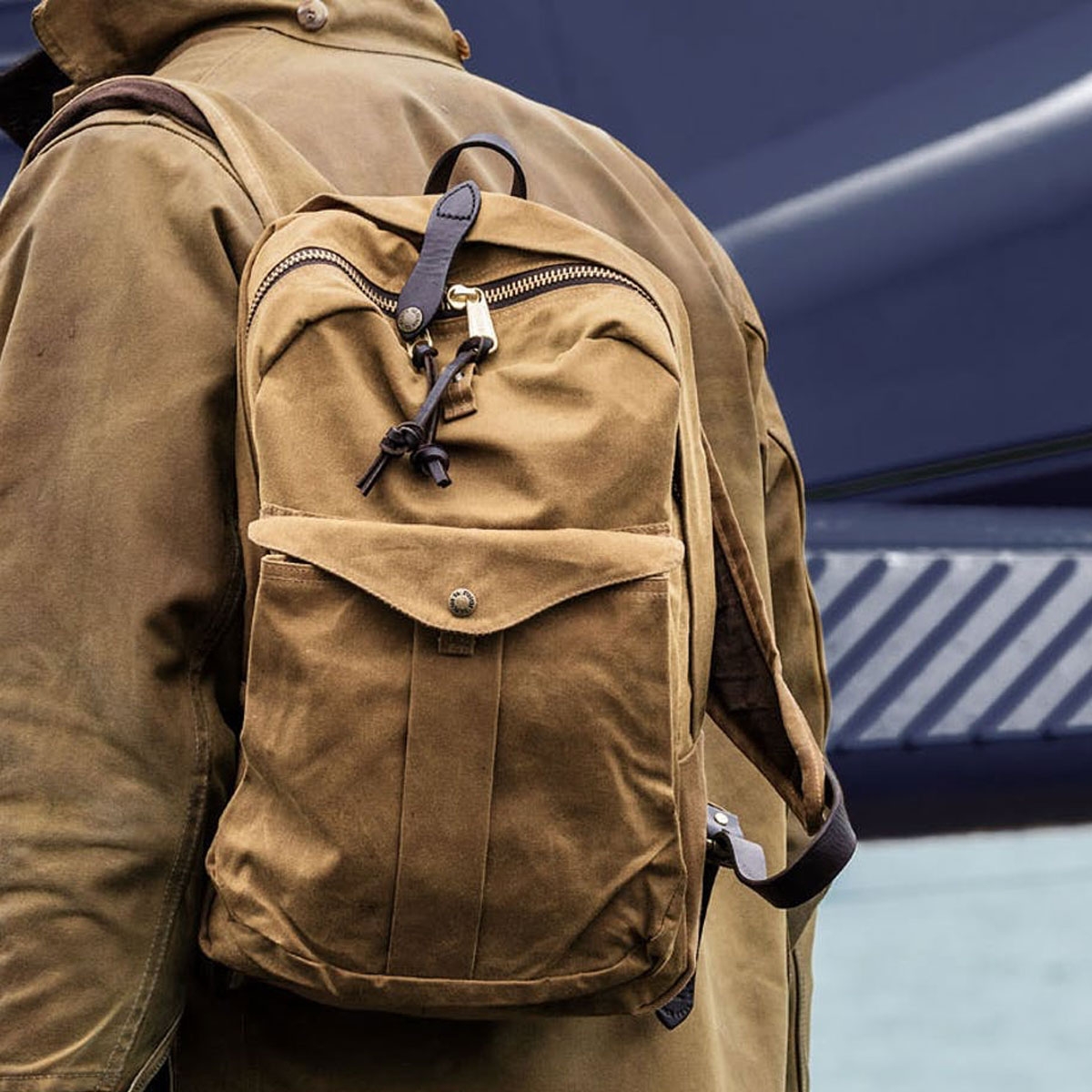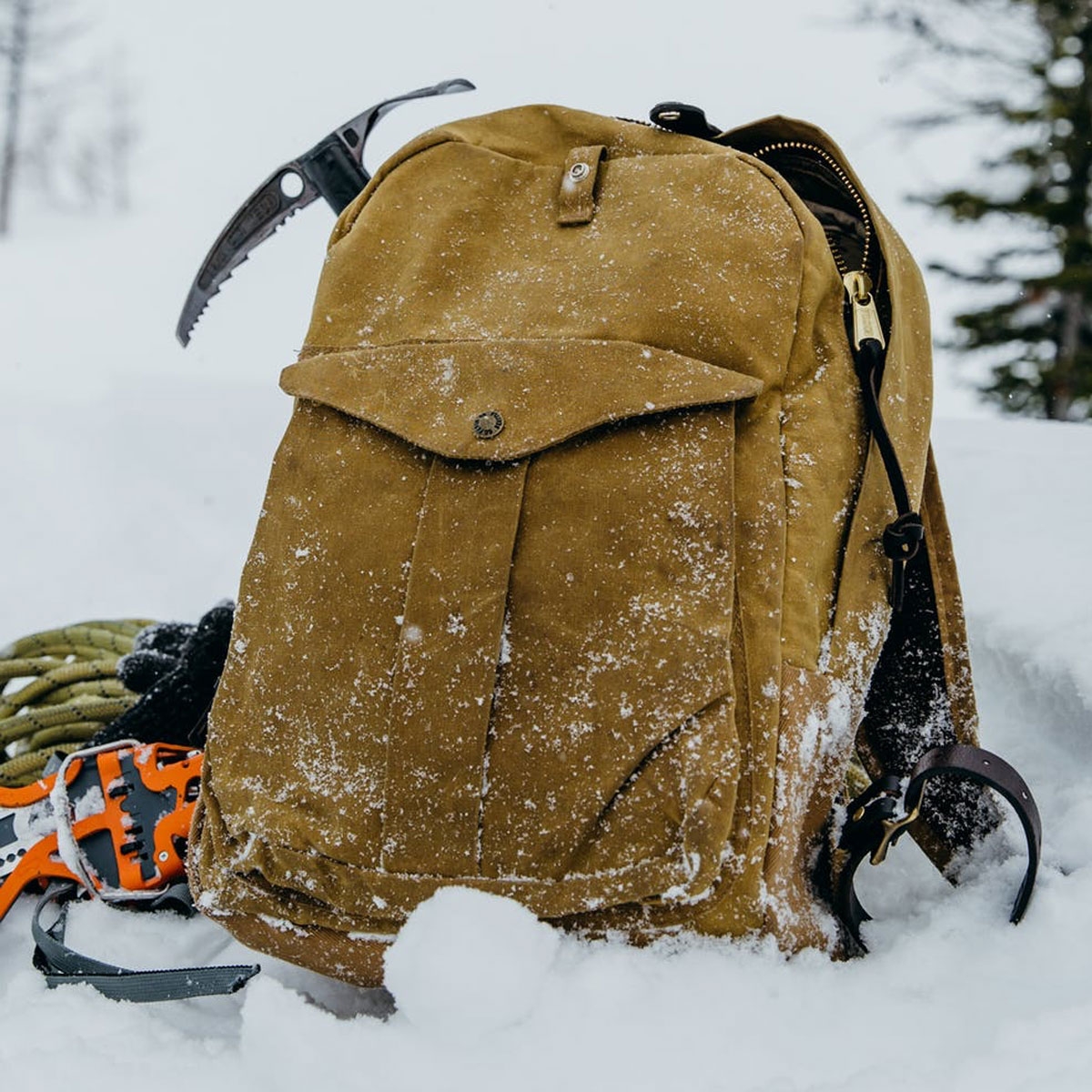 This water-repellent, medium-weight Filson Journeyman Backpack Tan has a padded back and padded shoulder straps for comfort while carrying, no matter how full your load is. It's fully lined to protect gear and has a padded interior laptop sleeve. The sides are gusseted to keep items from falling out when it's open, and the space-maximizing front pocket can be expanded or reduced via snaps to accomodate your needs. Cotton webbing across the back stabilizes the pack for comfortable carrying and added durability. It's built with Filson's most durable fabrics, for a tool that will last through decades of use, in any climate.
Filsons Journeyman Backpack is the perfect example of versatile functionality. It boasts a generous capacity and carries your load comfortably on the trail or on the job. With a design that's clean and uncluttered, without unnecessary bells and whistles, the Journeyman just goes about its business, day in, day out.
Filson combined the individual strengths of several of hier signature materials to create Filsons best-selling backpack. The main compartment is built with oil finish Tin Cloth to protect your gear from rain, sleet and snow, just as it's protected generations of loggers and sportsmen in the rain-soaked forests of the Pacific Northwest. Tin Cloth is a tightly-woven canvas duck that's been thoroughly saturated with a paraffin wax formulation for maximum water repellency. Filsons 2-ply by 3-ply Rugged Twill, an industrial-strength fabric from the iconic British Millerain, forms the back panel and reinforces the base for added structure and durability. The padded shoulder straps are built with Tin Cloth and lined with Moleskin, a sueded cotton which minimizes slipping while improving breathability. The contoured, adjustable straps are secured to the backpack with vegetable-tanned Bridle Leather from Wickett & Craig, the historic Pennsylvania tannery since 1867. Each Bridle Leather hide in Filsons Seattle factory has been slowly steeped in an environmentally-friendly bark-tannin solution, with tallows and waxes added in the final stages for suppleness and luster. The final result is a leather that's as well-suited for thier luggage as it is for bridles and saddlery.
The Journeyman's spacious, lined main compartment is secured by a solid brass, heavy-gauge YKK® zipper that's shielded from water by a Tin Cloth gutter along its entire length. It extends more than halfway down the bag, for easy access and visibility into the entire backpack. The back panel and attached laptop sleeve easily hold a 15- up to 17" laptop–and both are padded to protect its contents or your back from sharp or bulky loads. The exterior pocket is gusseted with corner snaps, allowing it to remain low-profile or expand to increase capacity. The one-hand-operable snapped pocket flap ensures your quick-access essentials stay dry. Added details such as the grab handle, snapped closure over the main compartment's rain gutter, and zipper pulls are made from Bridle Leather, rounding out a thoughtfully-designed, well-executed backpack that will provide dependable service for as many miles as you care to walk or ride.
The Journeyman Backpack is everything you need in a backpack while carrying the hallmark of well-engineered gear – it does what it's supposed to do without drawing attention to itself.
TIN CLOTH, legendary super strong, lightweight, and oil impregnated canvas.
The Journeyman Backpack is made of the legendary super strong, lightweight, and oil impregnated 14-oz. 'Tin Cloth' canvas. This 'oil finish Tin Cloth' offers the greatest protection against weather influences and wear. Because the cloth is impregnated with a paraffin wax a wax layer creates a canvas that very water repellent and wind resistant. Also gives the layer of wax this Filson bag a slightly darker and more used look, fresh out of the package itself.
RUGGED INDUSTRIAL-STRENGTH COTTON TWILL
Filson made the backpanel, bottom and parts of the side with Rugged Twill. Designed and woven exclusively for Filson, Rugged Twill is Filsons most durable, hard-wearing luggage fabric. The industrial-strength cotton is tightly woven in a 2-ply x 3-ply twill and lightly waxed for lasting protection against abrasion and wet weather. The paraffin wax gives it a natural water resistance. Some of Filsons customers' Rugged Twill luggage pieces have travelled over a million miles with nothing more than a few hard-earned scuffs to show for it.
The characteristic of Rugged Twill is that it develops a unique character as the bag ages. As soon as the canvas breaks with use and some spots get more rubbing or stains, the fabric gets its own unique patina. No two bags will age similarly. Unlike other bags where dirt, scuffs and stains can render a bag unappealing or even unusable, with the rugged twill fabric, these will only serve to add character to your bag.
BRIDLE LEATHER: VEGETABLE-TANNED QUALITY LEATHER
The grab-handle, shoulder straps and iconic accents are made of quality Bridle Leather. Filson has been manufacturing quality leather goods made from Bridle Leather, a premium vegetable-tanned harness leather sourced from North American hides and tanned at Wickett and Craig, a 150-year-old tannery in the United States, since the late 1800s.
HIGH QUALITY MATERIALS
Filson has been making bags and clothing since 1897. This way they know exactly what they are doing. Filson transforms high quality materials like the legendary Tin Cloth canvas and the best and super strong Bridle Leather into a tough and sturdy backpack, perfect to protect all your gear in any weather. With so much experience, you can't go wrong with this Filson Journeyman Backpack.
FILSON GUARANTEE
Filson guarantees every item made by Filson. No more, no less. Filson believes in their products and stand by the materials, quality, and workmanship for the lifetime of the product. The product lifetime specifically refers to the time at which, through normal use, the product can no longer function in its intended purpose. Filson Guarantee covers: * Failure of materials * Failure of workmanship and craftsmanship * Manufacturer defects * Every item for the lifetime of the product. The life of the product, the normal wear and tear refers specifically to the time when the product can no longer function in its intended purpose due to normal use. The warranty does not cover damage caused by neglect, improper maintenance, accidents or normal wear and tear.
Filson Journeyman Backpack Tan, order at BeauBags, Authorized International Filson Dealer and your Filson specialist in Europe. Personal & expert advice | Europe's largest Filson collection | Immediately available, ordered before 22:00, we ship the same day | Free delivery & return | 60-day return policy.
The Filson Journeyman Backpacks are one of the many Filson bags in our large and carefully selected collection. View the complete collection of Filson bags in our online shop.
FILSON HERITAGE OF QUALITY, guaranteed excellence in outdoor clothing and bags
Brand
Filson
Filson Product code
20231638
Color
Tan
Dimensions (WxHxD)
32x44,5x13 cm | 23 ltr
Material
100% cotton Rugged Twill + 14-oz. oil finish Tin Cloth + Moleskin + poly/cotton lining
Interior
>Fully-lined with a padded pocket for 15" laptops (and up to some 16" and 17")
>Interior zipper pocket
>2 interior dividers
Features
>Built with iconic Tin Cloth and Rugged Twill for water resistance and durability
>Cotton Moleskin-lined shoulder straps with Bridle Leather adjustment straps
>Padded back panel with cotton webbing reinforcement for comfortable carrying
>Exterior snap-flap pocket with snap-secure gussets for expandability
>Bridle Leather grab handle and zipper pulls
>Gusseted zipper closure keep items from falling out when open
Comes with
n.z.
Suitable for laptopsizes
13 inch, 14 inch, 15 inch, 16 inch, 17 inch
Laptop size (WxHxD)
44,5x32x12,5 cm | 32 ltr
To use as
Backpack, laptop backpack, businessback, handback, shoulderback, messenger, Apple MacBook back
Theme
Free time and business, practical, travel
Guarantee
Limited Lifetime warranty against material and workmanship defect
Brand details
FILSON, RUGGED QUALITY FOR OVER 120 YEARS
Established in 1897, Filson is the leading outfitter and manufacturer of unfailing goods for outdoor enthusiasts. Built upon a reputation for reliability, Filson is a favorite among anglers and hunters, engineers and explorers, mariners and miners, and anyone who refuses to stay indoors.

FILSON, BUILT TO LAST
Headquartered in Seattle, Washington, and renowned for making products in the USA from fabrics such as heavyweight 22-oz. cotton oil finish Rugged Twill, Tin Cloth, Cordura Nylon, and warm Mackinaw Wool, this company stands for the highest quality and most durable apparel and accessories available.
Made in
Vietnam