Return to Previous Page
PENDLETON JACQUARD UNNAPPED ROBE LOS LUNAS
these blanket fit perfectly over a double bed, can be used for wall hangings or just for cuddling up on the sofa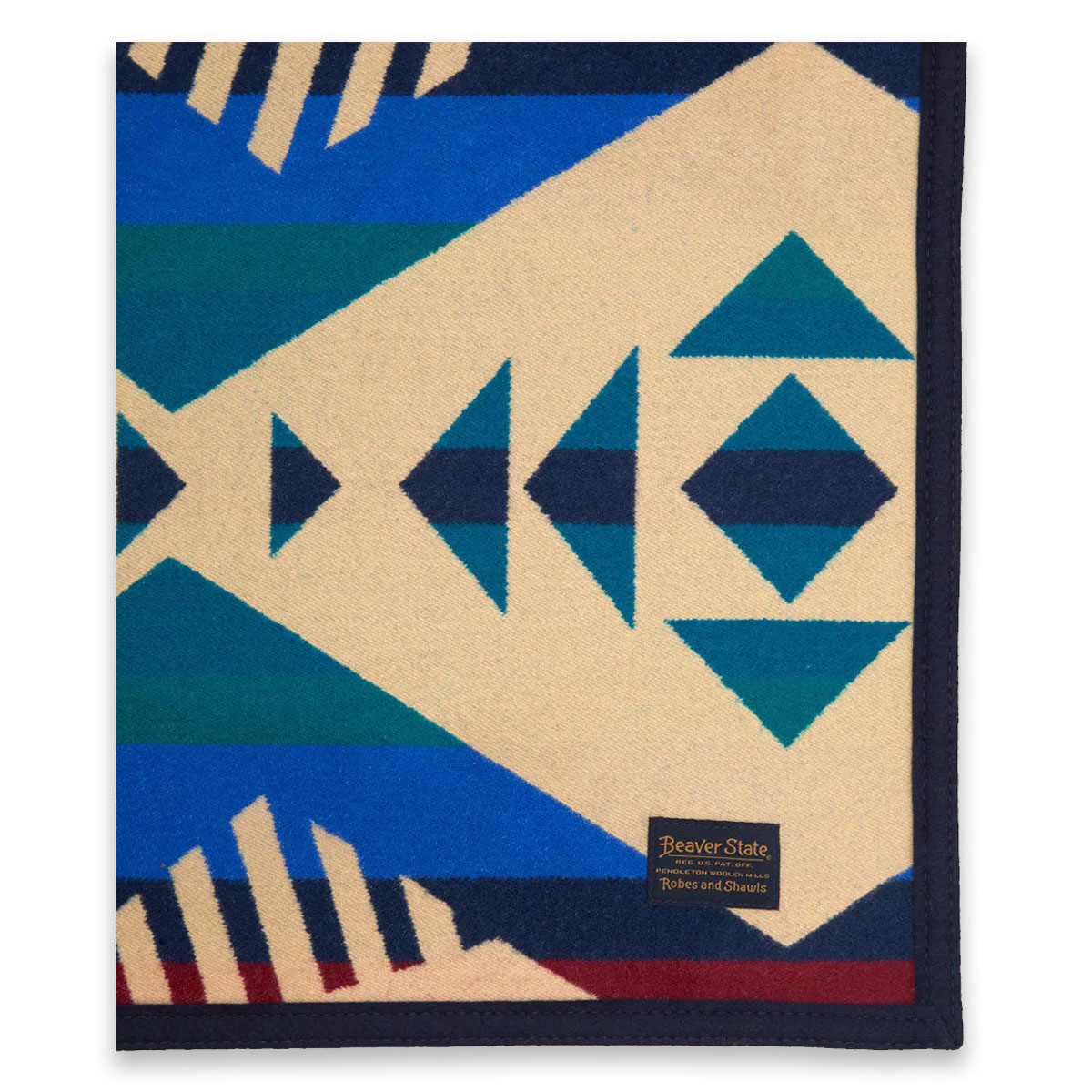 These Pendleton Jacquard blankets are robe size, which is the size preferred by Native Americans for ceremonial purposes and wrapping about oneself as a robe. These blankets fit perfectly over a double bed, can be used for wall hangings or just for cuddling up on the sofa.
HISTORY
This USA-made wool blanket features multi-directional arrows symbolizing the routes of people who made petroglyphs—carvings on rock walls—to record their specific cultures and journeys through the area now known as Los Lunas. This small New Mexico town is neighbor to Laguna Pueblo, the Rio Grande Valley, and Hidden Mountain. The area's abundant petroglyphs include figures seen nowhere else in the Americas. The carvings on Pueblo land are protected and treasured as centuries-old messages from the past.
Pendleton Jacquard Unnapped Robes are still woven in Pendleton's Pacific Northwest woolen mills, just as they were nearly 100 years ago.
FEATURES
82% pure virgin wool/18% cotton

Size: 162x203 cm

Unnapped -

fabric is uncombed for sharper pattern definition

Felt binding

Fabric woven in Pendleton American mills

Dry clean

Made in the USA
PERFECT FOR PICNICS, CAMPING OR CURLING UP INDOORS
Inspired by Native American tradition and crafted from Oregon wool, this colorful collection of Pendleton throws, wool blankets, robes and more, are perfect for picnics, camping or curling up indoors. Distinctive and durable, they make ideal gifts or spirited artistic centerpieces in any room of the house.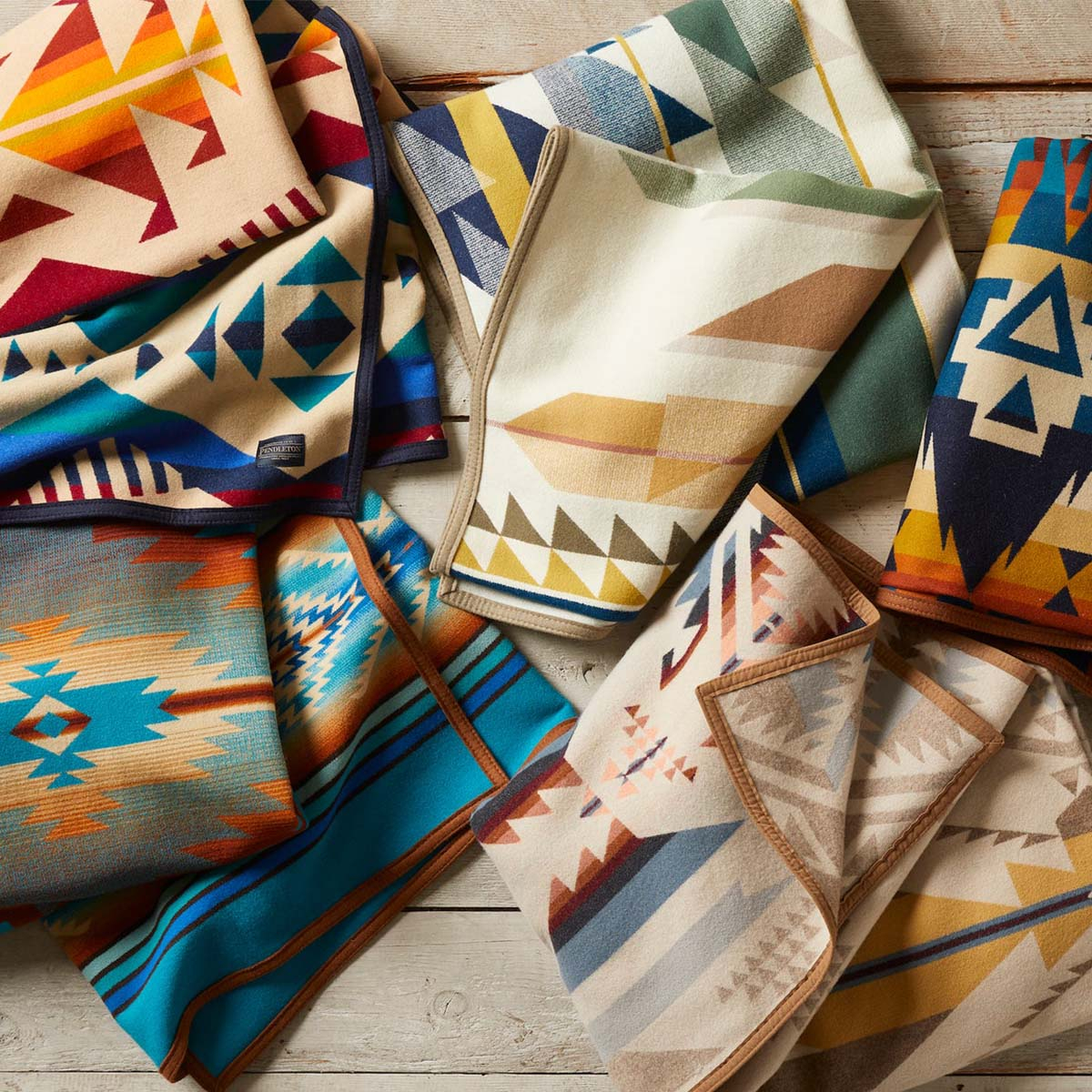 PENDLETON GUARANTEE
Although Pendleton always stayed true to its philosophy of manufacturing high-quality apparel and offering top notch craftsmanship defined by the brand's blue and gold label, the company constantly updates its mills with state-of-the-art looms and eco-friendly technology.
The fine wool blankets, apparel and accessories are all backed by Pendleton's "Warranted to be a Pendleton" assurance of quality.
AUTORIZED PENDLETON DEALER
BeauBags is a authorized international Pendleton Dealer and your Pendleton Specialist. For personal and expert advice, please call or email us, we are happy to help. All Pendleton products are in stock and ordered on workdays before 10:00 pm we will ship the same day. Delivery and returns are always free (EU) and you can exchange or get your money back for up to 60 days.
The Pendleton blankets are one of the many Pendleton items in our large and carefully selected collection. View the complete collection of Pendleton in our online shop.
PENDLETON, WORLD CLASS BLANKETS: quality blankets infused with authenticity, heritage and craftsmanship.
Brand
Pendleton
Pendleton Product code
ZE493 53978
Color
Los Lunas
Dimensions
163x203 cm
Material
82% pure virgin wool/18% cotton
To use as
Blankets perfect for picnics, camping or curling up indoors
Wasvoorschrift
Dry-clean only
Brand details
PENDLETON, WORLD CLASS BLANKETS: quality blankets infused with authenticity, heritage and craftsmanship.
Inspired by Native American tradition and crafted from Oregon wool, the colorful collection of Pendleton throws, wool blankets, robes and more, are perfect for picnics, camping or curling up indoors. Distinctive and durable, they make ideal gifts or spirited artistic centerpieces in any room of the house.
Made in
United States