Return to Previous Page
PENDLETON NATIONAL PARK FULL BLANKET YELLOWSTONE
perfect blanket for chilly nights, made from soft pure wool with a napped finish
Since the early 1900s, Pendleton Woolen Mills® has honored America's National Parks with a collection of distinctive park blankets. Each blanket has a Pendleton label signifying its authenticity and a special woven label with the park name and image of an important natural feature.
HISTORY
This Pendleton National Park Full Blanket Yellowstone is inspired and designed to capture the full color palette of America's longest celebrated national park. The Yellowstone ecosystem is home to the largest volcanic system in North America. Thanks to this source of geothermal energy, the park is a lush wilderness and one of the most visited destinations of the country.
National Park Blankets are still woven in Pendleton's Pacific Northwest woolen mills, just as they were nearly 100 years ago. Pendleton is proud to support the National Park Foundation, the official charity of America's national parks. Experience the history and romance of America's National Parks!
John Muir, widely regarded as the founder of America's National Parks, once said: 'Everybody needs beauty... places to play in and pray in where nature may heal and cheer and give strength to the body and soul alike'. Today, there are 62 US National Parks, and Pendleton's blankets celebrate the unique place that they hold in the hearts of the American people. Their historic markings and colours date back to the days of the frontier trading posts, while reflecting the individual characteristics of each park. Each luxurious wool blanket is also dyed, woven and hand-finished in the USA. The fabric is then combed for added thickness and softness. Best of all, Pendleton pays a royalty for each blanket sold to help preserve and restore the National Parks
FEATURES
100% pure virgin wool

Size: 203x229 cm

Napped - fabric is combed for a softer, thicker feel

National Park blanket

With a Pendleton label to signify authenticity

Dry clean

Made in the USA
PERFECT FOR PICNICS, CAMPING OR CURLING UP INDOORS
Inspired by Native American tradition and crafted from Oregon wool, this colorful collection of Pendleton throws, wool blankets, robes and more, are perfect for picnics, camping or curling up indoors. Distinctive and durable, they make ideal gifts or spirited artistic centerpieces in any room of the house.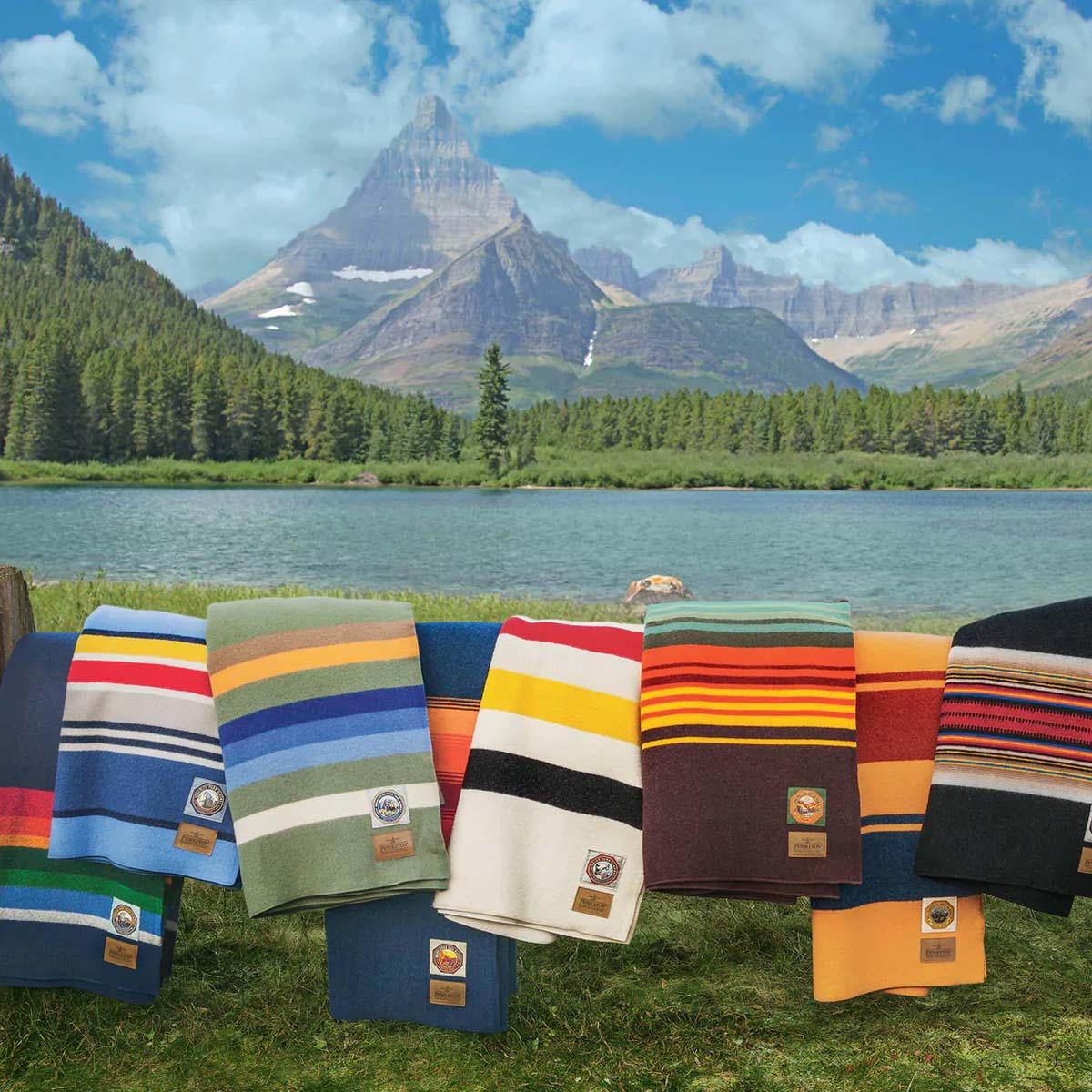 PENDLETON GUARANTEE
Although Pendleton always stayed true to its philosophy of manufacturing high-quality apparel and offering top notch craftsmanship defined by the brand's blue and gold label, the company constantly updates its mills with state-of-the-art looms and eco-friendly technology.
The fine wool blankets, apparel and accessories are all backed by Pendleton's "Warranted to be a Pendleton" assurance of quality.
AUTORIZED PENDLETON DEALER
BeauBags is a authorized international Pendleton Dealer and your Pendleton Specialist. For personal and expert advice, please call or email us, we are happy to help. All Pendleton products are in stock and ordered on workdays before 10:00 pm we will ship the same day. Delivery and returns are always free (EU) and you can exchange or get your money back for up to 60 days.
The Pendleton blankets are one of the many Pendleton items in our large and carefully selected collection. View the complete collection of Pendleton in our online shop.
PENDLETON, WORLD CLASS BLANKETS: quality blankets infused with authenticity, heritage and craftsmanship.
Brand
Pendleton
Pendleton Product code
ZA132 53704
Color
Yellowstone
Dimensions
203x229 cm
Material
100% pure virgin wool
To use as
Blankets perfect for picnics, camping or curling up indoors
Wasvoorschrift
Dry-clean only
Brand details
PENDLETON, WORLD CLASS BLANKETS: quality blankets infused with authenticity, heritage and craftsmanship.
Inspired by Native American tradition and crafted from Oregon wool, the colorful collection of Pendleton throws, wool blankets, robes and more, are perfect for picnics, camping or curling up indoors. Distinctive and durable, they make ideal gifts or spirited artistic centerpieces in any room of the house.
Made in
United States