Return to Previous Page
TOPO DESIGNS PACK BAG 5L OLIVE
optimizing your luggage has never been easier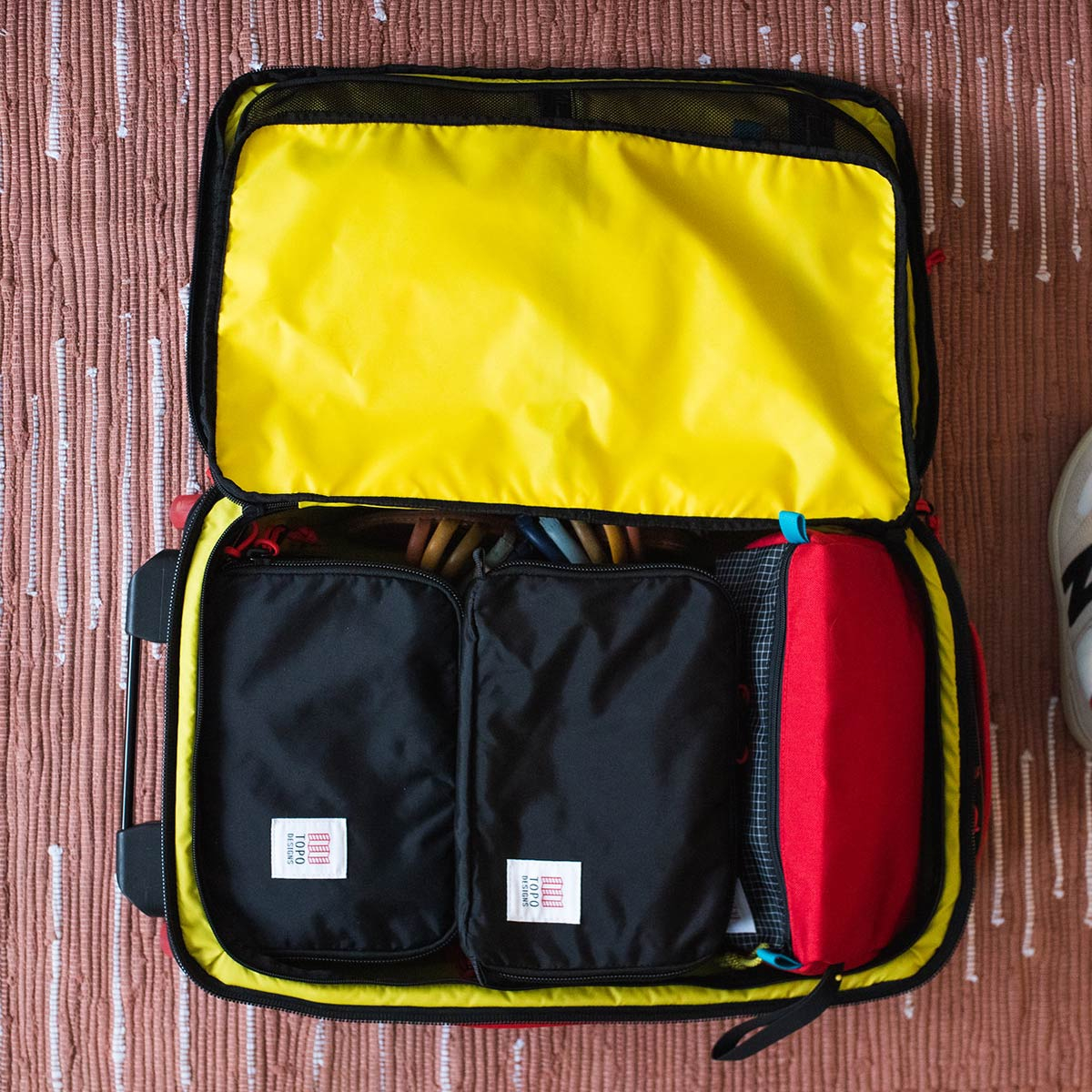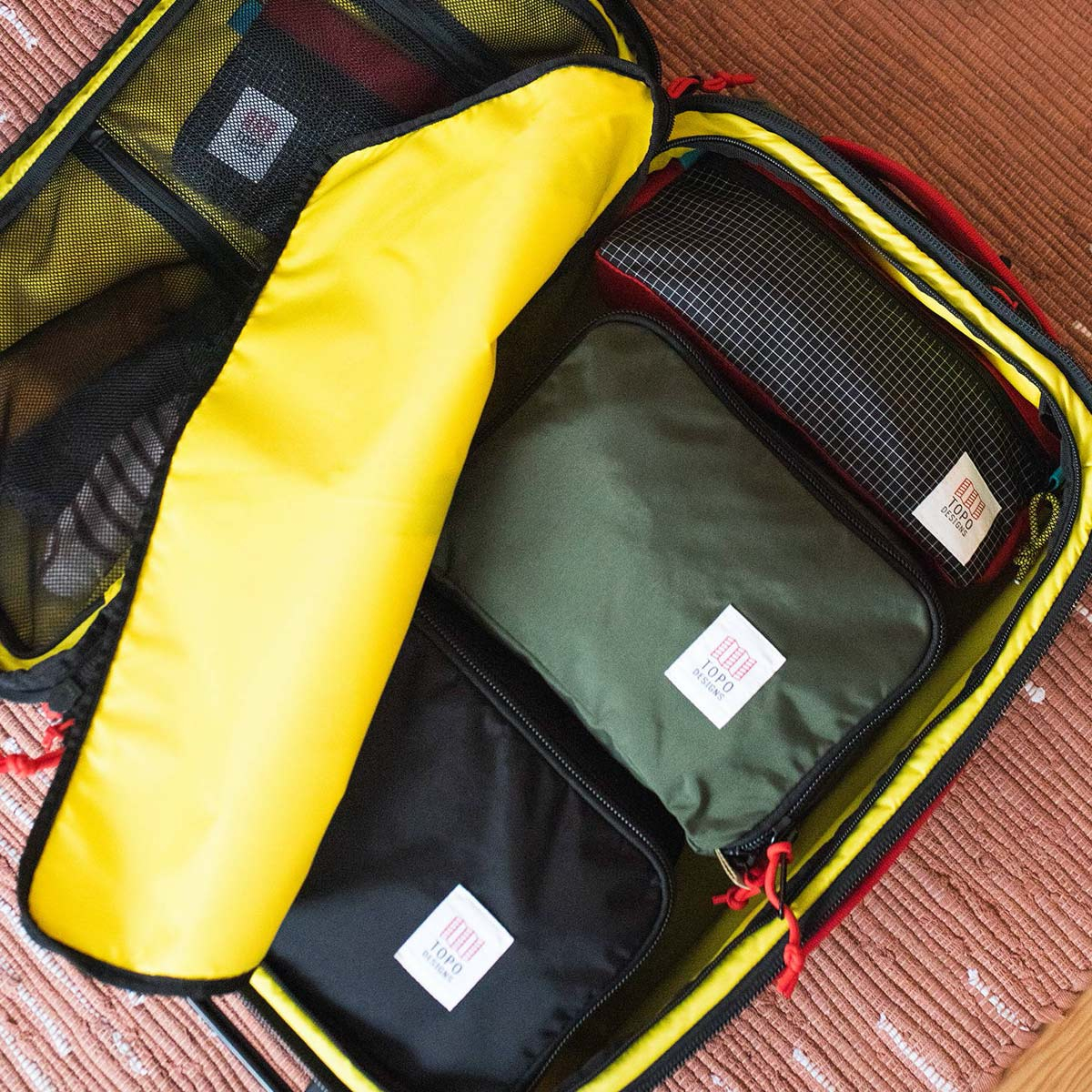 The Topo Designs Pack Bag 5L is a simple, durable and highly functional way to organize your luggage, to pack down small apparel, underwear, socks and toiletries and compress your essentials into one small space.
A must-have for organized one-bag travel. The Pack Bag 5L is ideal for compactly stowing apparel while you travel. Optimizing your luggage has never been easier.
FEATURES
The Topo Designs Pack Bag 5L features a U-shape opening for easy loading. Designed to lay flat, it unzips wide open to make packing a cinch. Compress and close with the heavy-duty zipper and stack neatly inside your travel bag or backpack. Include a top carry handle and heavy-duty YKK zippers with paracord pulls. This Pack Bag makes traveling a little bit easier.
Topo Designs uses for the exterior of this pack 400D nylon pack cloth, a High Density fabric as tough as leather or vinyl.
400D NYLON PACK CLOTH
400 Denier coated nylon fabric is the "elephant hide" of the outdoor fabrics. Typically created from 400 Denier nylon yarns, this High Density fabric is as tough as leather or vinyl, or any other fabrics on the market and yet is still light weight, durable and easy to use. This fabric is permanently sealed with a finish offering superior water repellent properties under all weather conditions that will not crack, blister or peel.
WATER-REPELLENT
The density of the nylon Topo use, coated zipper backing, and pack cloth lining mean that this Pack Bag is weatherproof and will keep your gear dry for everyday purposes — pretty much anything except for activities like kayaking or scuba diving where you'll need a true dry bag. The Topo Designs Pack Bags can handle just about anything short of full submersion. We like to think of them as "downpour-proof".
SUSTAINABILITY
Fair Wear certified production, meeting fair labor standards for the safety, health, and wellness of employees.

100% nylon with high abrasion resistance, equating to a longer product lifespan.

Fabrics from certified dye mills, ensuring the chemical composition of textile products consists of healthy and safe materials.

YKK heavy-duty zippers for durability.

MAP Guarantee™ Repairs Program.
MAP GUARANTEE™, REASONABLE LIFETIME WARRANTY
The main goal at Topo Designs is to build products that stand the test of time and work anywhere on the map. Topo Designs wants to build fewer things that can be combined in endless ways to work in any environment. Whether traveling the globe or headed to the backcountry, they want to make sure everything they make will go out and come back in one piece, year after year. Topo Designs use the highest quality fabrics, hardware, and materials, and overbuild everything they make.
Topo Designs stand behind their quality and durability on all packs, bags and accessories, which is why Topo Designs offers a reasonable lifetime warranty against defects in materials and workmanship. Topo Designs warranty does not cover any damage caused by neglect, improper care, accident, or normal wear and tear.
Topo Designs bags and packs, order at BeauBags, Authorized International Topo Designs Dealer and your Topo Designs specialist.
Personal & expert advice | Europe's largest Topo Designs collection | Free delivery & return | Order before 10PM, we ship the same day | 60-day return policy.
Topo Designs Pack Bags are one of the many great bags of Topo Designs in our large and carefully selected collection.
Please check out the complete collection of Topo Designs in our online shop.
TOPO DESIGNS - Made For Anywhere On Your Map.
Brand
Topo Designs
Color
Olive
Dimensions (WxHxD)
25,5x18x7,5 cm
Volume
5 L
Material
400D nylon pack cloth
Features
>U-shape opening for easy loading
>Heavy-duty YKK zippers with paracord pulls
>Top carry handle
>Webbing pull handles
>Sized for small apparel or toiletries
Guarantee
MAP Guarantee™. Topo Designs offers a reasonable lifetime warranty against defects in materials and workmanship. Topo Designs warranty does not cover any damage caused by neglect, improper care, accident, or normal wear and tear.
Brand details
Made For Anywhere On Your Map.


Growing up in the mountains of the West, Topo Designs has been using gear from their earliest memories. They are fishers, hunters, ski instructors, hikers, climbers, bikers, travelers, and throught it all they have searched for gear that really works - as well as satisfies with the standard fare, Topo Designs sought out ski gear from France, Bags from Japan, all the while honing their tastes and growing a seed of desire to create something theirselves.

At Topo Designs, they're rooted in mountain culture and outdoor living, but love exploring cities and world travel. They look to proven classics for inspiration, yet take advantage of innovative technologies to ensure a timeless look with modern functionality. Topo Designs is uncomplicated and utilitarian, but with a sense of design and style through simplicity. Their goal is to not have to choose a single path—they want to live on both sides of the fence, where life is always greener.

Made in
Vietnam