Return to Previous Page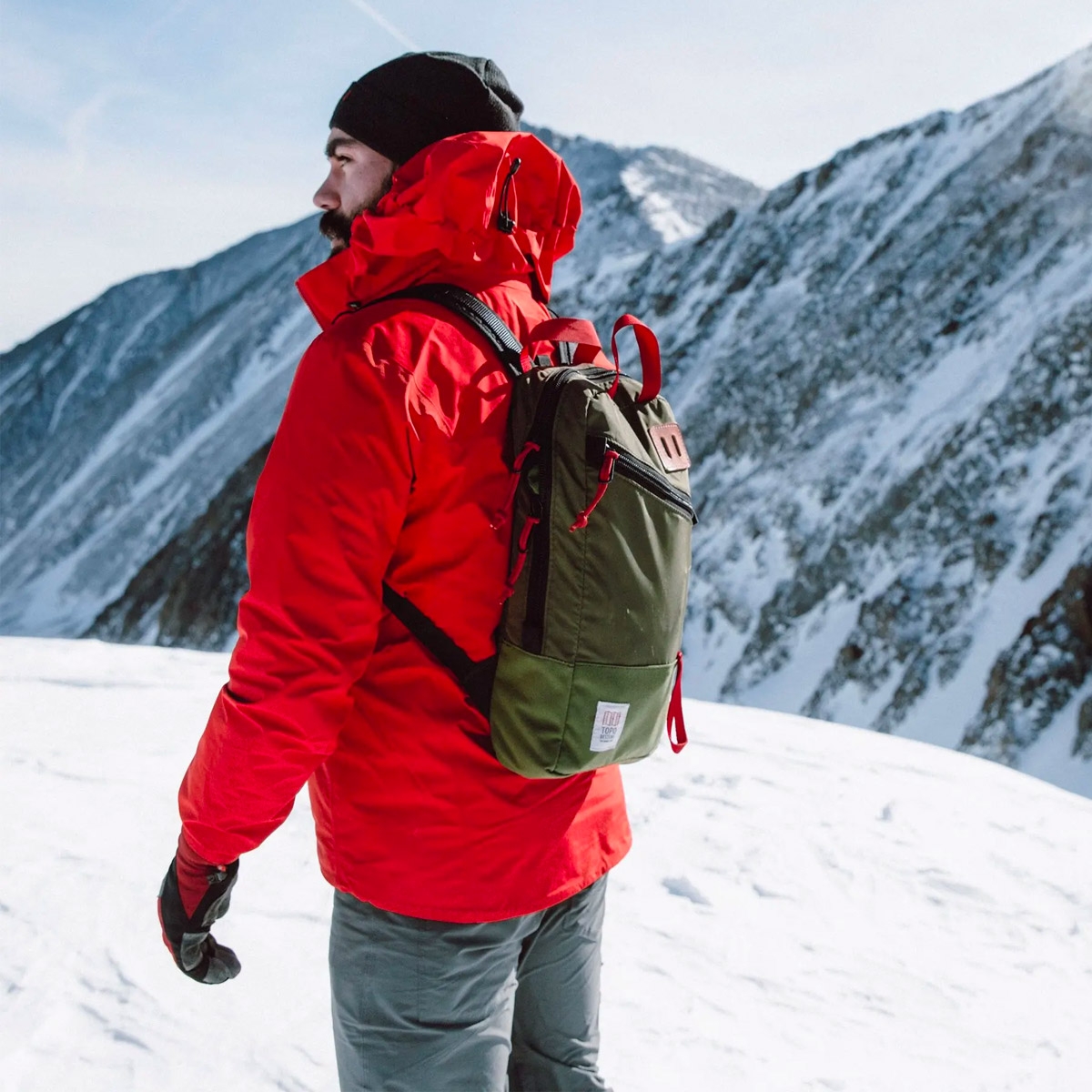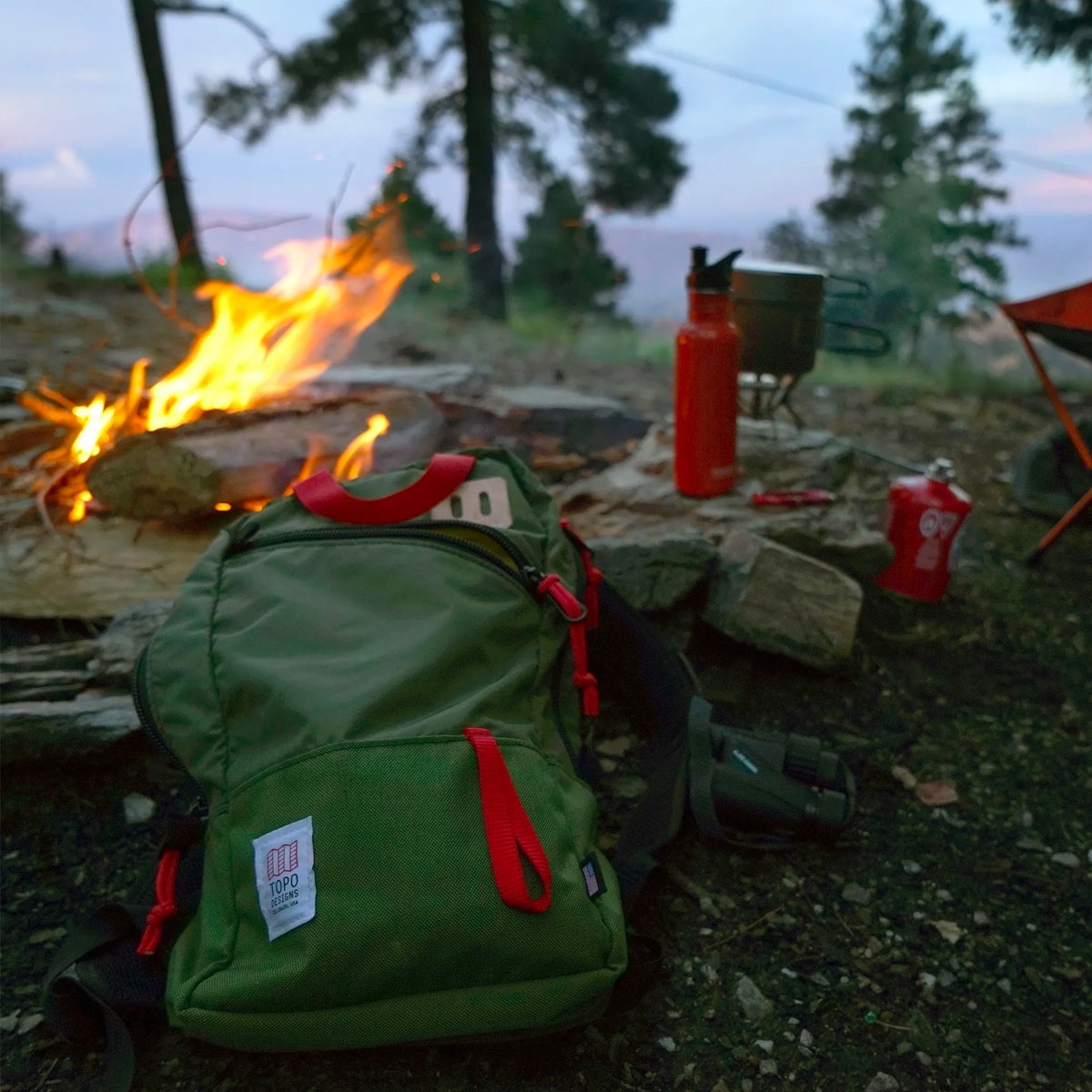 TOPO DESIGNS TRIP PACK OLIVE, perfect size bag for every day trip
The Topo Designs Trip Pack Olive was born out of the desire to have the perfect size bag for day trips while traveling, tucking necessities under the seat on a plane or just carrying a few things while tooling around town or on the trail. Topo Designs gave it all the functionality of a daypack in a light, compact size that will keep all those excursion essentials handily stowed away.
When you're on the go, the Trip Pack is a must-have travel companion.
Its compact build makes it just-right for day trips while exploring a new city, and its webbing loops allow you to hook it to your Travel Bag to use as a complete system for your next adventure.
Topo Designs included an external zippered pocket as well as an internal elastic sleeve with zippered pocket that is the perfect size for an iPad/Tablet or a travel journal. Best of all it works as a system with Topo's Travel Bag by simply hooking the integrated webbing loops to the quick release hooks on the front. The hooks allow both bags to be carried at once and disassembled when you reach your destination.
1000D CORDURA®
Topo Designs uses for the exterior of this Name Bag 1000D Cordura®. 1000D Cordura® is a very strong nylon with a urethane coating which gives it excellent tear resistance and is very durable. It is particularly suitable for the toughest tasks and wear and tear.
What experts say about 1000D Cordura®; "Need of fabric for the toughest tasks and wear? This 1000 Denier Cordura is suitable for any demanding project. This very heavy duty nylon with urethane coating has excellent tear resistance and is very abrasion resistant. This fabric is amazingly tough and versatile. We recommend this fabric for projects such as strong duffle, backpacks, luggage with soft sides, camera bags and cases for musical instruments, and go-kart racing suits".
MADE IN THE USA, all Topo Designs Trip Packs are handmade in Colorado, USA.
MAP GUARANTEE™, REASONABLE LIFETIME WARRANTY
The main goal at Topo Designs is to build products that stand the test of time and work anywhere on the map. Topo Designs wants to build fewer things that can be combined in endless ways to work in any environment. Whether traveling the globe or headed to the backcountry, they want to make sure everything they make will go out and come back in one piece, year after year. Topo Designs use the highest quality fabrics, hardware, and materials, and overbuild everything they make.
Topo Designs stand behind their quality and durability on all packs, bags and accessories, which is why Topo Designs offers a reasonable lifetime warranty against defects in materials and workmanship. Topo Designs warranty does not cover any damage caused by neglect, improper care, accident, or normal wear and tear.
Topo Designs Trip Pack, order at BeauBags, Authorized International Topo Designs Dealer and your Topo Designs specialist in Europe. Personal & expert advice | Europe's largest Topo Designs collection | Free delivery & return | Order before 10PM, we ship the same day | 30-day return policy.
Topo Designs Trip Packs are one of the many great bags of Topo Designs in our large and carefully selected collection.
Please check out the complete collection of Topo Designs in our online shop.
TOPO DESIGNS - Made For Anywhere On Your Map.
Brand
Topo Designs
Color
Olive
Dimensions (WxHxD)
20x40,5x10 cm
Volume
10.5 L
Material
1000D Cordura®, 400D nylon pack cloth, 420D nylon pack cloth liner, 1050D ballistic Cordura® on select colors
Features
U-shape access to main compartment
Internal sleeve fits most 11" laptops or tablets
Large diagonal exterior zippered pocket
Padded back panel
Comfortable padded shoulder straps
Top carry handles
Leather lash tab
Ice axe loop
Heavy-duty YKK zippers
Travel Bag attachment loops
Guarantee
MAP Guarantee™. Topo Designs offers a reasonable lifetime warranty against defects in materials and workmanship. Topo Designs warranty does not cover any damage caused by neglect, improper care, accident, or normal wear and tear.
Brand details
Made For Anywhere On Your Map.


Growing up in the mountains of the West, Topo Designs has been using gear from their earliest memories. They are fishers, hunters, ski instructors, hikers, climbers, bikers, travelers, and throught it all they have searched for gear that really works - as well as satisfies with the standard fare, Topo Designs sought out ski gear from France, Bags from Japan, all the while honing their tastes and growing a seed of desire to create something theirselves.

At Topo Designs, they're rooted in mountain culture and outdoor living, but love exploring cities and world travel. They look to proven classics for inspiration, yet take advantage of innovative technologies to ensure a timeless look with modern functionality. Topo Designs is uncomplicated and utilitarian, but with a sense of design and style through simplicity. Their goal is to not have to choose a single path—they want to live on both sides of the fence, where life is always greener.

Made in
United States