Return to Previous Page
FILSON 48-HOUR TIN CLOTH DUFFLE BAG OTTER GREEN
a robust duffle with great pockets, perfect for a long weekend away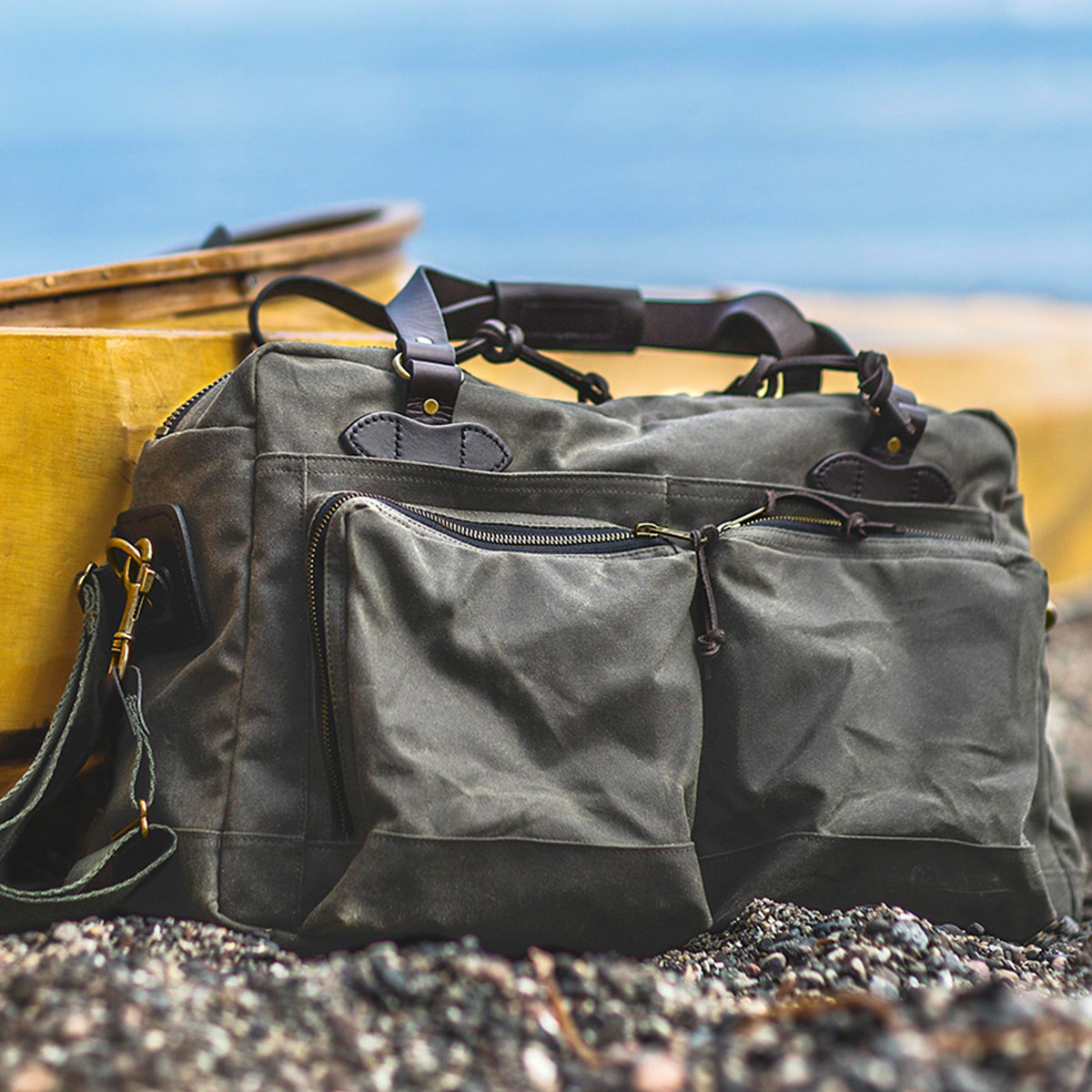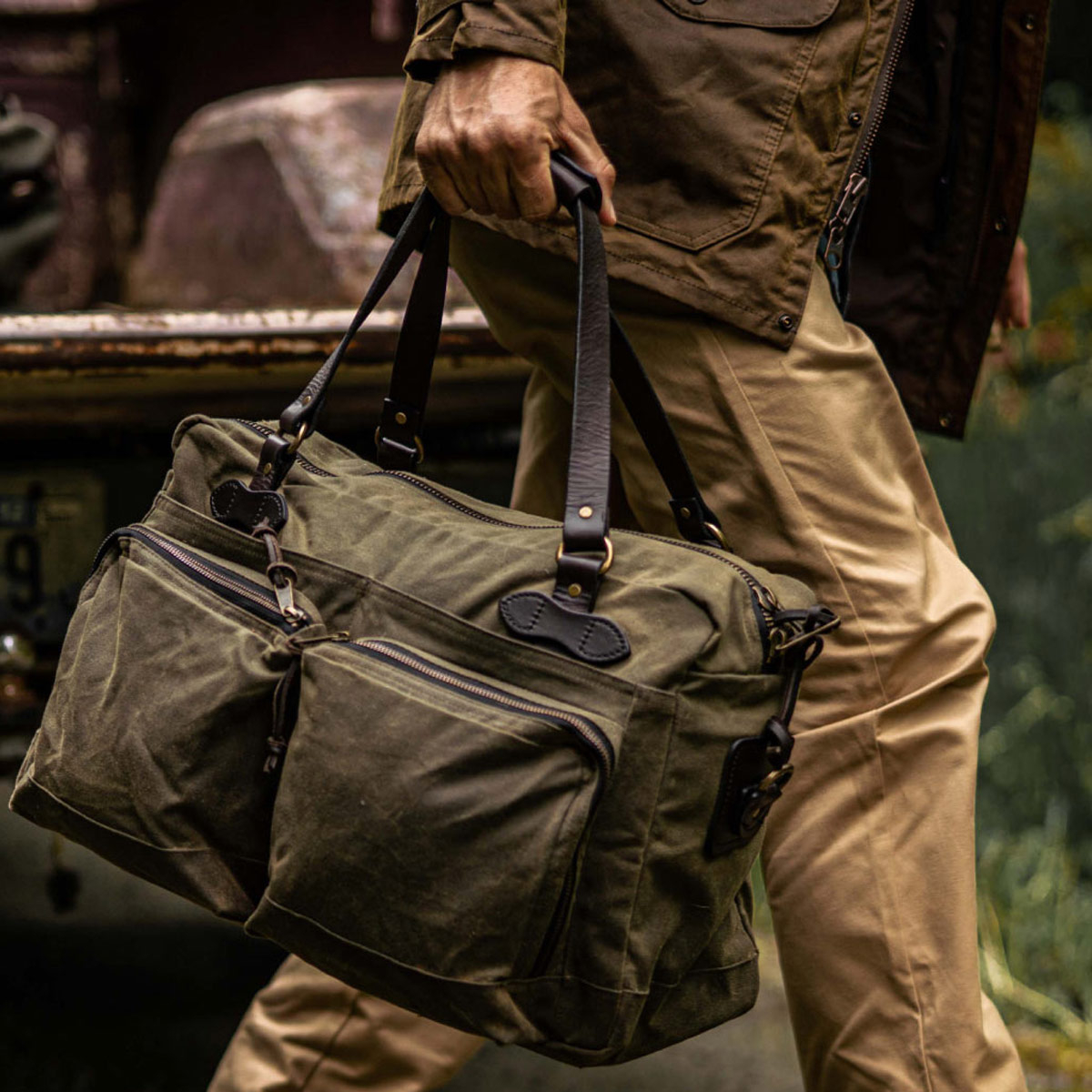 The Filson 48-Hour Tin Cloth Duffle Bag Otter Green is perfect for a weekend away or a small business-trip. A few days on the way is already soon 48 hours from home. And then obviously it's important that you have all your travel essentials with you. Do you have your hand luggage suitcase well packed? Hopefully though because otherwise it will be a difficult journey. And of great importance is that you get all your personal stuff quickly at hand. But is a suitcase useful? Who says you need a suitcase at all? It makes travel slower, less practical and gives you even more stress.
VERY CONVENIENT TO USE, and stylishly finished.
Go relax on tour with the Filson 48-Hour Tin Cloth Duffle Bag. This amazing bag is your perfect travel partner. You carry him easily with the sturdy leather handles, or pleasant and comfortable on your shoulder. All you need in 48 hours fits into it and always at hand.
Rain-repellent Tin Cloth and durable Bridle Leather combine in this bag built for overnight and weekend trips. The rustproof brass zipper opening allows full bag access, and the interior is fully lined to protect gear. The base is reinforced to help it maintain shape while you're packing, and to further protect from mud and rain. A removable, adjustable cotton webbing shoulder strap and Bridle Leather handles long enough to sling over your shoulder give plenty of carrying options.
On the front are two pockets with zipper closure. Here you'll find all kinds of boxes for smartphone, pens, wallet and other small items. Behind these two large boxes are another two deep pockets. Extra useful is the strap on the rear pocket that allows you to easily slide the bag on a trolley handle. This 48-hour Filson Duffle comes with an extra tin oil-finish wax for maintaining and bringing the bag in almost new condition.
TIN CLOTH, legendary super strong, lightweight, and oil impregnated canvas.
The 48-Hour Duffle is made entirely of the legendary super strong, lightweight, and oil impregnated 14-oz. 'Tin Cloth' canvas. This 'oil finish Tin Cloth' offers the greatest protection against weather influences and wear. Because the cloth is impregnated with a paraffin wax a wax layer creates a canvas that very water repellent and wind resistant. Also gives the a layer of wax this Filson bag a slightly darker and more used look, fresh out of the package itself.
For decades, this legendary oil finish Tin Cloth has excelled at sheltering foresters, miners and sportsmen from wet, abusive conditions – so you can be assured your gear will be well-protected in all your travels. The canvas duck from British Millerain is thoroughly saturated with Filson special oil finish wax, creating a barrier that keeps rain, snow and mud on the outside, where it belongs. Tin Cloth's tight weave has made its resistance to abrasion and tears legendary, making it the ideal material for a lighter-weight bag that withstands the tests of time and mileage. The leather handles are cut, burnished and edge-dyed in the Filson Seattle factory from Bridle Leather hides vegetable-tanned by Pennsylvania's iconic Wickett & Craig. Each hide is slowly steeped in a special bark-tannin solution, with tallows and waxes "hot-stuffed" into it during the final stages. This eco-friendly tanning process transforms cowhide into durable, pliable leather suitable for horse tack, saddlery, as well as Filson briefcases.
BRIDLE LEATHER: VEGETABLE-TANNED QUALITY LEATHER
Filson has been manufacturing quality leather goods made from Bridle Leather, a premium vegetable-tanned harness leather sourced from North American hides and tanned at Wickett and Craig, a 150-year-old tannery in the United States, since the late 1800s.
What is 'Bridle Leather'? The name refers to the original purpose and use of the leather which was for straps on a horse's headpiece and reins. As a result, the product name is synonymous with; quality, value and durability. After all, it was originally intended to be attached to a horse so it had to be comfortable on the animal's skin, while being strong and durable as the rider's life depended on it not failing. The best Bridle Leather should be smooth to the touch and flexible to handle.
Vegetable-tanning at Wickett & Craig. Natural, environmentally friendly, unparalleled. For over 150 years, Wickett & Craig, founded in 1867, has been perfecting the traditional craft of vegetable tanning. It's a labor-intensive method, which produces superior leathers full of character. The result? Durable leather with rich patinas that only get better as the leather ages.
HIGH QUALITY MATERIALS
Filson has been making bags and clothing since 1897. This way they know exactly what they are doing. Filson transforms high quality materials like the legendary Tin Cloth canvas and the best and super strong Bridle Leather into a tough and sturdy duffle, perfect to protect all your gear in any weather. With virtually indestructible, solid brass zippers from YKK® and heavy-duty, cotton-wrapped polyester thread tying it all together, this duffle is built for decades of faithful service. With so much experience, you can't go wrong with this Filson 48-Hour Tin Cloth Duffle.
FILSON GUARANTEE
Filson guarantees every item made by Filson. No more, no less. Filson believes in their products and stand by the materials, quality, and workmanship for the lifetime of the product. The product lifetime specifically refers to the time at which, through normal use, the product can no longer function in its intended purpose. Filson Guarantee covers: * Failure of materials * Failure of workmanship and craftsmanship * Manufacturer defects * Every item for the lifetime of the product. The life of the product, the normal wear and tear refers specifically to the time when the product can no longer function in its intended purpose due to normal use. The warranty does not cover damage caused by neglect, improper maintenance, accidents or normal wear and tear.
Filson 48-Hour Tin Cloth Duffle Bag is one of the many Filson items in our large and carefully selected collection. View the complete collection of Filson Duffle Bags in our online shop.
Filson has been making accessories, bags and apparel since 1897. This way they know exactly what they are doing. Filson transforms indestructible materials to firm and solid accessoires, perfect to protect you in any weather.
Filson 48-Hour Tin Cloth Duffle, order at BeauBags, Authorized International Filson Dealer and your Filson specialist in Europe. Personal & expert advice | Europe's largest Filson collection | Immediately available, ordered before 22:00, we ship the same day | Free delivery & return | 60-day return policy.
Never fight with packing a suitcase, this incredible Filson Duffle is from now on your trusty travel companion. You will travel in style!

Brand
Filson
Filson Product code
20231634
Color
Otter Green
Dimensions (WxHxD)
48x29x18 cm | 34,5 ltr
Material
14-oz. oil finish Tin Cloth + 6-oz. dry finish Cover Cloth lining + Bridle Leather
Features
>Solid brass zipper closure custom cut at Filson and allows full bag access
>2 zipper pockets, 2 stow pockets, 1 interior slotted utility pocket, 1 interior zipper pocket, 3 interior stow pockets
>Trolley strap on back slides onto rolling luggage handles
>Saddle-grade Bridle Leather reinforcement adds durability
>Reinforced, structured base protects gear and adds structure while packing
>Bridle Leather handles with two-snap grip are long enough to sling over shoulder to carry
>Fully lined with dry finish Cover Cloth to protect gear
>Removable, adjustable cotton webbing shoulder strap
>Includes iconic Filson Bridle Leather body tabs

To use as
Travelbag, shoulderbag, workbag, sportbag
Theme
Travel, Field
Guarantee
Limited Lifetime warranty against material and workmanship defect
Brand details
FILSON the AMERICAN EXPERIENCE | BUILT TO LAST.
Established in 1897, Filson is the leading outfitter and manufacturer of unfailing goods for outdoor enthusiasts. Built upon a reputation for reliability, Filson is a favorite among anglers and hunters, engineers and explorers, mariners and miners, and anyone who refuses to stay indoors.
FILSON | RUGGED QUALITY FOR OVER 100 YEARS
Headquartered in Seattle, Washington, and renowned for making products in the USA from fabrics such as heavyweight 22-oz. cotton oil finish Rugged Twill, Tin Cloth, and warm Mackinaw Wool, this company stands for the highest quality and most durable apparel and accessories available.
Made in
Vietnam