Return to Previous Page
FILSON TIN CLOTH SMALL DUFFLE BAG OTTER GREEN
a compact waxed-canvas duffle sized for overnight trips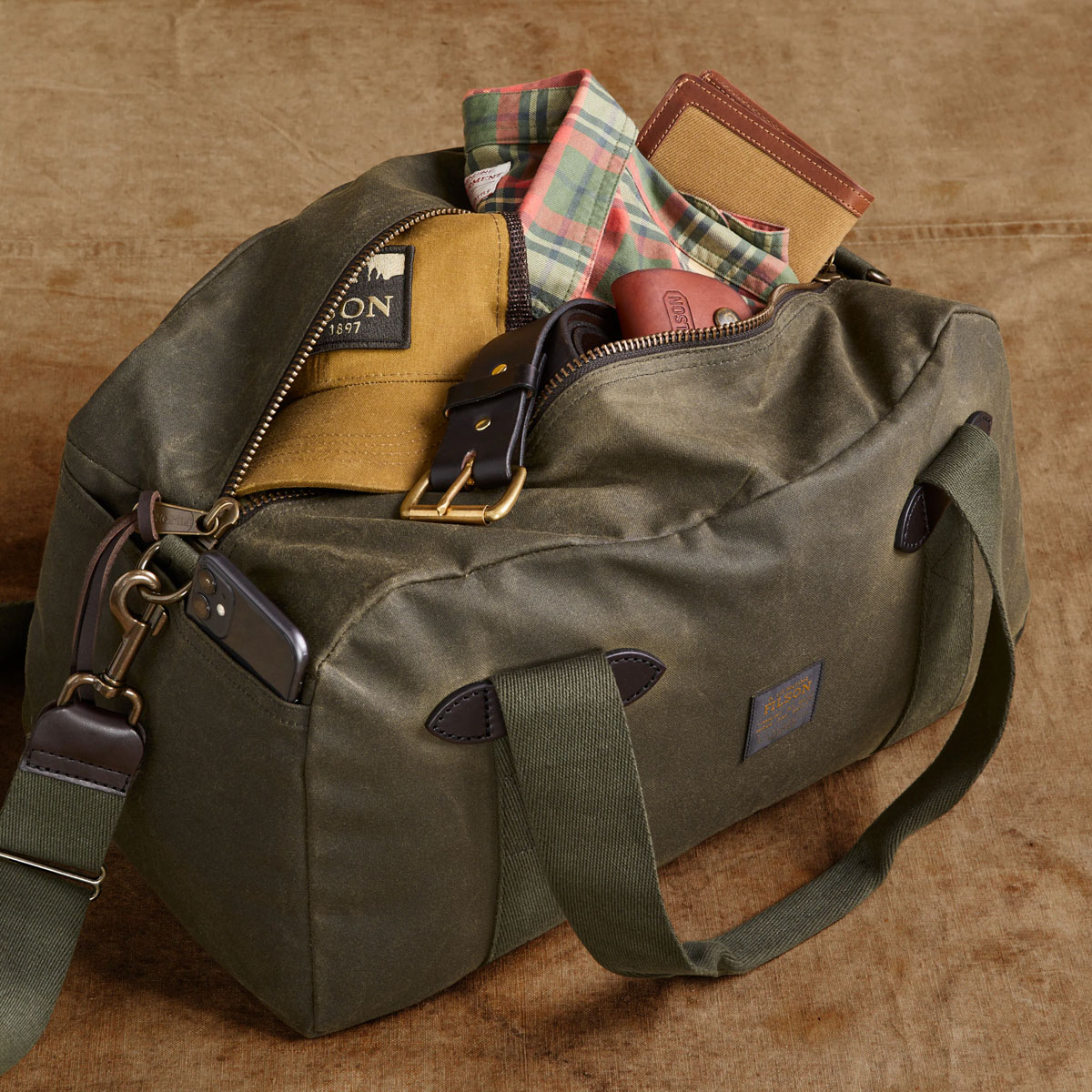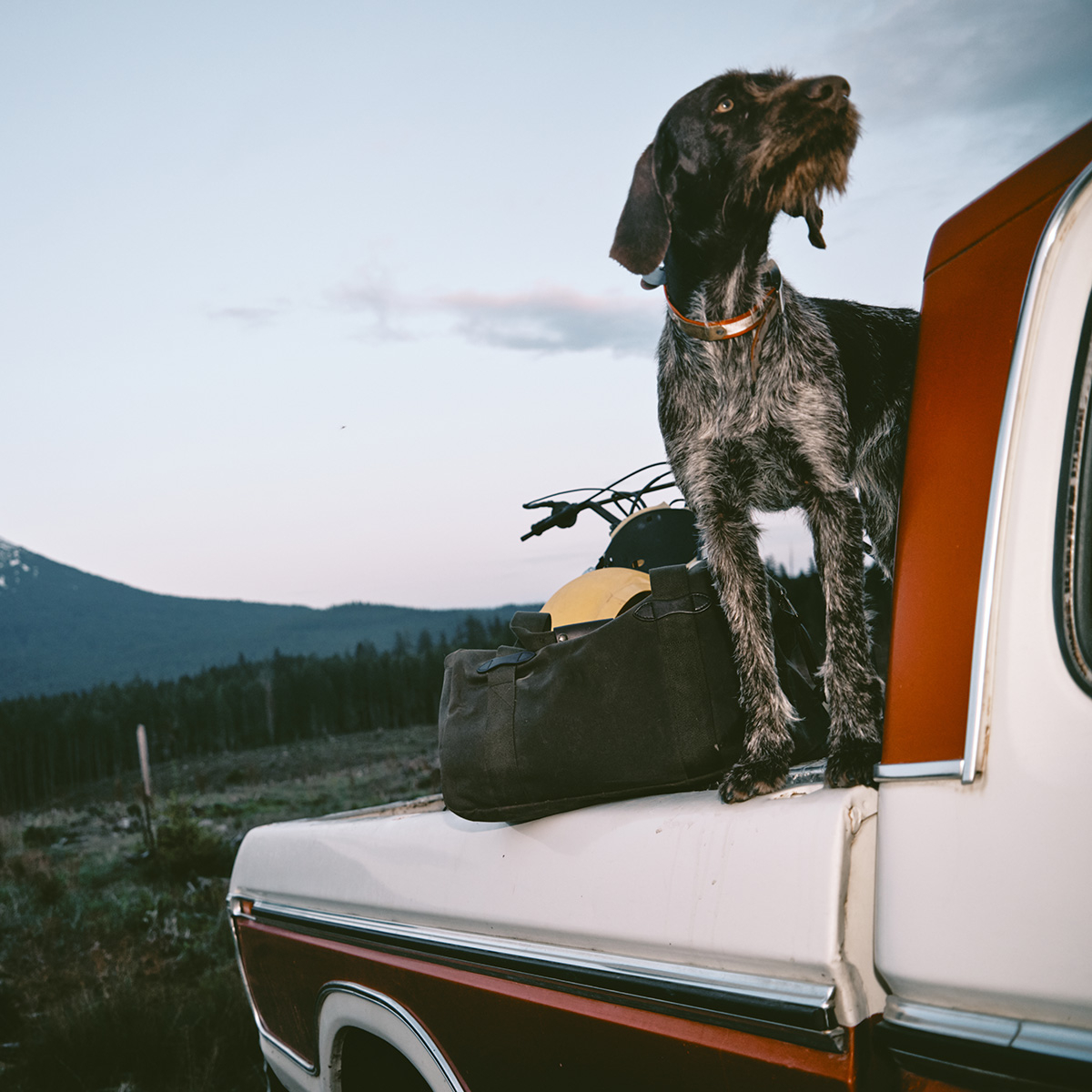 Filson Tin Cloth bags are made for traveling light and fast, with all of the weather resistance and durability that's made Filson bags legendary. Whether as a gym bag or for a weekend at the cabin, this duffle is a go-to bag that's built to last.
The Filson Tin Cloth Small Duffle Bag Otter Green is made with Filsons iconic waxed canvas that's protected foresters, sportsmen, and tradesmen from harsh weather, brush, and abrasion for more than a century. Thick cotton webbing handles are stitched down the sides of the bag for maximum strength. The carry grip is made with saddle-grade Bridle Leather that will mold to the shape of your hand for decades of comfortable carry. Nylon lines the interior for an added layer of protection for gear. The heavy-gauge metal zipper from YKK® is bult for years of unfailing service. Exterior stow pockets on each end. Comes with a removable, adjustable cotton webbing shoulder strap.
VERY CONVENIENT TO USE
Go relax on tour with the Filson Tin Cloth Small Duffle Bag. This amazing bag is your perfect travel partner. You carry him easily with the sturdy handles, or pleasant and comfortable on your shoulder or cross-over. All you need for a couple of days fits into it and always at hand.
TIN CLOTH, legendary super strong, lightweight, and oil impregnated canvas.
The Filson Tin Cloth Small Duffle Bag is made entirely of the legendary super strong, lightweight, and oil impregnated 14-oz. 'Tin Cloth' canvas. Tin Cloth is made with 100% cotton 2-ply yarns that are tightly woven in a symmetrical pattern. This construction yields a strong, low-bulk fabric that's resistant to water, punctures, and abrasion. This 'oil finish Tin Cloth' offers the greatest protection against weather influences and wear. Because the cloth is impregnated with a paraffin wax a wax layer creates a canvas that is very water repellent and wind resistant. Also gives the a layer of wax this Filson bag a slightly darker and more used look, fresh out of the package itself.
For decades, this legendary oil finish Tin Cloth has excelled at sheltering foresters, miners and sportsmen from wet, abusive conditions – so you can be assured your gear will be well-protected in all your travels. The canvas duck from British Millerain is thoroughly saturated with Filson special oil finish wax, creating a barrier that keeps rain, snow and mud on the outside, where it belongs. Tin Cloth's tight weave has made its resistance to abrasion and tears legendary, making it the ideal material for a lighter-weight bag that withstands the tests of time and mileage.
WAXED CANVAS VS. OTHER FILSON BAG MATERIALS.
Filson Rugged Twill bags have set the standard for durability for more than 30 years. Filson Tin Cloth bags have comparable durability with higher water resistance and lower weight and bulk. Compared to bags made with RUgged Twill, Tin Cloth waxed cotton bags are more water-resistant, lower in bulk, and comparable in abrasion resistance.
Choosing between a Tin Cloth bag and a Cordura® nylon bag is like choosing between apples and oranges. Cordura® is stiffer and more abrasion-resistant, while Tin Cloth is a more water-resistant and sustainable natural-fiber fabric.
THE FILSON TIN CLOTH LEGACY
Filson was a pioneer in bringing waxed jackets, vests, and pants to the foresters, hunters, and outdoorsmen of the Pacific Northwest in the early 20th century. Tin Cloth waxed cotton became the standard by which all other outdoor fabrics were judged for durability and weather resistance. A century later, it's proven equally suitable for durable, functional bags made to stand up to rugged use around the world for a lifetime of travel and exploration.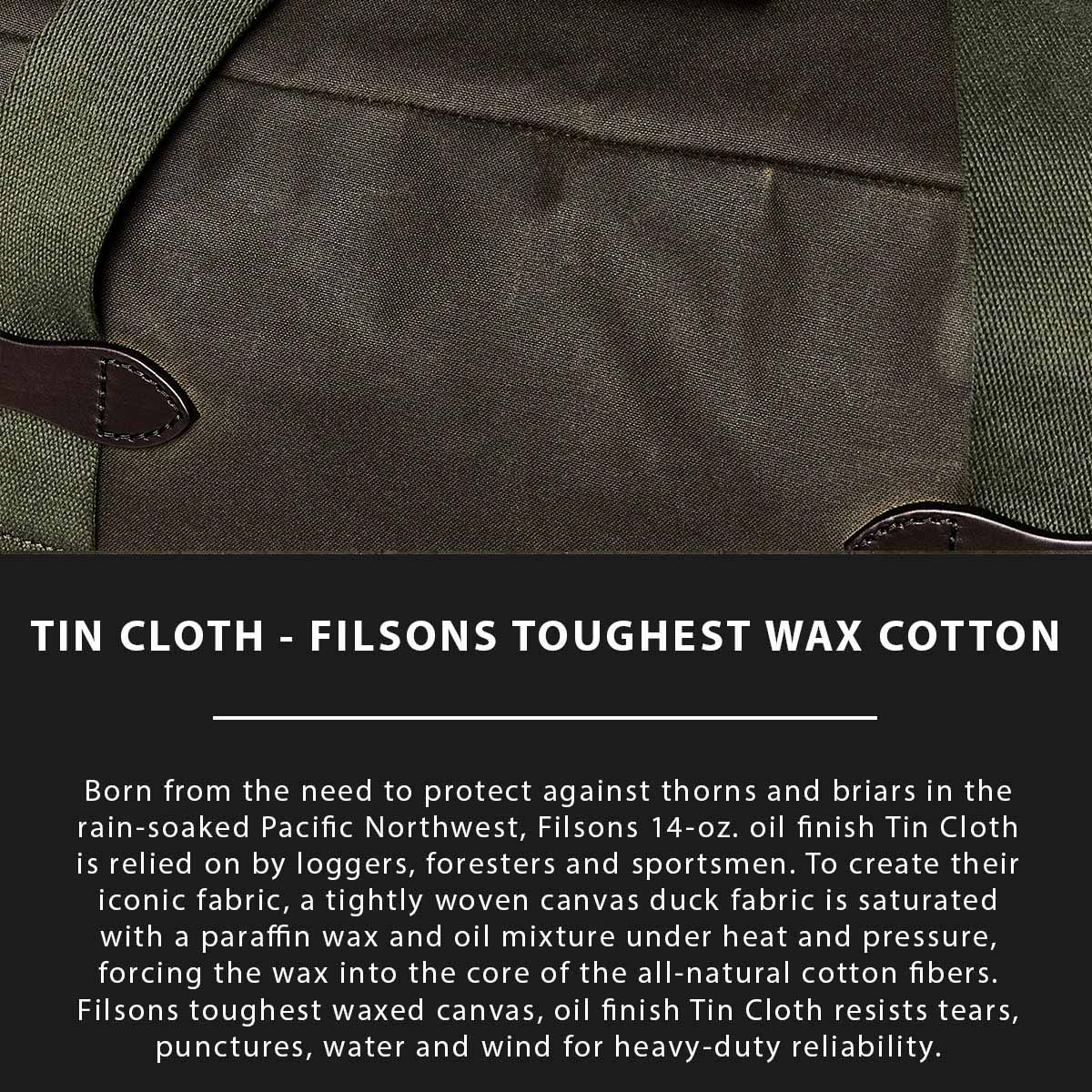 HIGH QUALITY MATERIALS
Filson has been making bags and clothing since 1897. This way they know exactly what they are doing. Filson transforms high quality materials like the legendary Tin Cloth canvas into a tough and sturdy duffle, perfect to protect all your gear in any weather. With virtually indestructible, solid brass zippers from YKK® and heavy-duty, cotton-wrapped polyester thread tying it all together, this duffle is built for decades of faithful service. With so much experience, you can't go wrong with this Filson Tin Cloth Small Duffle Bag.
FILSON GUARANTEE
Filson guarantees every item made by Filson. No more, no less. Filson believes in their products and stand by the materials, quality, and workmanship for the lifetime of the product. The product lifetime specifically refers to the time at which, through normal use, the product can no longer function in its intended purpose. Filson Guarantee covers: * Failure of materials * Failure of workmanship and craftsmanship * Manufacturer defects * Every item for the lifetime of the product. The life of the product, the normal wear and tear refers specifically to the time when the product can no longer function in its intended purpose due to normal use. The warranty does not cover damage caused by neglect, improper maintenance, accidents or normal wear and tear.
Filson Tin Cloth Small Duffle Bag is one of the many Filson items in our large and carefully selected collection. View the complete collection of Filson Duffle Bags in our online shop.
Filson has been making accessories, bags and apparel since 1897. This way they know exactly what they are doing. Filson transforms indestructible materials to firm and solid accessoires, perfect to protect you in any weather.
Filson Tin Cloth Small Duffle Bag, order at BeauBags, Authorized International Filson Dealer and your Filson specialist in Europe. Personal & expert advice | Europe's largest Filson collection | Immediately available, ordered before 22:00, we ship the same day | Free delivery & return | 60-day return policy.
FILSON, HERITAGE OF QUALITY, guaranteed excellence in outdoor clothing, bags and accessoires.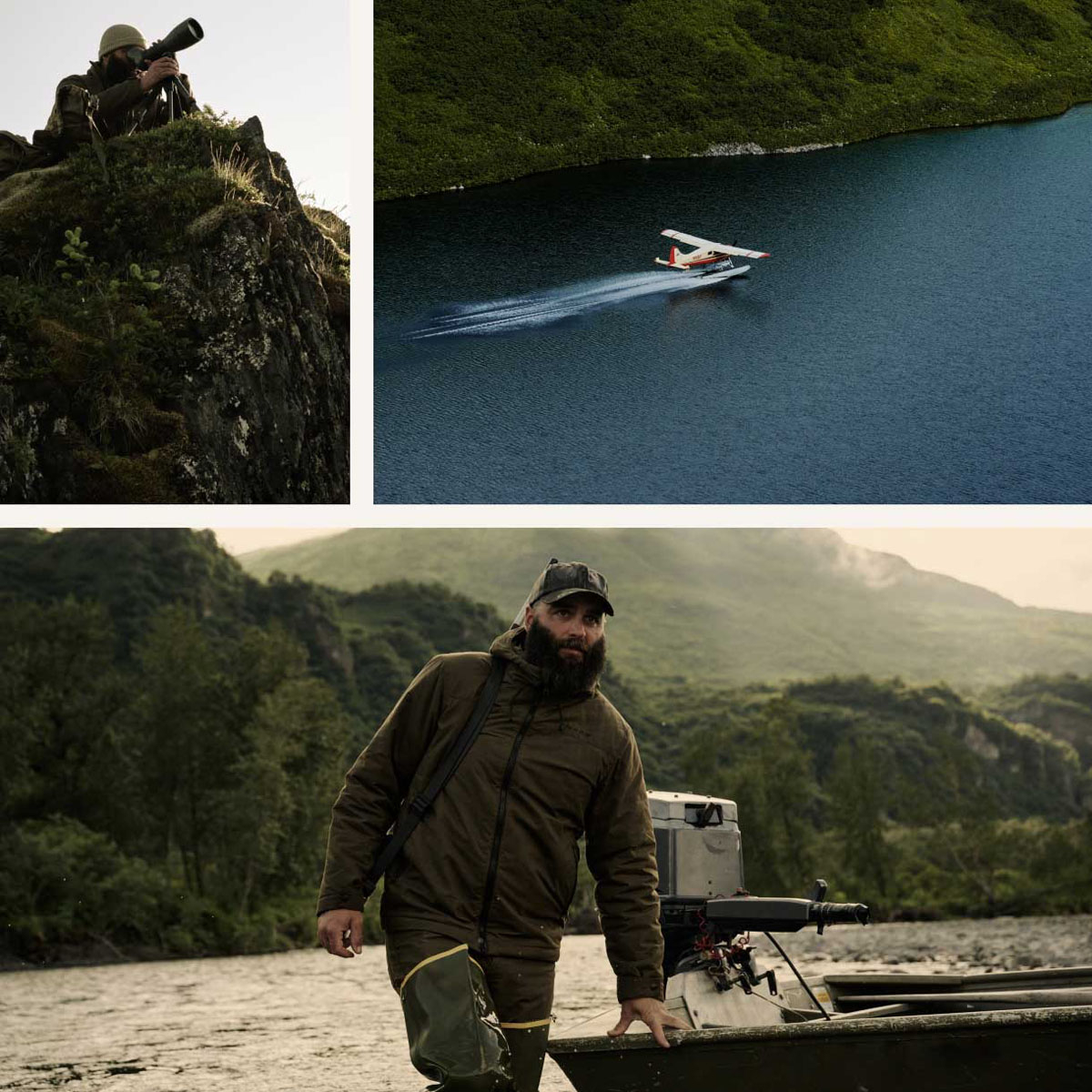 Brand
Filson
Filson Product code
20263594
Color
Otter Green
Dimensions (WxHxD)
46x28x25 cm | 33 ltr
Material
14-oz. 100% cotton oil finish Tin Cloth + Bridle Leather + cotton webbing + nylon
Features
>Made with durable Tin Cloth waxed cotton
>Fully nylon-lined
>Metal YKK® zipper
>Exterior endcap pockets
>Cotton-webbing removable shoulder strap
>Cotton webbing handles with Bridle Leather Grip
>Includes iconic Filson Bridle Leather body tabs
>Meets standard airline carry-on luggage dimensions
To use as
Travelbag, shoulderbag, workbag, sportbag
Theme
Travel, Field
Guarantee
Limited Lifetime warranty against material and workmanship defect
Brand details
FILSON the AMERICAN EXPERIENCE | BUILT TO LAST.
Established in 1897, Filson is the leading outfitter and manufacturer of unfailing goods for outdoor enthusiasts. Built upon a reputation for reliability, Filson is a favorite among anglers and hunters, engineers and explorers, mariners and miners, and anyone who refuses to stay indoors.
FILSON | RUGGED QUALITY FOR OVER 100 YEARS
Headquartered in Seattle, Washington, and renowned for making products in the USA from fabrics such as heavyweight 22-oz. cotton oil finish Rugged Twill, Tin Cloth, and warm Mackinaw Wool, this company stands for the highest quality and most durable apparel and accessories available.
Made in
Vietnam