Return to Previous Page
FILSON MACKINAW WOOL VEST FOREST GREEN
classic wool vest made with 100% virgin Mackinaw Wool and cut roomy for easy layering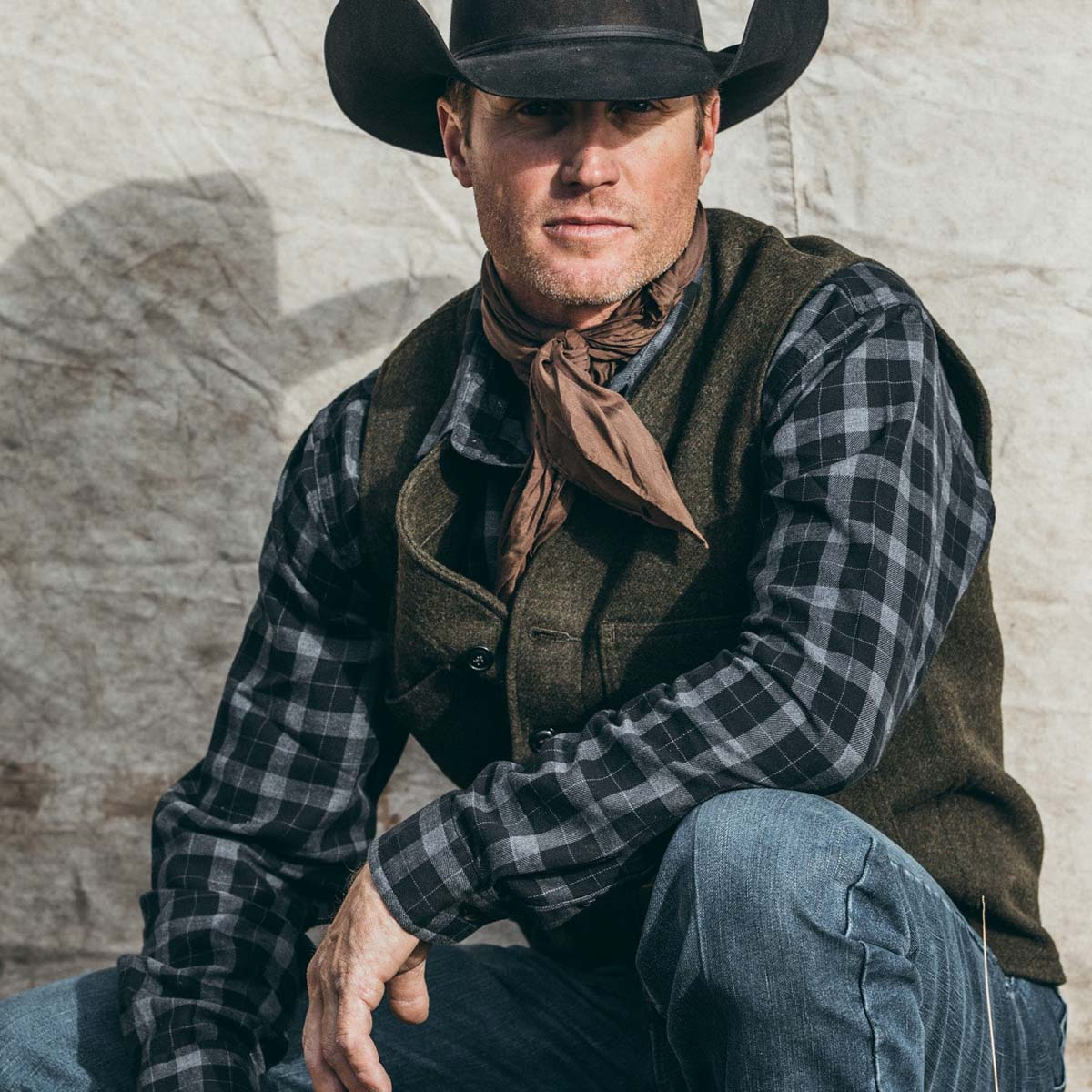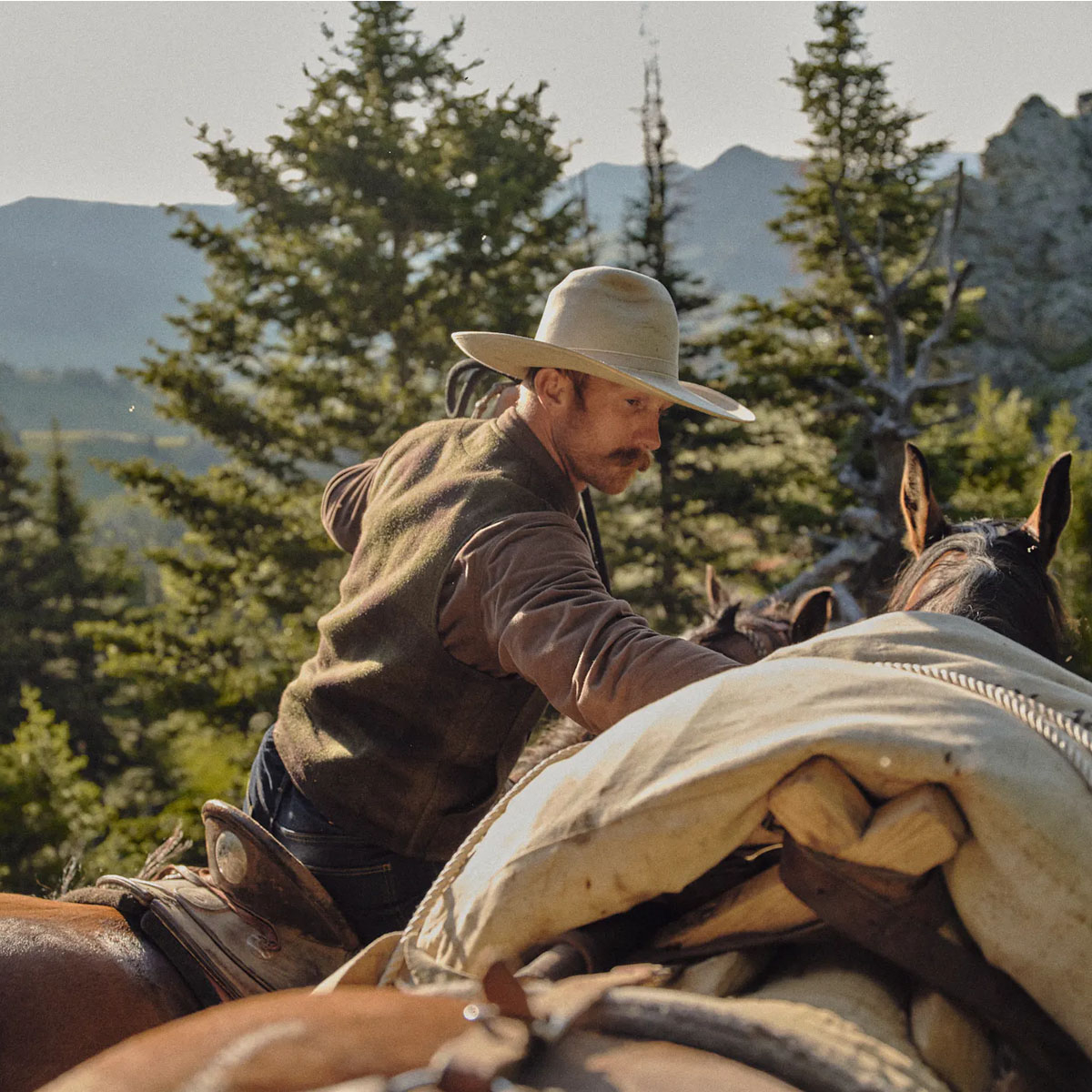 This Filson Mackinaw Wool Vest Forest Green is the single most utilitarian piece of clothing you can own. And during the fall, winter, and early spring you can wear it nearly every day. Filson have a legendary reputation among hunters and outdoorsman for wool clothing that stays warm when wet, and holds up over time.
The Filson Mackinaw Wool Vest has proven itself to be as versatile, functional and practical as any product Filson ever manufactured. There's a very good reason it's been a cornerstone in the Filson product line for more than half a century–it performs admirably in countless situations out of doors, or in.
This pillar of Filsons product line provides warmth with minimal bulk, while maintaining excellent breathability–and does so even if it gets soaking wet. Worn over a warm shirt while actively chasing upland birds, it's the perfect blend of warmth and breathability in temperatures down to near freezing. Worn under a rain shell, it takes the edge off when wading thigh-deep in an icy steelhead run. Under a Filson wool coat, it adds that extra bit of comfort in temperatures that can take your breath away.
The Mackinaw Wool Vest is built with Filson warmest wool from the iconic Pendleton Woolen Mills, the same wool used in their Cruiser that's provided protection from cold and wet conditions for over a century. Because Filson Mackinaw Wool is made with the fleece of sheep raised in the Pacific Northwest, naturally it's the ideal wool to shield humans from soggy or frigid weather. With uncommonly-tight weave, it's a formidable barrier to wind, and withstands tough use for decades. Due to its complex fiber structure, Mackinaw Wool also offers an unheralded benefit–it's very simple to care for. Dried dirt brushes off with ease, leaving no trace of its existence. To remove odors, a dry Mackinaw Wool Vest can be tumbled in a warm dryer, and nearly always come out smelling fresh.
Two things stand out about the Mackinaw vest. The first is that it has, by far, the best range of pockets on any piece of clothing. It has two hand warming pockets, which are great on a cold day because it means you don't have to throw on a heavier jacket just to keep your hands warm when you head outside. It also features two chest pockets; the right easily fits a phone, while the left is designed for holding writing instruments, or other tools.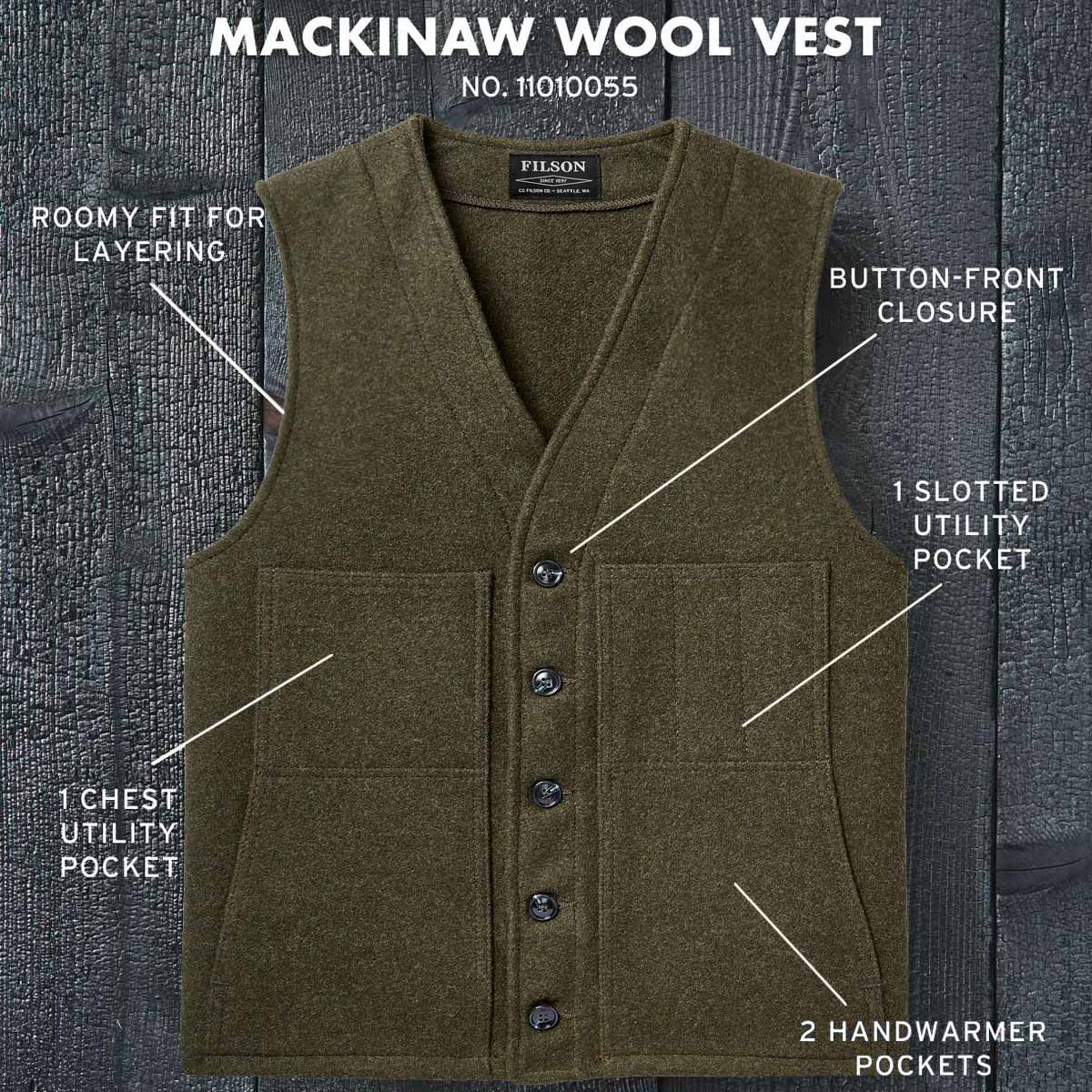 The design of the Mackinaw Wool Vest works just as well indoors, whether working in a chilly warehouse or construction site, or sitting behind a computer drawing up plans for your next big project. In addition to creating a classic appearance that works just about anywhere, the V-shaped neckline adds no bulk around the neck, so there's still plenty of breathing room for a heavy shirt and a rain shell zipped chin-high. The hand pockets have a raised outer-edge to prevent contents from easily sliding out, and the chest pockets are open-stow and slotted-utility.
The Mackinaw Wool Vest–an integral part of an outdoorsman's kit that performs in any environment.
MADE IN USA, legendary and indestructible.
All Filson Mackinaw Vests are handmade in Seattle, USA.
HIGH QUALITY MATERIALS
Filson makes bags and clothes since 1897. They know exactly what they do at Filson. Filson transforms exceptionally warm 100% virgin Mackinaw Wool to a comfortable warm jacket, perfect to protect your body in any weather.
MACKINAW WOOL, world's best wool for all-natural comfort in the coldest weather
Filson Mackinaw Wool takes its name from the historic coats developed in the Mackinaw region of Michigan in the early 1800s. The fabric is a densely-woven twill constructed from the fleece of sheep raised in regions of the Pacific Northwest that encounter a wide range of weather throughout the year. The dramatic temperature swings force the sheep to develop a fleece that can protect them year-round in hot and cold weather, which is precisely why it does such a marvelous job of protecting us from frigid conditions. The uncommonly tight weave creates a barrier to wind and water while maintaining outstanding breathability.
The major benefit of Mackinaw Wool is that you can wear it everyday without worrying about wear. This heavyweight felted wool and heavy-duty stitching is near bulletproof. It doesn't shed, pill, or wrinkle, and it looks good day in and day out. And because it's a vest made of thick felted wool it can be worn over three seasons and across a really wide temperature range.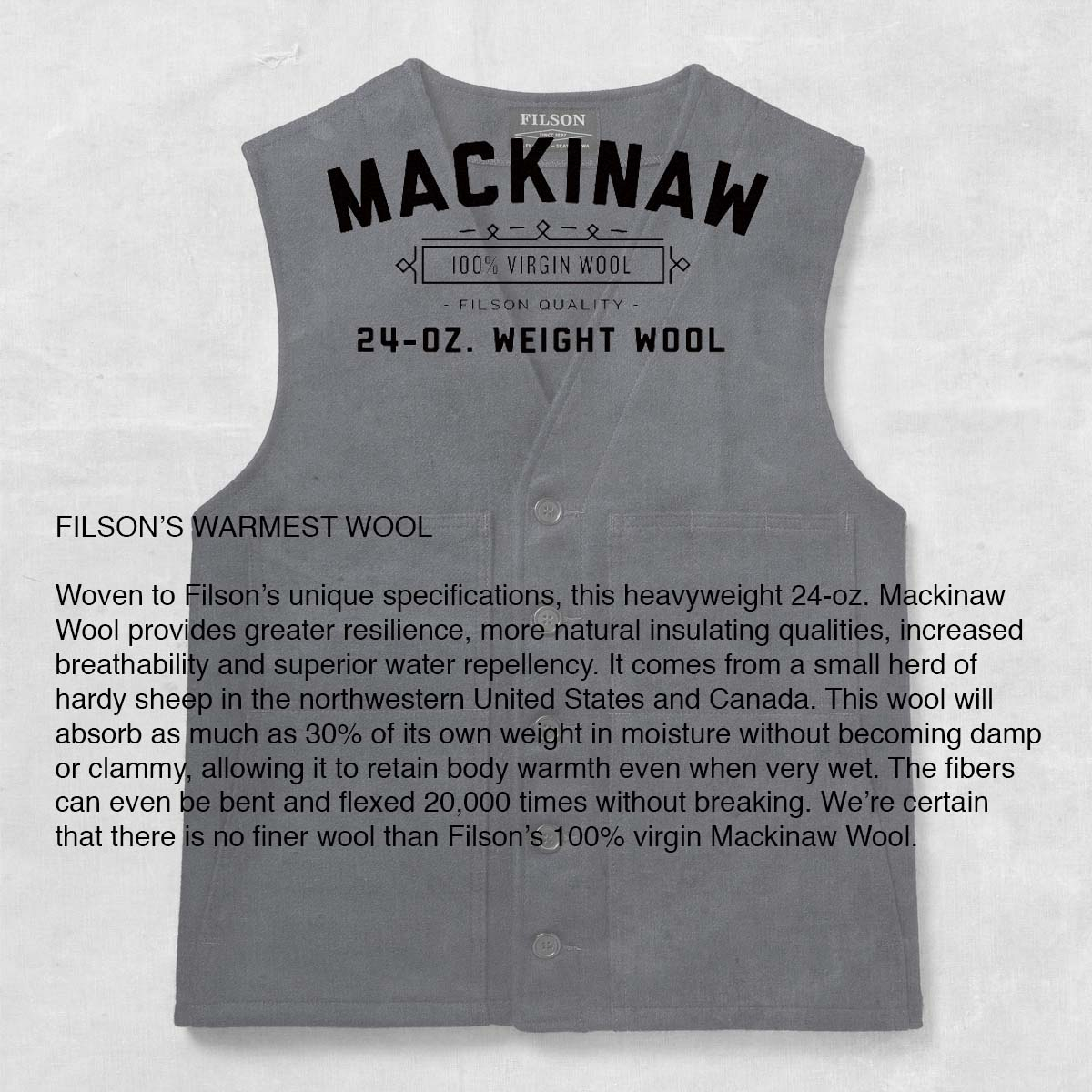 FILSON GUARANTEE
Filson guarantees every item made by Filson. No more, no less. Filson believes in their products and stand by the materials, quality, and workmanship for the lifetime of the product. The product lifetime specifically refers to the time at which, through normal use, the product can no longer function in its intended purpose. Filson Guarantee covers: * Failure of materials * Failure of workmanship and craftsmanship * Manufacturer defects * Every item for the lifetime of the product. The life of the product, the normal wear and tear refers specifically to the time when the product can no longer function in its intended purpose due to normal use. The warranty does not cover damage caused by neglect, improper maintenance, accidents or normal wear and tear.
Filson Fit: Some people choose to wear Filson clothing slimmer, more fashionable, others prefer a wider fit for easy movement, for example during physical work. If you order your own size then the fit is generous. If you prefer a slimmer silhouette, order one size smaller. For men who normally fall between two sizes, it is advisable to order a smaller size.
On our special FILSON FIT GUIDE page, you will find all sizes: chest, waist, hip, neck and sleeve length.
Filson Mackinaw Wool Vest 11010055, order at BeauBags, Authorized International Filson Dealer and your Filson specialist in Europe. Personal & expert advice | Europe's largest collection | Immediately available | Free delivery & return | 60-day return policy.
Filson Mackinaw Wool Vest is one of the many items of Filson in our large and carefully selected collection. Please check out the complete apparel collection of Filson in our online shop.
FILSON HERITAGE OF QUALITY, guaranteed excellence in outdoor clothing and bags
Brand
Filson
Filson Product code
11010055
Color
Forest Green
Size guide
Small: 37-39 / chest: 92-100 cm
Medium: 40-42 / chest: 100-110
Large: 43-45 / chest: 110-115
Extra Large: 46-48 / chest: 115-125
Material
24-oz. 100% virgin Mackinaw Wool
Features
>Built with our warm, breathable and durable Mackinaw Wool
>Button-front closure
>V-shaped neckline
>Side handwarmer pockets
>Open-stow and slotted-utility chest pockets
>Provides breathable warmth, wet or dry
Guarantee
Limited Lifetime warranty against material and workmanship defect
Product care
Dry clean
Made in
United States