Return to Previous Page
FILSON MACKINAW WOOL WORK JACKET BLUE COAL/COPPER HEATHER
pulled from the Filson archives and sewn in Seattle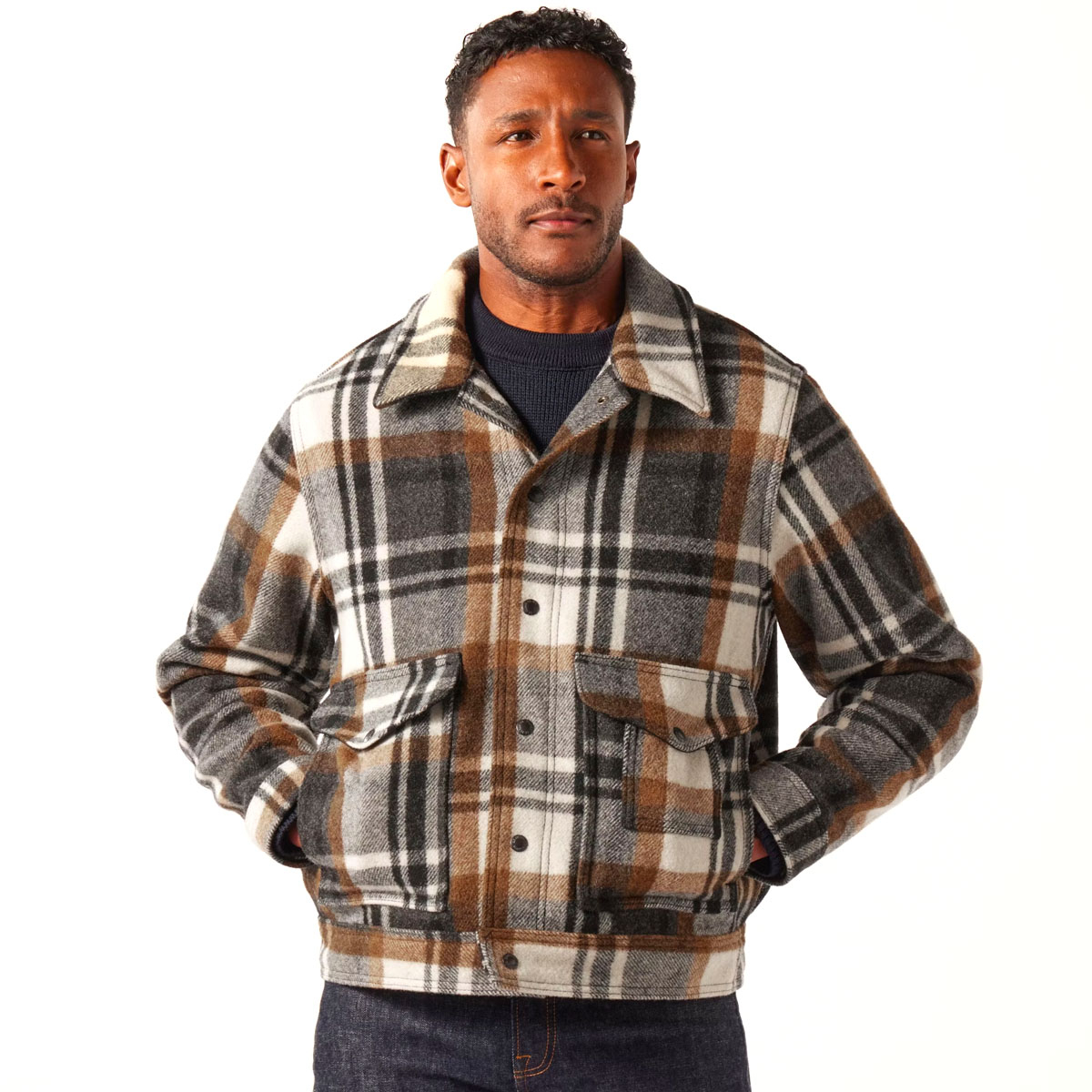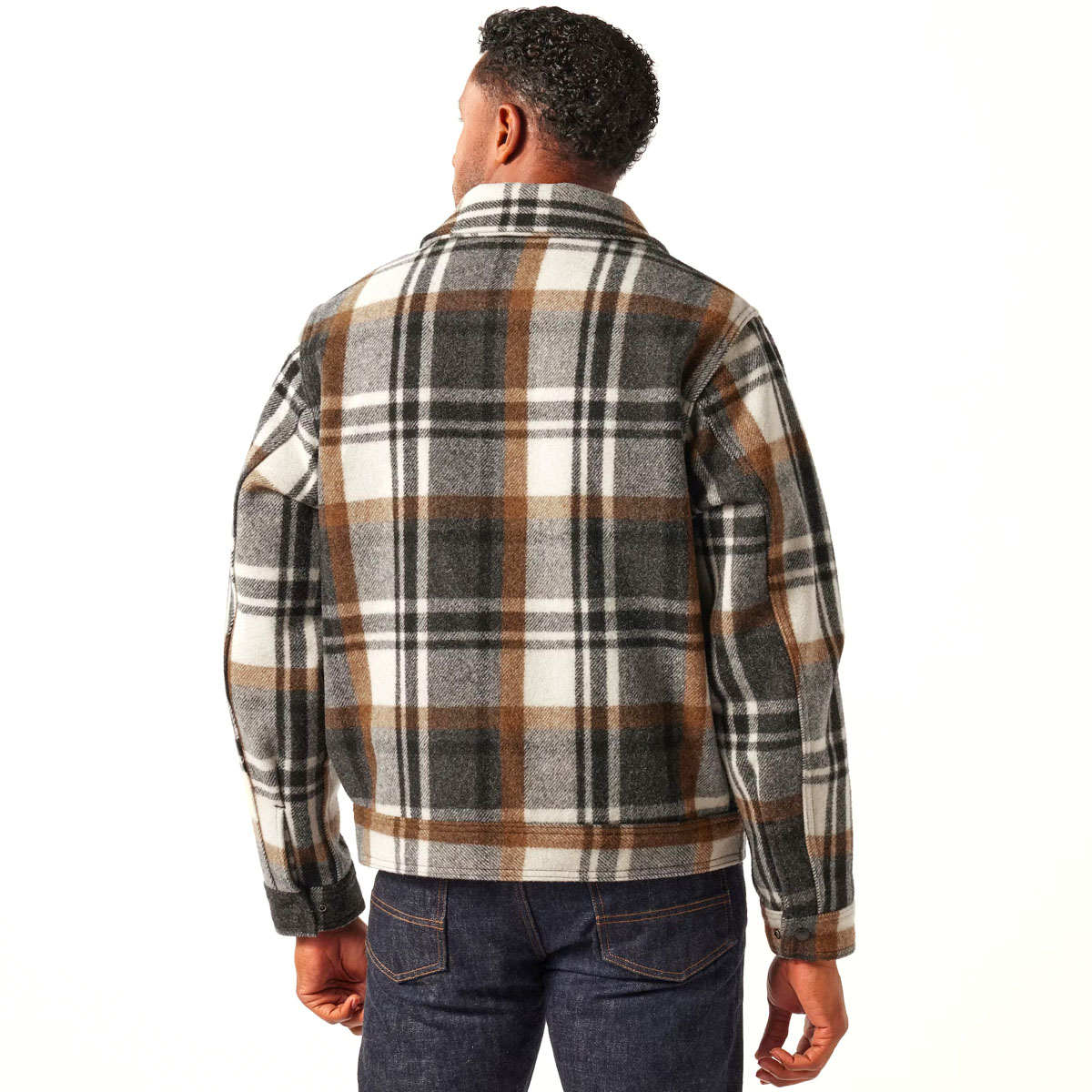 A classic pulled from the Filson archives, the Filson Mackinaw Wool Work Jacket Blue Coal/Copper Heather is warm, highly durable, and simply functional. Sharing its DNA with Filson's iconic 1914-patented Cruiser, it's built with naturally breathable wool from Shetland sheep, with a tight weave that blocks wind and provides the durability to last generations.
The design is streamlined, cut to hip-length to avoid riding up when seated and for easy access to pockets or a tool belt. The virtually indestructible custom snaps that are employed for the front closure and adjustable cuffs are easy to operate even when wearing work or insulating gloves. The pockets are patterned after the Cruiser's, with snapped flaps and hidden handwarmer pockets. The left-side exterior features a layered accessory pocket and the interior an open-stow pocket.
Wool has been the natural fabric of choice for protection from cold, wet weather for centuries in large part due to its ability to insulate even when wet. The complex structure of the wool fibers wicks moisture out to the tips for evaporation, enabling the fabric to absorb up to 30% of its own weight in water without feeling damp or clammy.
For an all-purpose, all-natural jacket for the job and daily wear, this archival Mackinaw Wool Work Jacket is the solution that simply works.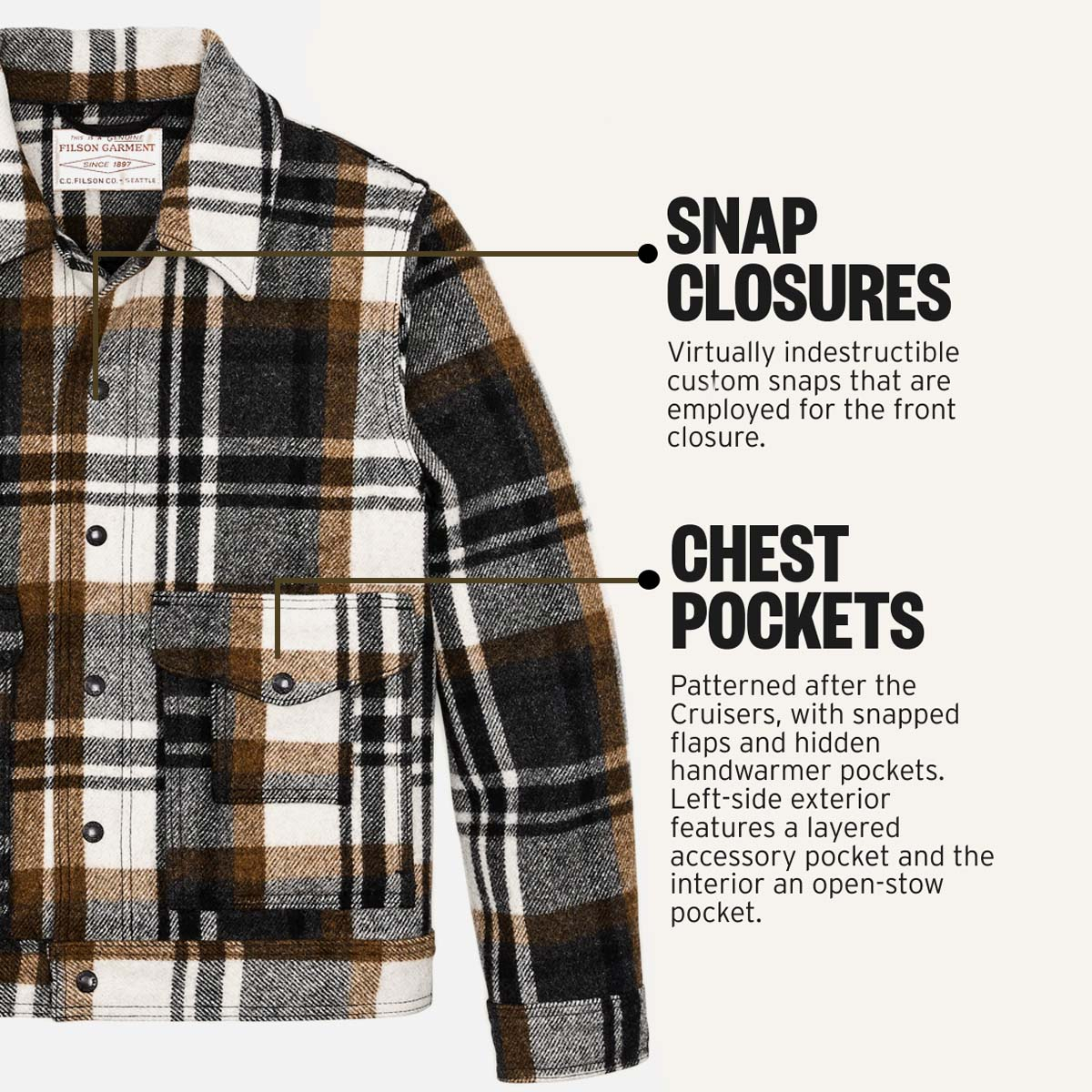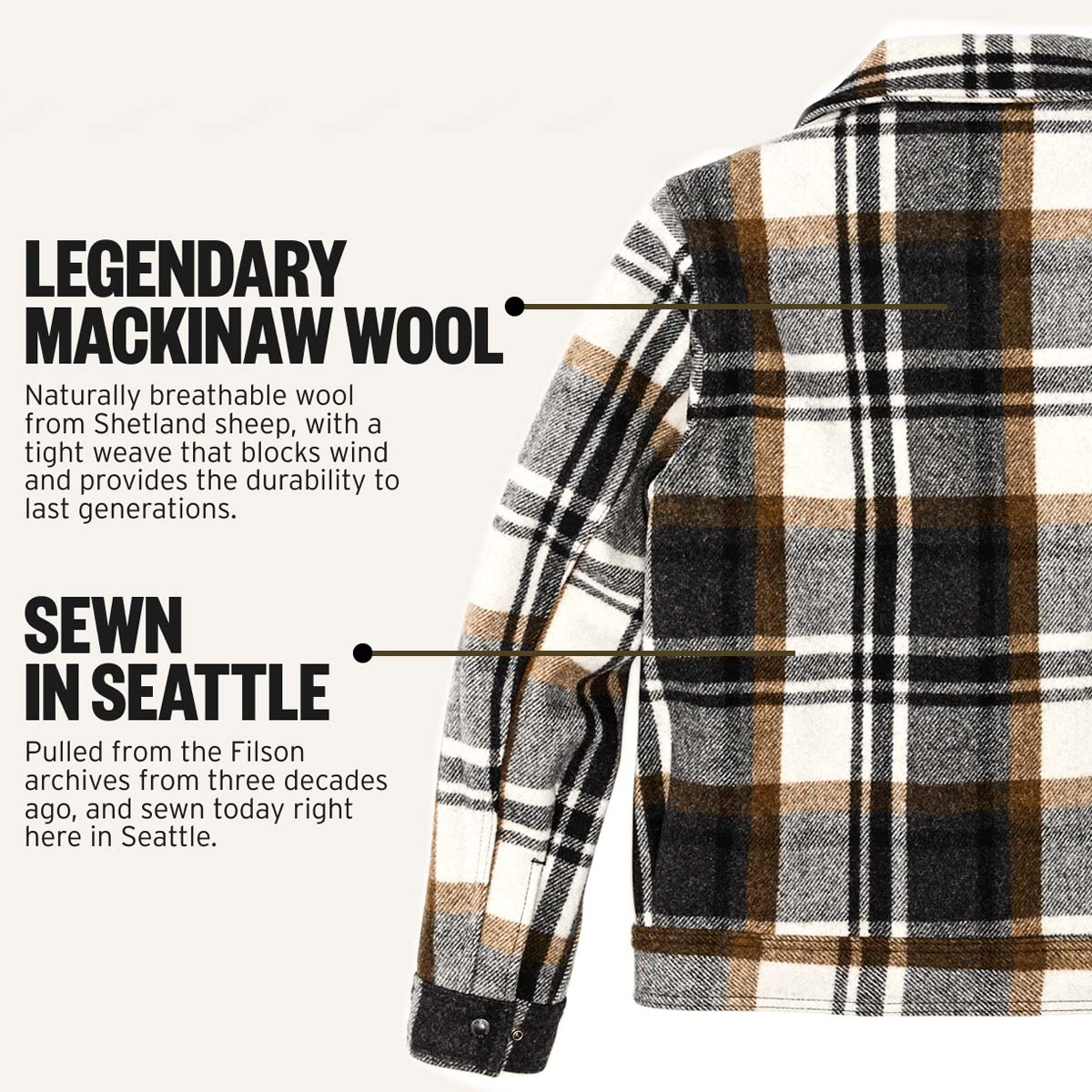 MADE IN USA, legendary and indestructible.
All Filson Mackinaw Wool Work Jackets are handmade in Seattle, USA.
HIGH QUALITY MATERIALS
Filson makes bags and clothes since 1897. They know exactly what they do at Filson. Filson transforms exceptionally warm 100% virgin Mackinaw Wool to a comfortable warm jacket, perfect to protect your body in any weather.
MACKINAW WOOL, world's best wool for all-natural comfort in the coldest weather
Filson Mackinaw Wool takes its name from the historic coats developed in the Mackinaw region of Michigan in the early 1800s. The fabric is a densely-woven twill constructed from the fleece of sheep raised in regions of the Pacific Northwest that encounter a wide range of weather throughout the year. The dramatic temperature swings force the sheep to develop a fleece that can protect them year-round in hot and cold weather, which is precisely why it does such a marvelous job of protecting us from frigid conditions. The uncommonly tight weave creates a barrier to wind and water while maintaining outstanding breathability.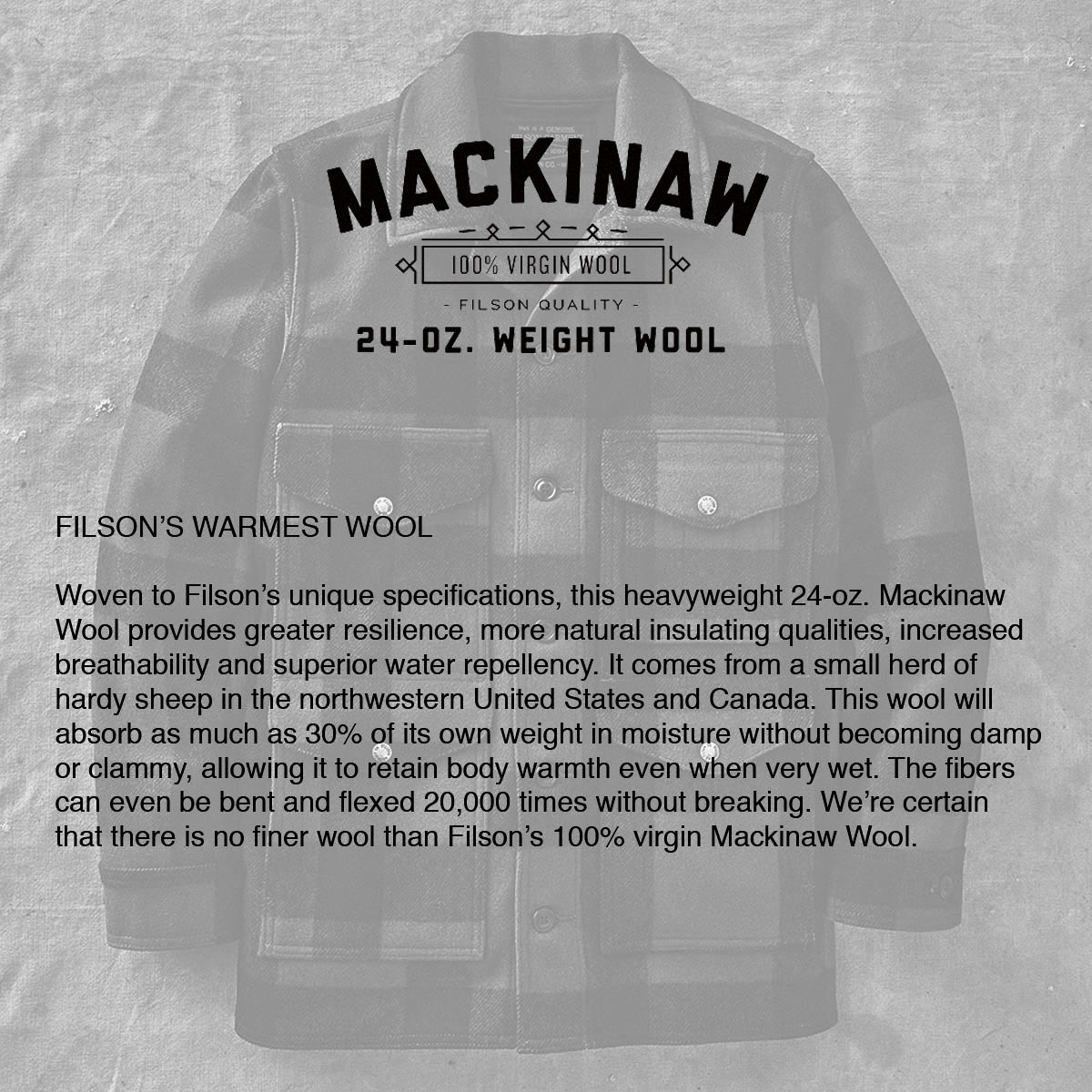 FILSON GUARANTEE
Filson guarantees every item made by Filson. No more, no less. Filson believes in their products and stand by the materials, quality, and workmanship for the lifetime of the product. The product lifetime specifically refers to the time at which, through normal use, the product can no longer function in its intended purpose. Filson Guarantee covers: * Failure of materials * Failure of workmanship and craftsmanship * Manufacturer defects * Every item for the lifetime of the product. The life of the product, the normal wear and tear refers specifically to the time when the product can no longer function in its intended purpose due to normal use. The warranty does not cover damage caused by neglect, improper maintenance, accidents or normal wear and tear.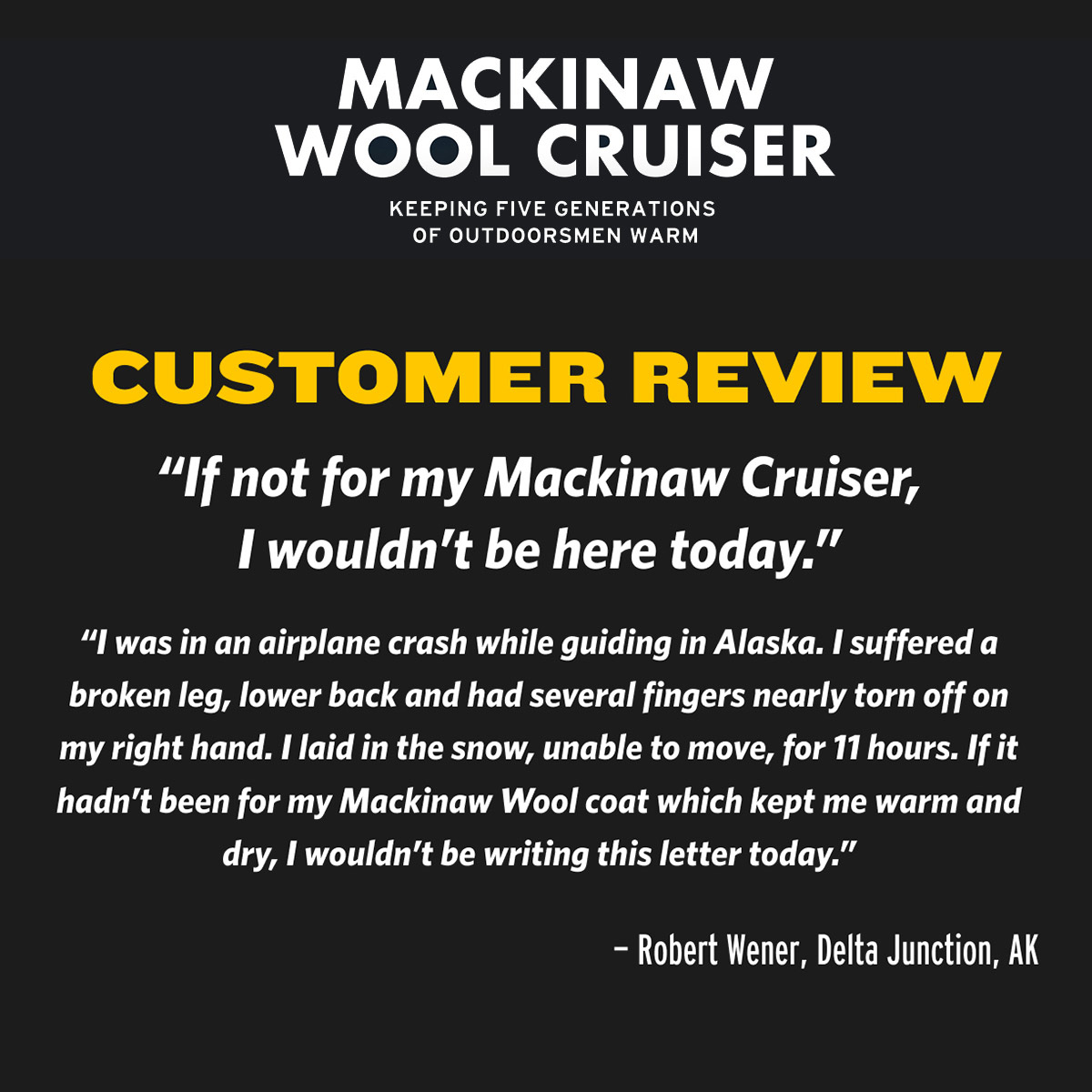 Filson Fit: Some people choose to wear Filson clothing slimmer, more fashionable, others prefer a wider fit for easy movement, for example during physical work. If you order your own size then the fit is generous. If you prefer a slimmer silhouette, order one size smaller. For men who normally fall between two sizes, it is advisable to order a smaller size.
On our special FILSON FIT GUIDE page, you will find all sizes: chest, waist, hip, neck and sleeve length.
Filson Mackinaw Wool Work Jacket, order at BeauBags, Authorized International Filson Dealer and your Filson specialist in Europe. Personal & expert advice | Europe's largest collection | Immediately available | Free delivery & return | 60-day return policy.
Filson Mackinaw Wool Work Jacket is one of the many items of Filson in our large and carefully selected collection. Please check out the complete apparel collection of Filson in our online shop.
FILSON HERITAGE OF QUALITY, guaranteed excellence in outdoor clothing and bags
Filson Mackinaw Wool Work Jacket from Filson on Vimeo.
Brand
Filson
Filson Product code
20232879
Color
Blue Coal/Copper Heather Plaid
Size guide
XS: 34-36 / cest: 85-92 cm
S: 37-39 / cest: 92-100 cm
M: 40-42 / cest: 100-110 cm
L: 43-45 / cest: 110-115 cm
XL: 46-48 / cest: 115-125 cm
XXL: 49-51 / cest: 125-130 cm
XXXL: 52-54 / cest: 130-135 cm
Material
24-oz. 100% Mackinaw Wool
Features
>Archival re-issue
>Sewn in Seattle, WA with 24-oz. Mackinaw Wool
>Hip-length
>Snapped front closure and adjustable cuffs
>Snap-flap cargo and patch-hand pockets
>Internal stow pocket

Guarantee
Limited Lifetime warranty against material and workmanship defect
Product care
Dry clean
Made in
United States