Return to Previous Page
FILSON TIN CLOTH FIELD JACKET DARK TAN
rugged, weather-resistant jacket for hunting, work or field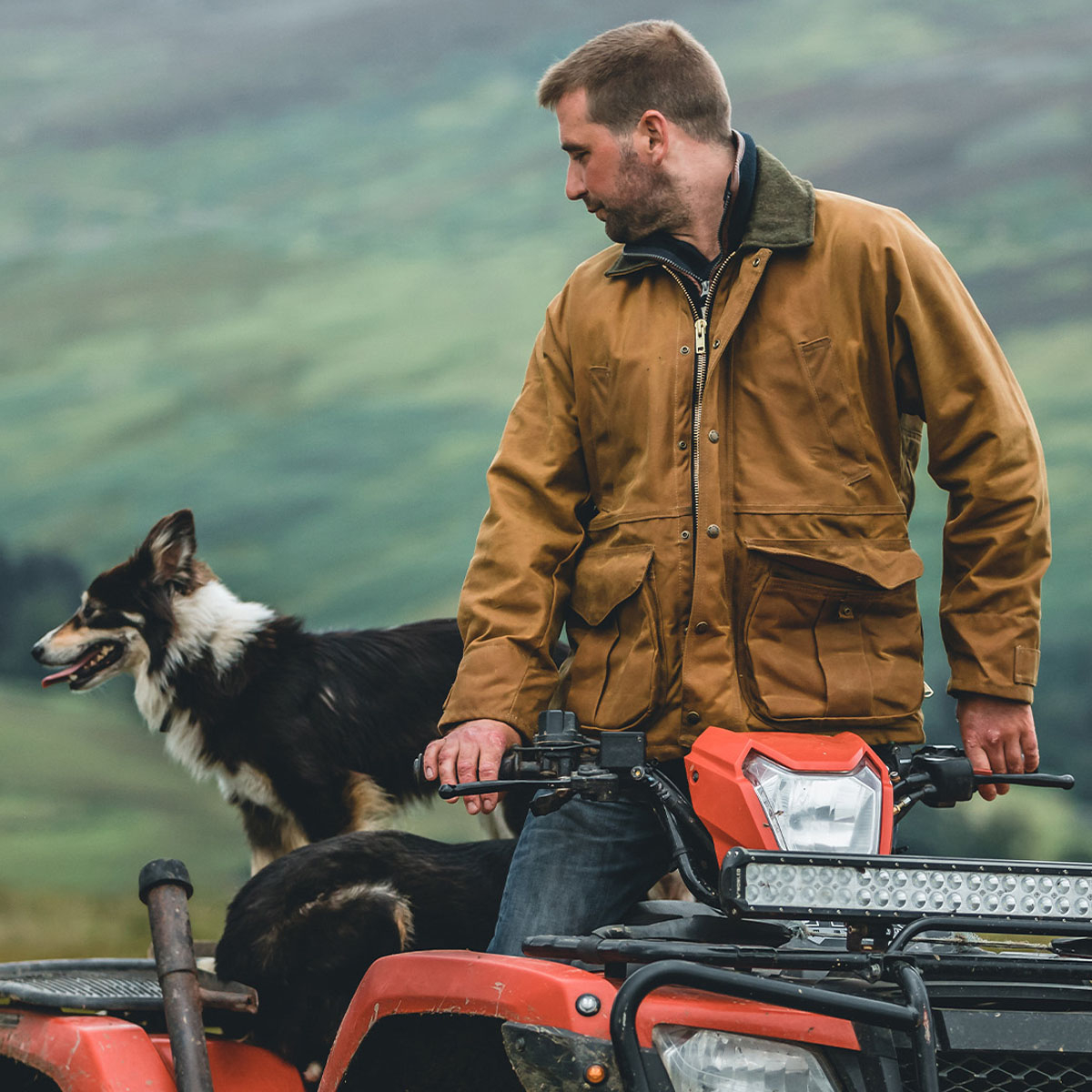 The Filson Tin Cloth Field Jacket Dark Tan is the ideal work jacket for cold, wet weather. Water-repellent, abrasion-resistant oil finish Tin Cloth repels wind, rain and snow while holding up through tough jobs.
This Tin Cloth Field Jacket is a proven classic that's earned its marks with rugged durability and multi-use versatility in the field and on the job. Built with Filson's signature oil finish Tin Cloth that turns away rain, snow, thorns and abrasion like no other fabric can.
The shoulders of this field jacket are a one-piece design that eliminates seams for maximum water resistance. The collar and high-set hand pockets are both lined with Mackinaw Wool for maximum warmth even in the wettest conditions. The large expandable front pockets can hold lots of gear you like to have close at hand, and internal dividers keep your gear sorted. The rear sports a zippered side-entry pocket that's lined with coated nylon for storing wet and muddy gear, and it works just as well for gloves, a watch cap or a folding raincoat when you're on the move. Two-way front zipper with storm flap. Accepts Filson liners and Filson Tin Cloth Hood, sold separately.
The 8-oz. 100% cotton dry finish Shelter Cloth lining adds light insulating warmth and durability. Comes with a drawcord waist and hem for custom fit and snap-adjustable cuffs. It also has a front zipper closure with a storm flap to keep driving rain and wind out.
HIGH QUALITY MATERIALS
Filson makes bags and clothes since 1897. They know exactly what they do at Filson. Filson transforms exceptionally abrasion-resistant canvas to a comfortable jacket, built for the wilderness, perfect to protect you in any weather.
TIN CLOTH, great protector to all weather influences and wear.
The Filson Tin Cloth Field Jacket is made of the legendary super strong, lightweight, and oil impregnated 14-oz. 'Tin Cloth' canvas. This 'oil finish Tin Cloth' offers the greatest protection against weather influences and wear. Filsons Tin Cloth is a tightly-woven duck canvas from England's British Millerain that's been thoroughly saturated with a paraffin wax formulation for maximum water repellency. Legendary, super strong, lightweight, and oil impregnated 14-oz., this 'oil finish Tin Cloth' offers the greatest protection against weather influences and wear. Also gives the layer of wax this Filson jacket a slightly darker and more used look, fresh out of the package itself.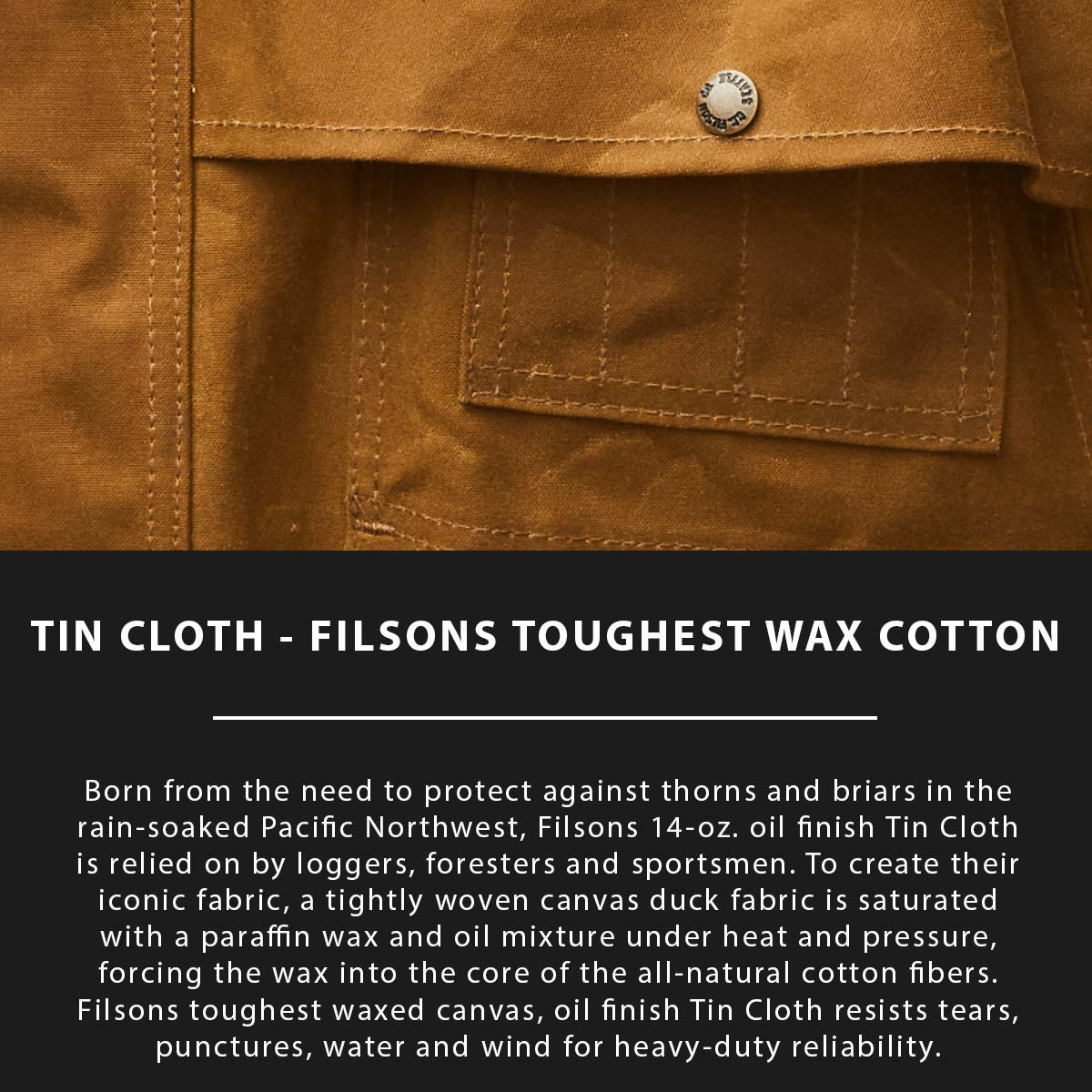 Filson Fit: Some people choose to wear Filson clothing slimmer, more fashionable, others prefer a wider fit for easy movement, for example during physical work. If you order your own size then the fit is generous. If you prefer a slimmer silhouette, order one size smaller. For men who normally fall between two sizes, it is advisable to order a smaller size.
If you intend to use the Filson Tin Cloth Field Jacket primarily as a wet-weather jacket, Filson recommends that you order one size larger than normal, as the Field Jacket does not come preshrunk and may shrink with repeated soaking in the rain. If you're mostly going to wear the Field Jacket in dry weather, just go with your normal size.
On our special FILSON FIT GUIDE page, you will find all sizes: chest, waist, hip, neck and sleeve length.
CARE
Do not wash or dry clean – brush or wipe clean with a damp rag. Rewax as needed to maintain maximum water resistance. To prevent the transfer of oils, we recommend avoiding prolonged contact between Filson oil finish goods and light-colored fabrics, especially in warm weather.
FILSON GUARANTEE
Filson guarantees every item made by Filson. No more, no less. Filson believes in their products and stand by the materials, quality, and workmanship for the lifetime of the product. The product lifetime specifically refers to the time at which, through normal use, the product can no longer function in its intended purpose. Filson Guarantee covers: * Failure of materials * Failure of workmanship and craftsmanship * Manufacturer defects * Every item for the lifetime of the product. The life of the product, the normal wear and tear refers specifically to the time when the product can no longer function in its intended purpose due to normal use. The warranty does not cover damage caused by neglect, improper maintenance, accidents or normal wear and tear.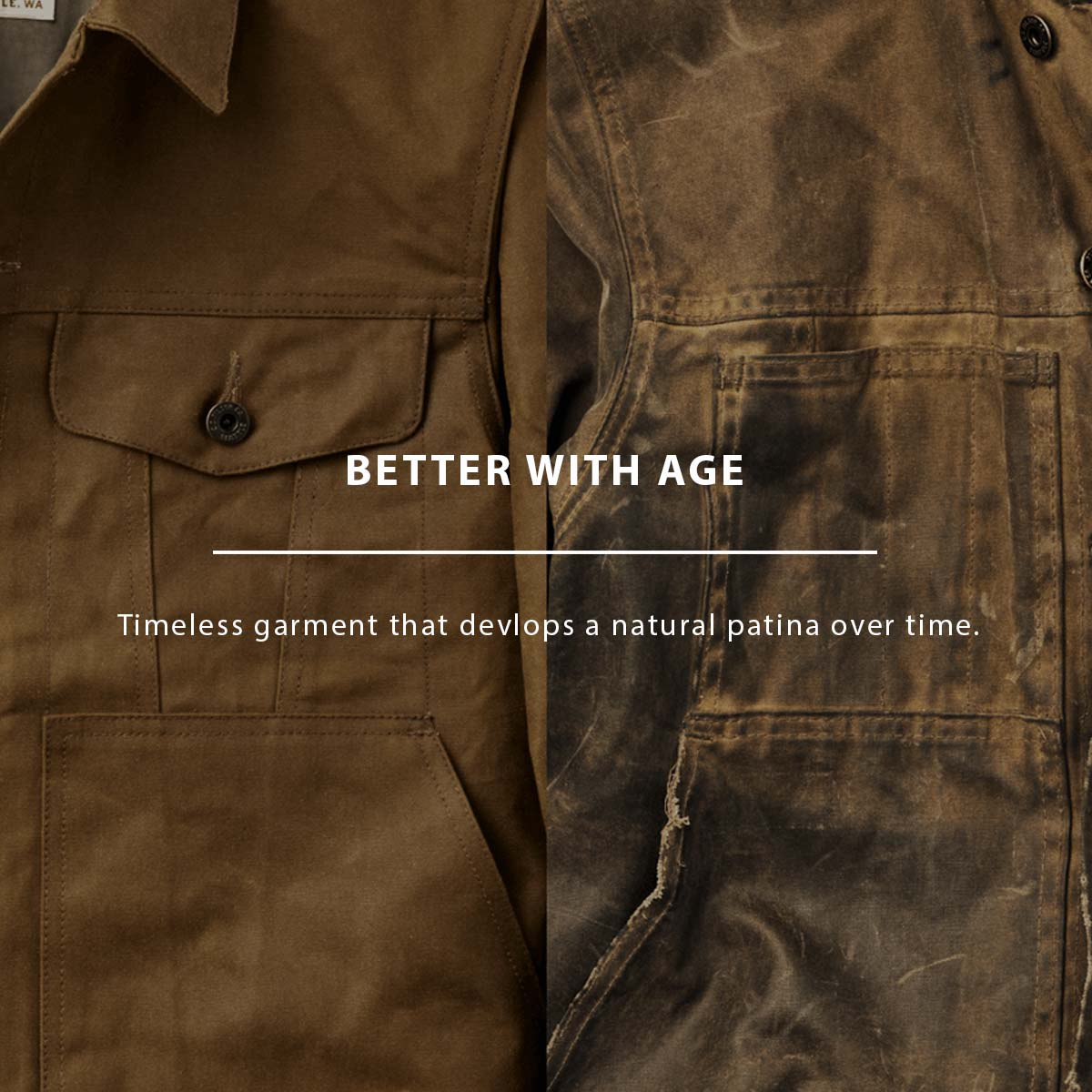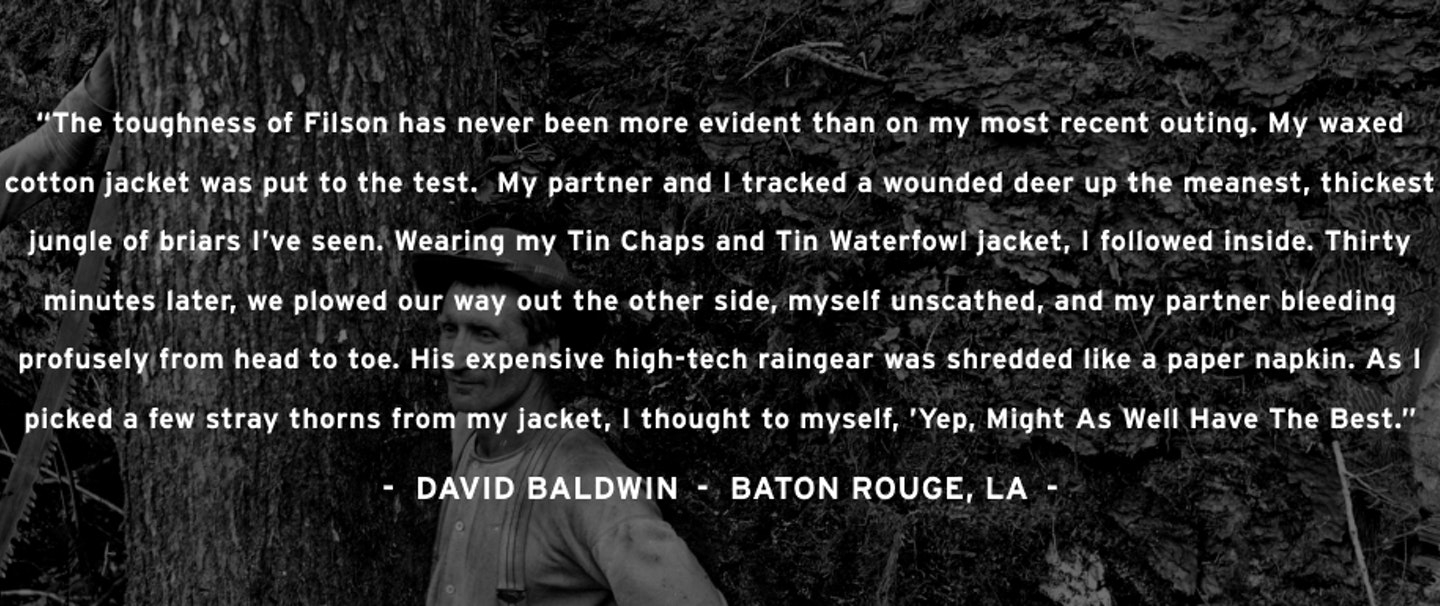 Filson Tin Cloth Field Jacket, order at BeauBags, Authorized International Filson Dealer and your Filson specialist in Europe. Personal & expert advice | Europe's largest collection | Immediately available | Free delivery & return | 60-day return policy.
Filson Tin Cloth Field Jacket is one of the many items of Filson in our large and carefully selected collection. Please check out the complete apparel collection of Filson in our online shop.
FILSON HERITAGE OF QUALITY, guaranteed excellence in outdoor clothing and bags
Brand
Filson
Filson Product code
20232829
Color
Dark Tan
Size guide
XS: 34-36 / cest: 85-92 cm
S: 37-39 / cest: 92-100 cm
M: 40-42 / cest: 100-110 cm
L: 43-45 / cest: 110-115 cm
XL: 46-48 / cest: 115-125 cm
XXL: 49-51 / cest: 125-130 cm
XXXL: 52-54 / cest: 130-135 cm
Material
14-oz. 100% cotton oil finish Tin Cloth + 24-oz. 100% virgin Mackinaw Wool + 8-oz. 100% cotton dry finish Shelter Cloth
Features
>Built with water-resistant Tin Cloth
>Fully lined with durable 8-oz. 100% cotton dry finish Shelter Cloth
>Seamless shoulder design
>Two-way front zipper closure with storm flap
>Drawcord-adjustable waist and hem
>Snap-adjustable cuffs
>Large front pockets and wool-lined hand pockets
>Lined rear pocket for storing wet and muddy gear

Guarantee
Limited Lifetime warranty against material and workmanship defect
Product care
Do not wash or dry clean – brush or wipe clean with a damp rag. Rewax as needed to maintain maximum water resistance. To prevent the transfer of oils, we recommend avoiding prolonged contact between Filson oil finish goods and light-colored fabrics, espec
Made in
Bangladesh