Return to Previous Page
FILSON TIN CLOTH INSULATED WORK VEST DARK TAN
a warm, insulated vest built with tried and true Filson materials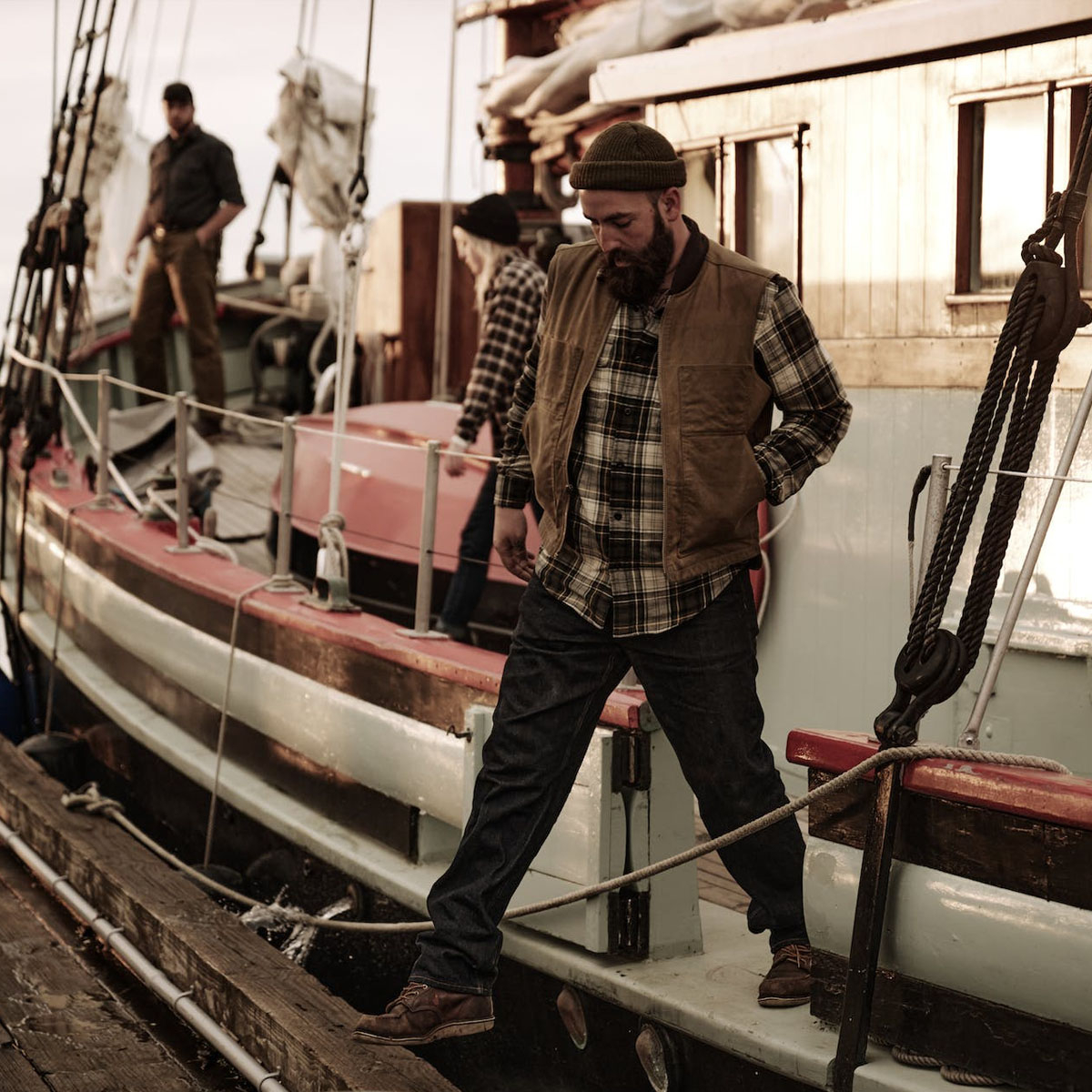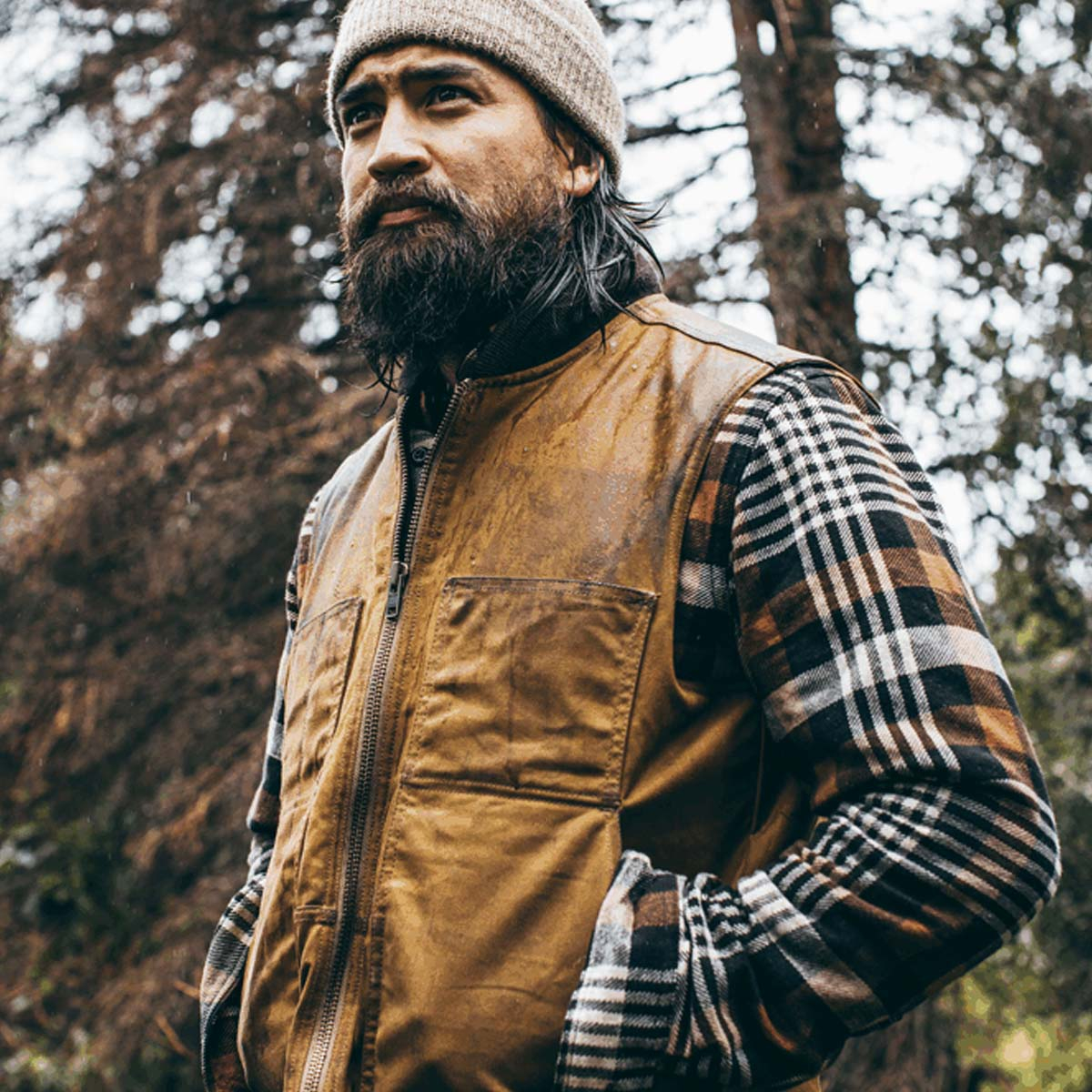 The Filson Tin Cloth Insulated Work Vest Dark Tan combines Filsons legendary waxed cotton and cutting-edge PrimaLoft® insulation for a multi-purpose layer with features from their favorite vests of the last three decades.
The shell is built with oil finish Tin Cloth–with roots that trace back to the rain-soaked Pacific Northwest forests of the 1920s and a proven ability to withstand the punishing conditions encountered by foresters, hunters, and tradesmen. The tightly-woven duck canvas presents a nearly impenetrable barrier to thorns, brush and abrasion, and with its heavily-waxed finish, shrugs off water and mud without flinching.
TIN CLOTH, great protector to all weather influences and wear.
The Filson Tin Cloth Insulated Work Vest is made of the legendary super strong, lightweight, and oil impregnated 14-oz. 'Tin Cloth' canvas. This 'oil finish Tin Cloth' offers the greatest protection against weather influences and wear. Filsons Tin Cloth is a tightly-woven duck canvas from England's British Millerain that's been thoroughly saturated with a paraffin under high pressure and heat. This process forces the wax into the core of the cotton fibers for lasting water resistance. Legendary, super strong, lightweight, and oil impregnated 14-oz., this 'oil finish Tin Cloth' offers the greatest protection against weather influences and wear. Also gives the layer of wax this Filson vest a slightly darker and more used look, fresh out of the package itself.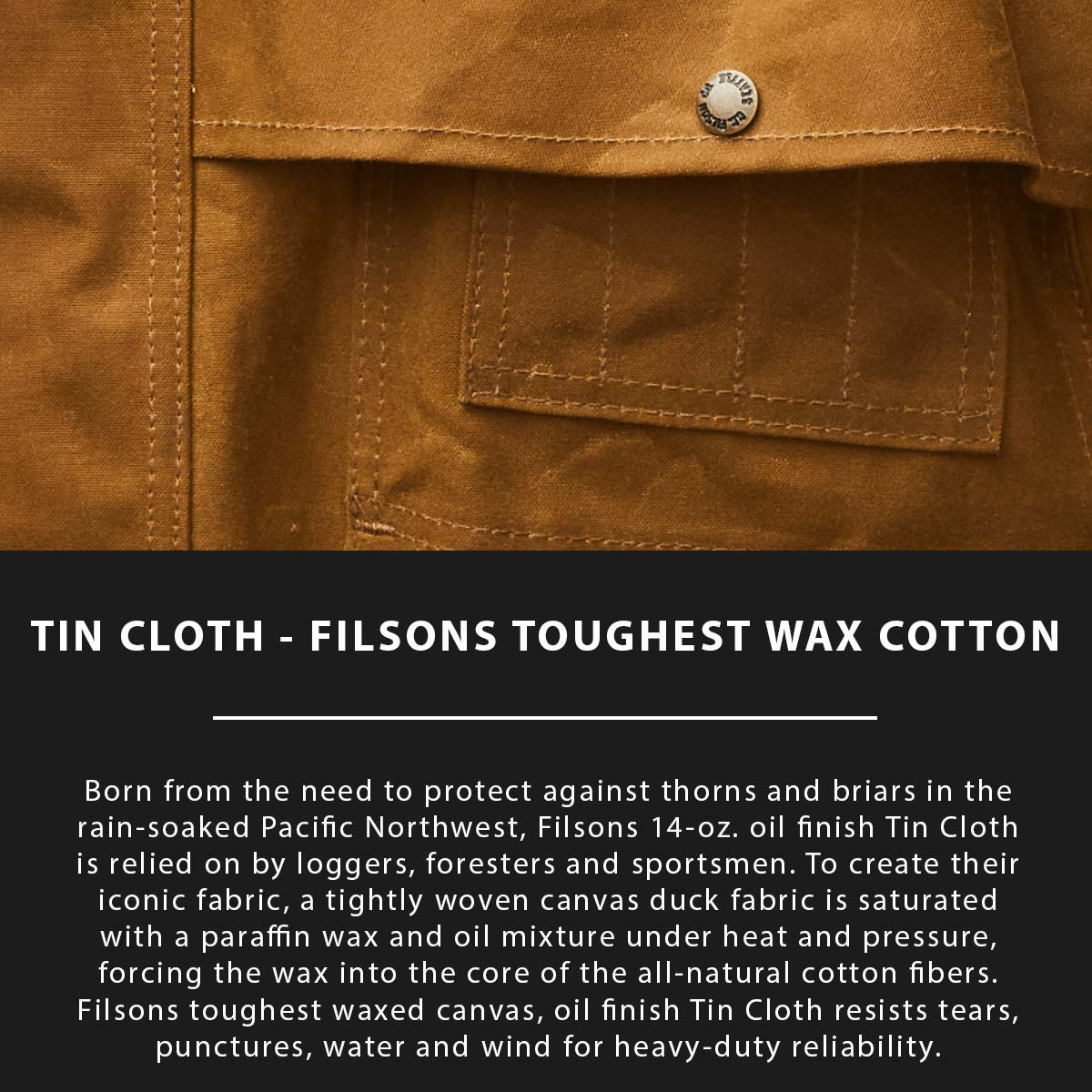 This hardworking vest is lined with Filson signature dry finish Cover Cloth for natural comfort, and its drop-tail hem provides coverage while bending or climbing. The smooth-operating front zipper is made of metal for unfailing reliability. The rib-knit collar is a special wool blend, providing a warm feel that only wool can offer. The pockets are taken from Filsons best-selling wool vest handwarmer pockets plus chest- stow and slotted-utility pockets.
Ultralight PrimaLoft® Gold 60g insulation
Filson Tin Cloth Insulated Work Vests are insulated with PrimaLoft® Gold, which closely mimics the packability and softness of goose down better than any synthetic insulation available. PrimaLoft Gold's most impressive performance attribute, however, is that it retains 98% of its insulating ability when wet. With 60g insulation, this Insulated Work Vest is ideal for active use without overheating, light enough to layer underneath a rain shell, and packs small enough to go with you on any adventure.
For the active outdoor adventurer, versatility is key when choosing your next piece of outerwear. Whether you're scaling a rock-face, biking down a mountain or hiking your favorite trail, no one wants to take their outer layer off when they work up a sweat, only to have to put it back on when they pause to recharge. With PrimaLoft® Gold Insulation, you'll no longer have to play that game.
When you live an active lifestyle, you require more from your gear, and insulation is no exception. PrimaLoft® Gold Insulation is designed to regulate your comfort level during intense activity while offering performance without compromise in a wide range of conditions. PrimaLoft start with their trademark recipe for performance and comfort: millions of air pockets trap body heat for comfort in cold conditions and our permanent water resistant technology means warmth stays, even when wet. Then, PrimaLoft up the technical ante: They've engineered PrimaLoft® Gold Insulation Active with the stability to pair it with highly breathable shell and liner fabrics. This means excess heat and moisture vapor from aerobic activity exits, keeping you in the sweet spot of comfort all day long.
PrimaLoft® Gold Insulation Active provides the added element of 4-way stretch, which allows it to be paired with highly breathable shell and liner fabrics that stretch and move with you. You expect your gear to perform double duty so you can move fast and light with uninhibited range of motion. Combine exceptional breathability, 4-way stretch and recovery and water resistant thermal efficiency in PrimaLoft® Gold Insulation Active and you won't need to change your plans or your vest.
For more information about PrimaLoft®; visit this PrimaLoft® page: https://primaloft.com/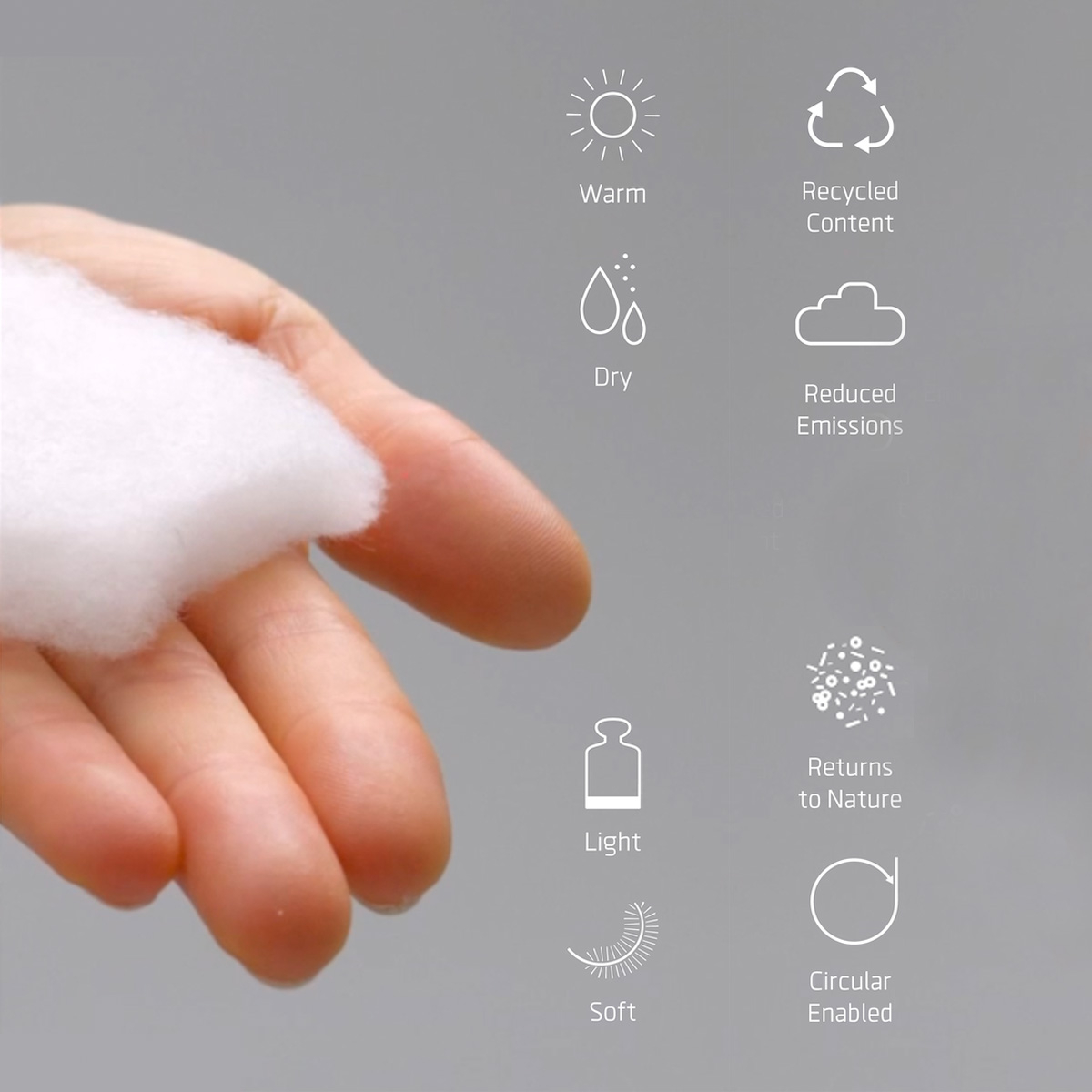 Tin Cloth Insulated Work Vest—made with the best materials, built for work, and just as functional in the field as it is on the jobsite.
HIGH QUALITY MATERIALS
Filson makes bags and clothes since 1897. They know exactly what they do at Filson. Filson transforms exceptionally abrasion-resistant canvas to a comfortable vest, built for the wilderness, perfect to protect you in any weather.
FILSON TIN CLOTH INSULATED WORK VEST FIT: Relaxed fit allows room for midweight layers underneath.
Filson Fit General: All Filson sizes are US sizes which can be larger for a European stature, so we recommend sizing down. Some people choose to wear Filson clothing slimmer, more fashionable, others prefer a wider fit for easy movement, for example during physical work. If you order your own size then the fit is generous. If you prefer a slimmer silhouette, order one size smaller.
On our special FILSON FIT GUIDE page, you will find all sizes: chest, waist, hip, neck and sleeve length.
CARE
Do not wash or dry clean – brush or wipe clean with a damp rag. Rewax as needed to maintain maximum water resistance. To prevent the transfer of oils, we recommend avoiding prolonged contact between Filson oil finish goods and light-colored fabrics, especially in warm weather.
FILSON GUARANTEE
Filson guarantees every item made by Filson. No more, no less. Filson believes in their products and stand by the materials, quality, and workmanship for the lifetime of the product. The product lifetime specifically refers to the time at which, through normal use, the product can no longer function in its intended purpose. Filson Guarantee covers: * Failure of materials * Failure of workmanship and craftsmanship * Manufacturer defects * Every item for the lifetime of the product. The life of the product, the normal wear and tear refers specifically to the time when the product can no longer function in its intended purpose due to normal use. The warranty does not cover damage caused by neglect, improper maintenance, accidents or normal wear and tear.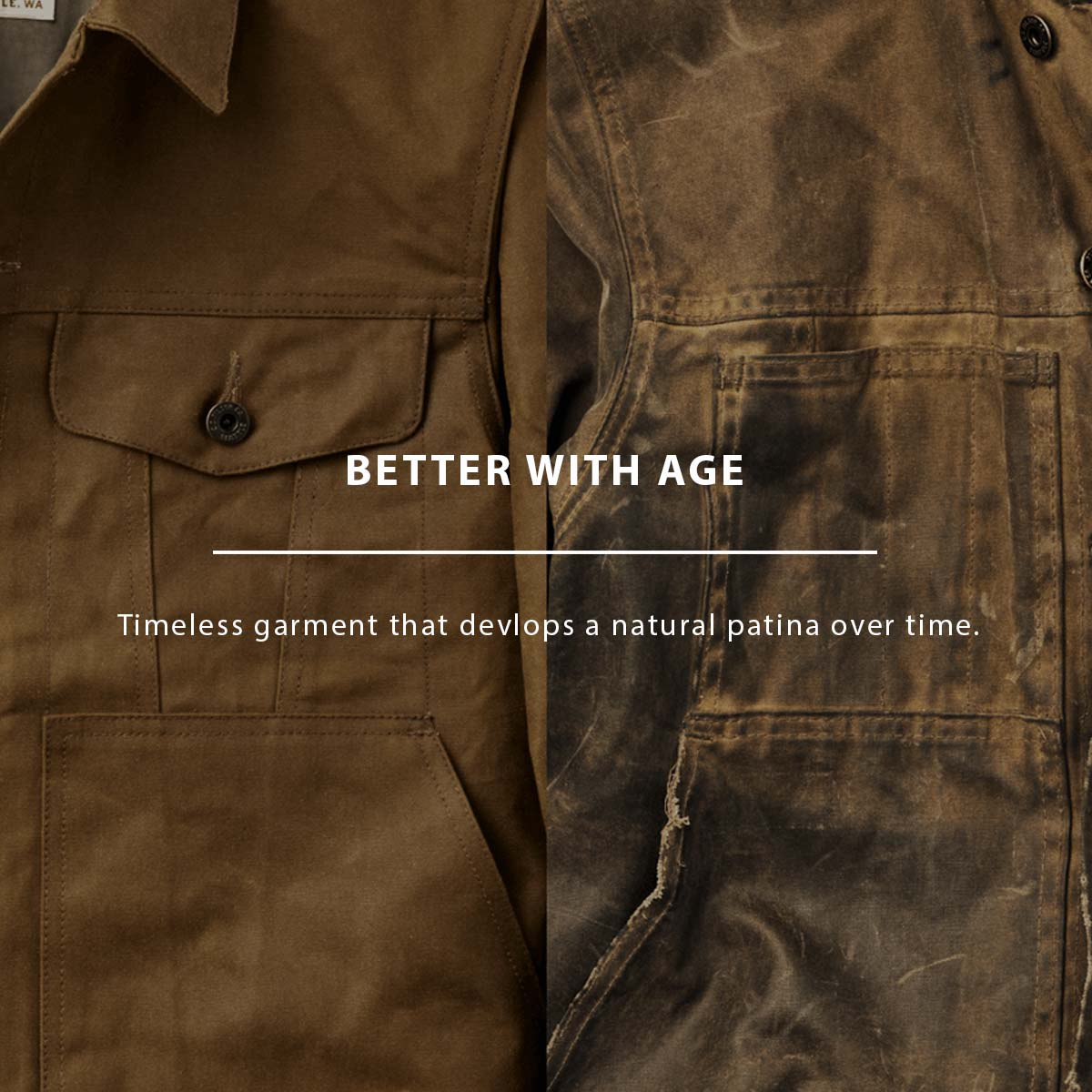 Filson Tin Cloth Insulated Work Vest Dark Tan, order at BeauBags, Authorized International Filson Dealer and your Filson specialist in Europe. Personal & expert advice | Europe's largest collection | Immediately available | Free delivery & return | 60-day return policy.
Filson Tin Cloth Insulated Work Vest Dark Tan is one of the many items of Filson in our large and carefully selected collection. Please check out the complete vest collection of Filson in our online shop.
FILSON HERITAGE OF QUALITY, guaranteed excellence in outdoor clothing and bags
Brand
Filson
Filson Product code
20172090
Color
Dark Tan
Size guide
XS: 34-36 / cest: 85-92 cm
S: 37-39 / cest: 92-100 cm
M: 40-42 / cest: 100-110 cm
L: 43-45 / cest: 110-115 cm
XL: 46-48 / cest: 115-125 cm
XXL: 49-51 / cest: 125-130 cm
XXXL: 52-54 / cest: 130-135 cm
Material
14-oz. 100% cotton oil finish Tin Cloth + 60g Primaloft® Gold + 6-oz. dry finish Cover Cloth + 8-oz. 100% cotton flannel + 75% wool/25% nylon rib knit
Features
>Made with tough, water-resistant oil finish Tin Cloth
>Insulated with lightweight PrimaLoft® Gold
>Zippered front closure
>Wool-blend rib-knit collar
>Flannel-lined hand pockets
>Chest stow and slotted-utility pockets
Guarantee
Limited Lifetime warranty against material and workmanship defect
Product care
Do not wash or dry clean – brush or wipe clean with a damp rag. Rewax as needed to maintain maximum water resistance. To prevent the transfer of oils, we recommend avoiding prolonged contact between Filson oil finish goods and light-colored fabrics, espec
Made in
Bangladesh