Return to Previous Page
FILSON FOUL WEATHER JACKET HARBOR BLUE
rugged weather resistant jacket for rainy weather use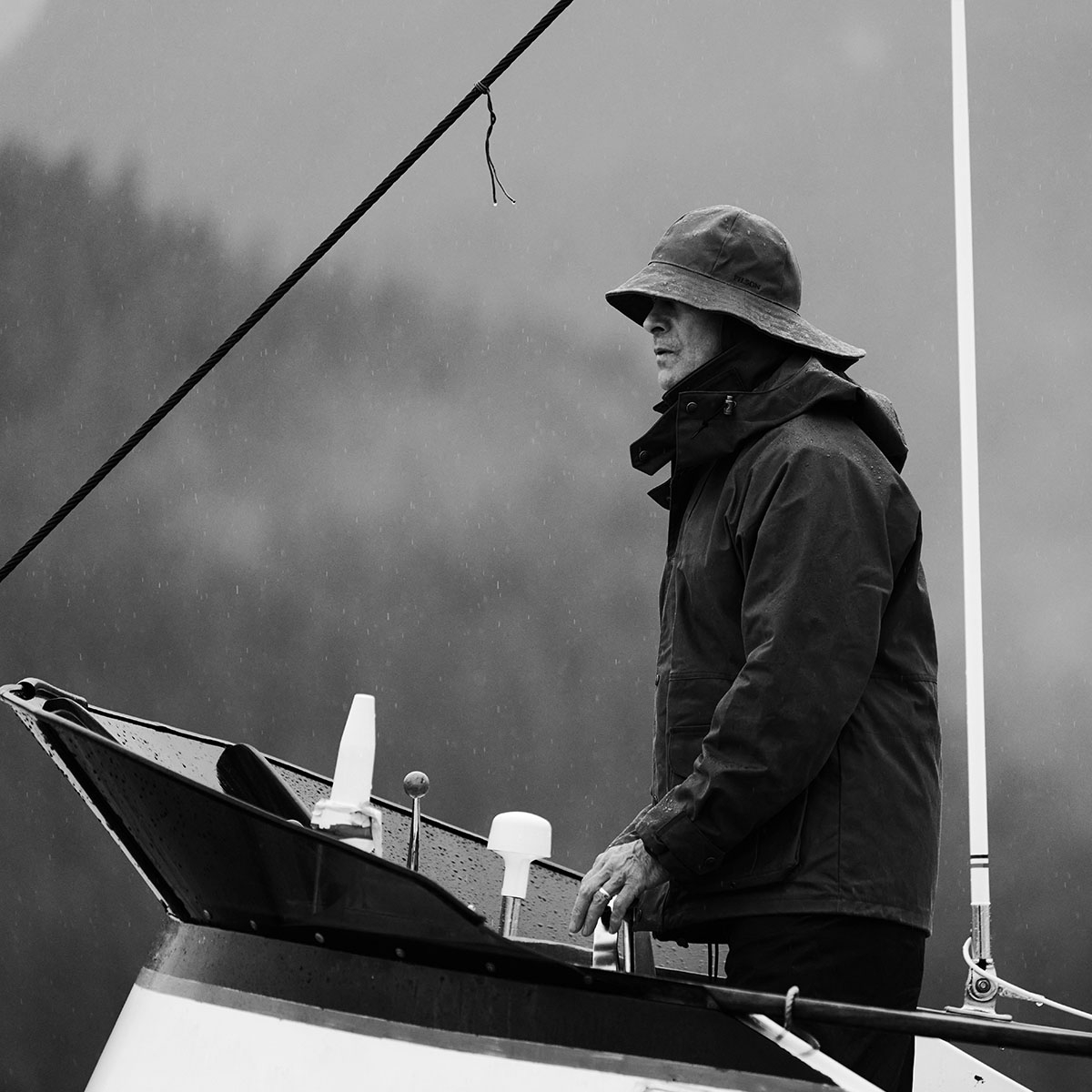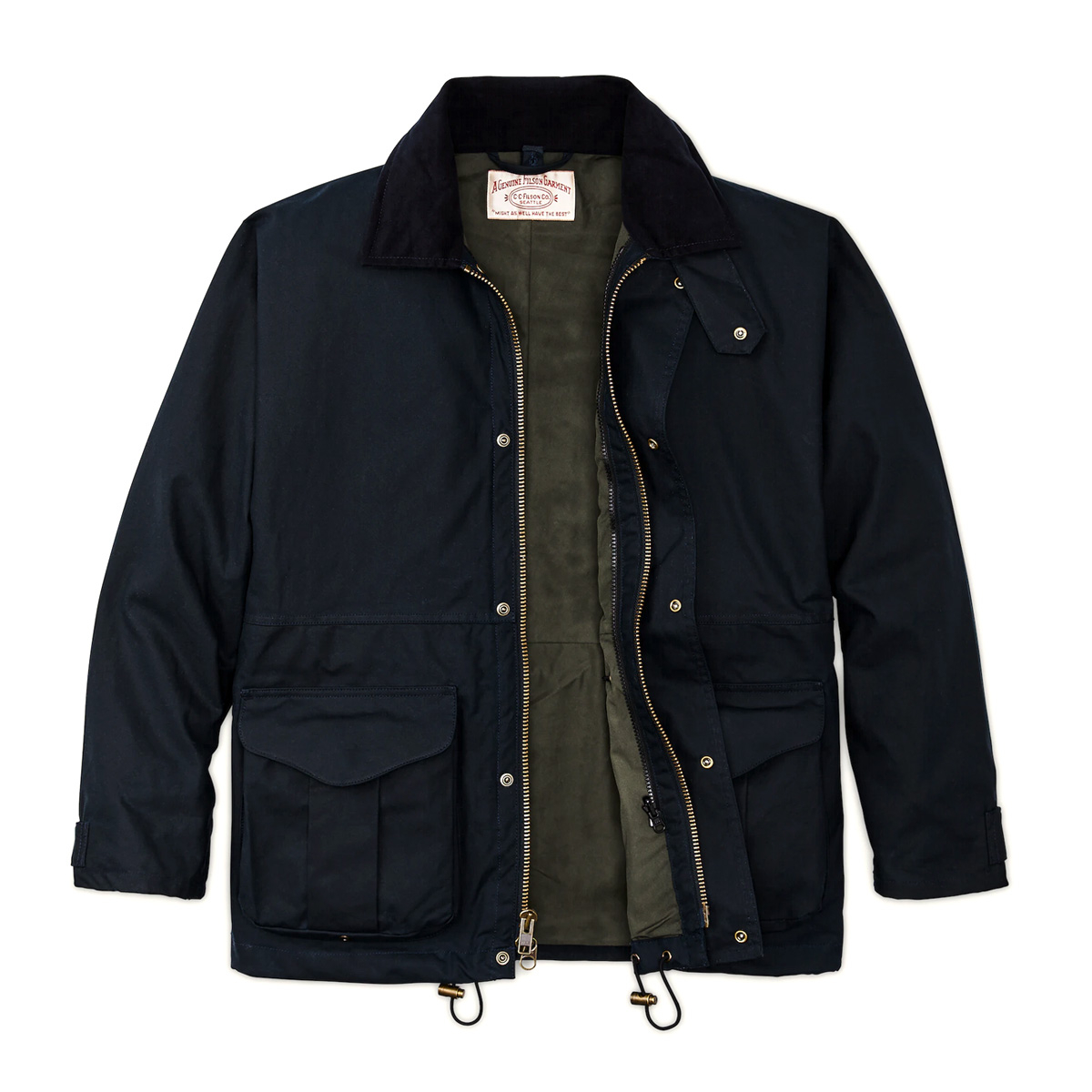 The Filson Foul Weather Jacket Harbor Blue is a dependable staple pulled from the archives and improved with an updated fit and sturdier fabric. This classic waxed-cotton raincoat is built with one-piece construction over the shoulders to eliminate seams that can be vulnerable to water entry. It's more challenging to make a jacket this way, but the improved water resistance is well worth it.
For this version, Filson used their signature oil finish Shelter Cloth, a midweight waxed canvas that takes its name from the fabric used for vintage military tents. The tightly woven fabric is fully saturated with liquefied wax by England's historic British Millerain for water resistance. This time-honored process dates back hundreds of years to the oiled sailcloth used by 15th-century mariners.
FEATURES
A dry finish Cover Cloth lining adds a layer of protection between you and the waxed cotton shell. The two-way front zipper is shielded by a snap-close storm flap to keep out wind and water. Sueded-cotton Moleskin from England's Brisbane Moss lines the collar and the outer surface inside the hand pockets. The sleeve cuffs are snap-tab adjustable and feature an inner rib-knit cuff to seal out the cold. The waist and hem feature drawcord adjustability, as does the included detachable hood. For cold-weather use, an interior zipper makes this versatile jacket compatible with Filson zip-in liners like the Filson Mackinaw Wool Vest Liner.
HIGH QUALITY MATERIALS
Filson makes bags and clothes since 1897. They know exactly what they do at Filson. Filson transforms exceptionally abrasion-resistant canvas to a comfortable jacket, built for the wilderness, perfect to protect you in any weather.
FILSON 11-OZ. OIL FINISH SHELTER CLOTH
Built with water-resistant 11-oz. oil finish Shelter Cloth, a midweight fabric, but most would consider it heavyweight. This tightly woven waxed cotton is named Shelter Cloth because it's virtually identical to the tent fabric used by military troops in the mid-1900s. It requires no break-in period and is comfortable from the first day. Saturated with a paraffin wax and oil mixture under high heat, oil finish Shelter Cloth resists abrasion while repelling wind and water. The jacket is lined with unwaxed, dry finish Cover Cloth, for an additional layer of comfort between you and the weather.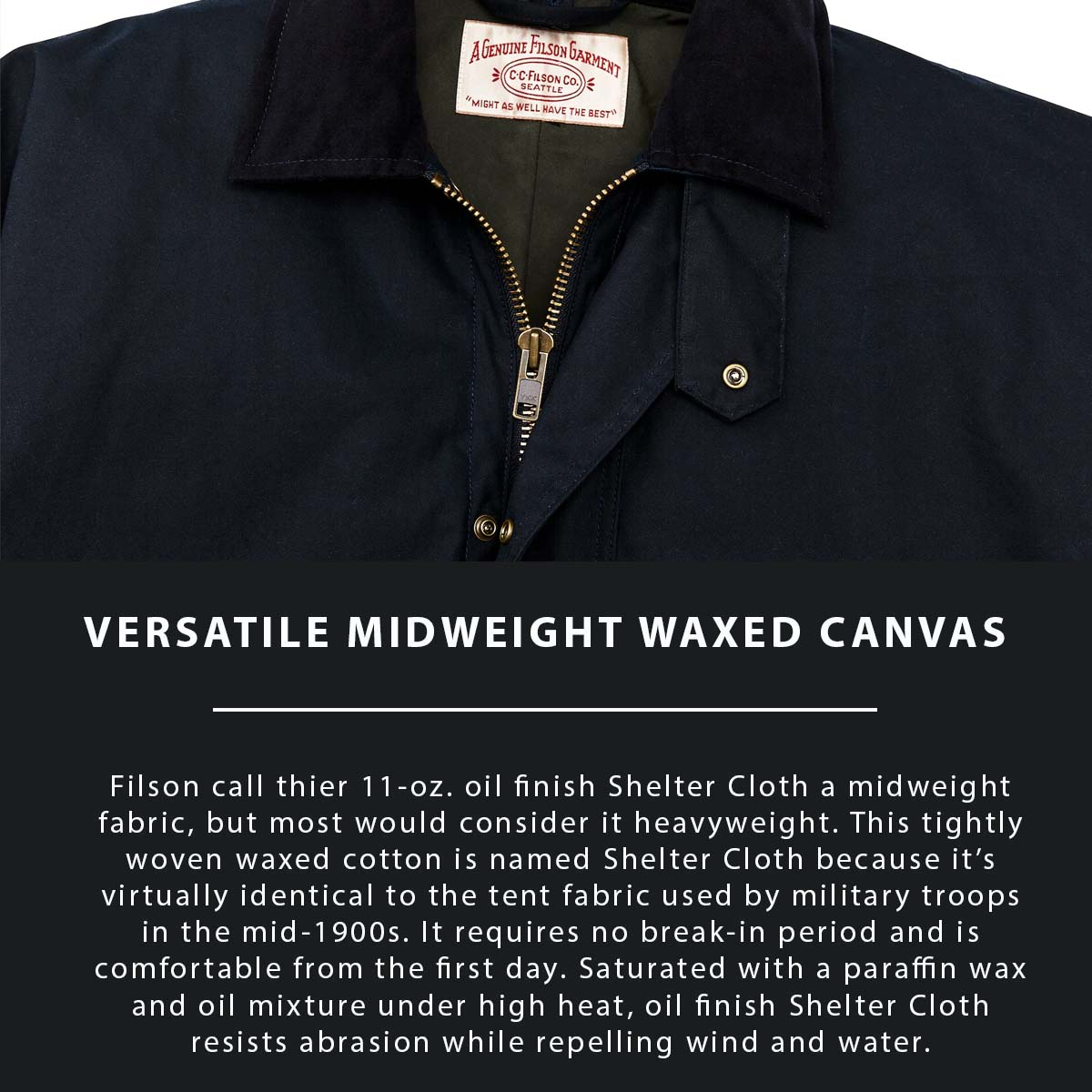 FOUL WEATHER JACKET FIT: Relaxed fit allows room for midweight layers underneath.
Filson Fit General: All Filson sizes are US sizes which can be larger for a European stature, so we recommend sizing down. Some people choose to wear Filson clothing slimmer, more fashionable, others prefer a wider fit for easy movement, for example during physical work. If you order your own size then the fit is generous. If you prefer a slimmer silhouette, order one or two sizes smaller.
On our special FILSON FIT GUIDE page, you will find all sizes: chest, waist, hip, neck and sleeve length.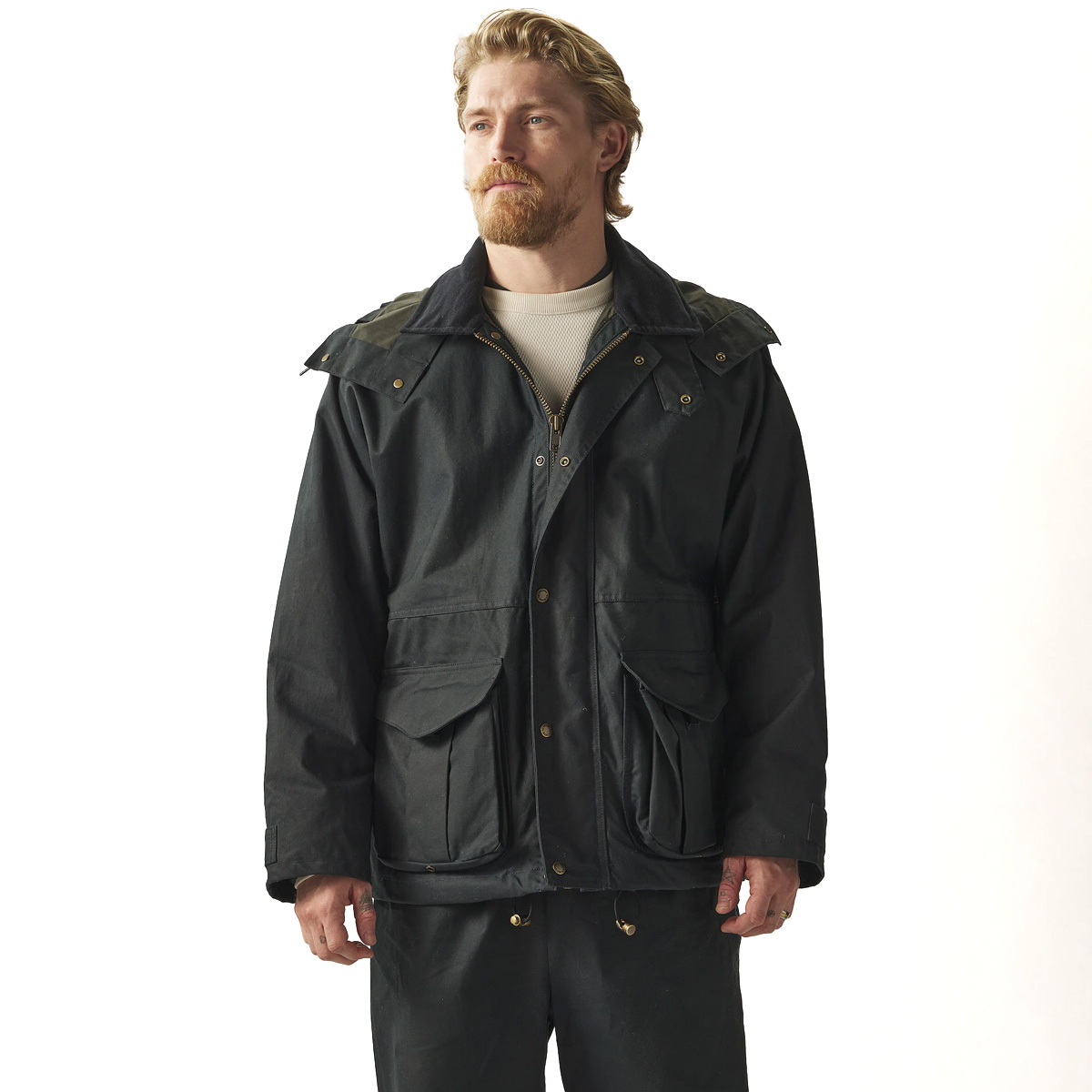 Model is 185 cm, 84 kg wearing a size medium
CARE
Do not wash or dry clean – brush or wipe clean with a damp rag. Rewax as needed to maintain maximum water resistance. To prevent the transfer of oils, we recommend avoiding prolonged contact between Filson oil finish goods and light-colored fabrics, especially in warm weather.
FILSON GUARANTEE
Filson guarantees every item made by Filson. No more, no less. Filson believes in their products and stand by the materials, quality, and workmanship for the lifetime of the product. The product lifetime specifically refers to the time at which, through normal use, the product can no longer function in its intended purpose. Filson Guarantee covers: * Failure of materials * Failure of workmanship and craftsmanship * Manufacturer defects * Every item for the lifetime of the product. The life of the product, the normal wear and tear refers specifically to the time when the product can no longer function in its intended purpose due to normal use. The warranty does not cover damage caused by neglect, improper maintenance, accidents or normal wear and tear.
Filson Foul Weather Jacket Harbor Blue, order at BeauBags, Authorized International Filson Dealer and your Filson specialist in Europe. Personal & expert advice | Europe's largest collection | Immediately available | Free delivery & return | 60-day return policy.
The Filson Foul Weather Jacket is one of the many items of Filson in our large and carefully selected collection. Please check out the complete jacket collection of Filson in our online shop.
FILSON HERITAGE OF QUALITY, guaranteed excellence in outdoor clothing and bags
Brand
Filson
Filson Product code
20232887
Color
Harbor Blue
Size guide
S: 37-39 / cest: 92-100 cm
M: 40-42 / cest: 100-110 cm
L: 43-45 / cest: 110-115 cm
XL: 46-48 / cest: 115-125 cm

Material
14-oz. 100% cotton oil finish Tin Cloth + 24-oz. 100% virgin Mackinaw Wool + 8-oz. 100% cotton dry finish Shelter Cloth
Features
>Built with oil finish Shelter Cloth and lined with dry finish Cover Cloth
>Seamless shoulder design
>Two-way front zipper closure with storm flap
>Drawcord-adjustable waist, hem, and detachable hood
>Interior rib-knit cuffs
>Interior zipper accepts Filson zip-in liners, sold separately
Guarantee
Limited Lifetime warranty against material and workmanship defect
Product care
Do not wash or dry clean – brush or wipe clean with a damp rag. Rewax as needed to maintain maximum water resistance. To prevent the transfer of oils, we recommend avoiding prolonged contact between Filson oil finish goods and light-colored fabrics, espec
Made in
Vietnam