Return to Previous Page
FILSON MACKINAW WOOL DOUBLE COAT DARK NAVY
to keep you warm even when it's soaked with rain or snow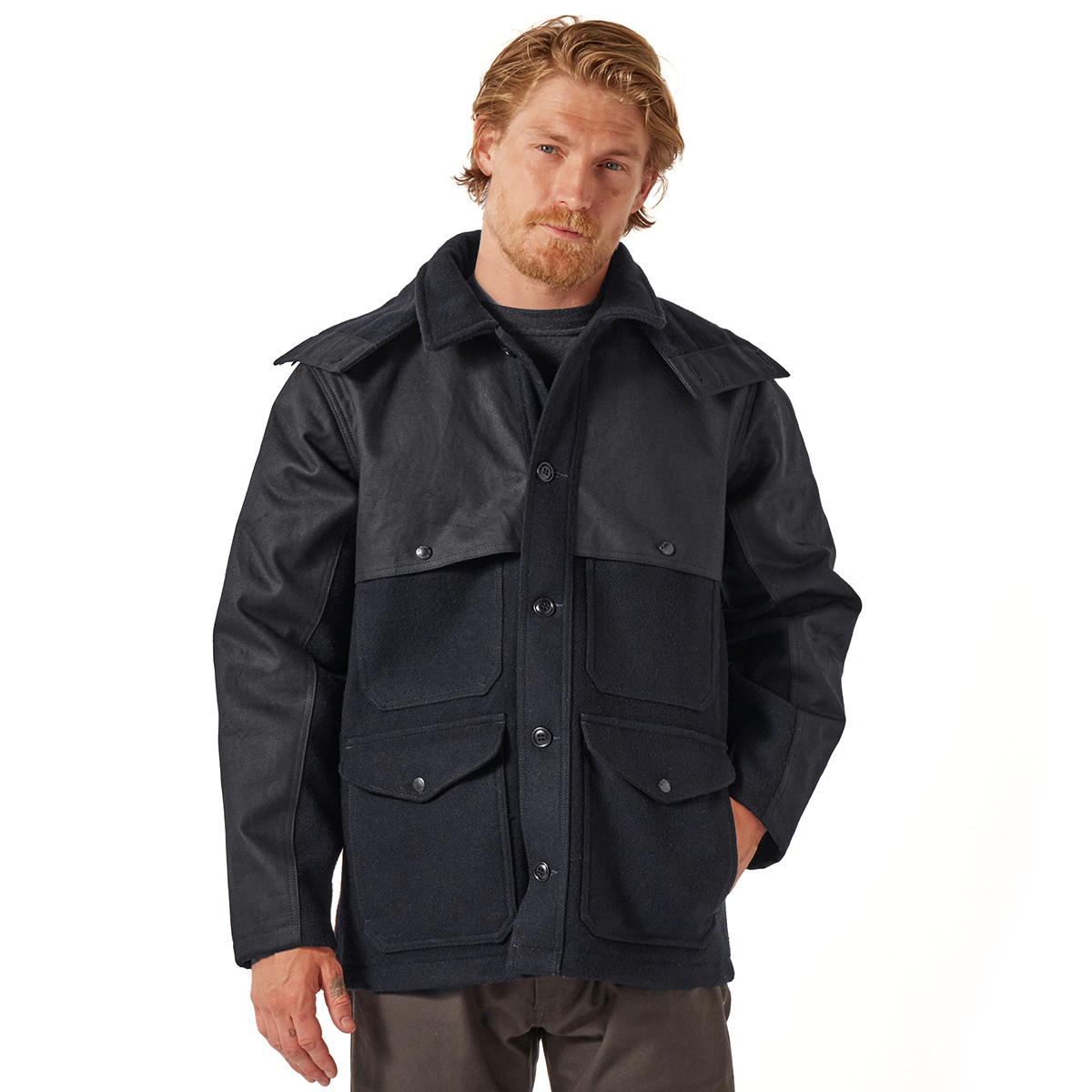 The Filson Mackinaw Wool Double Coat Dark Navy is made with Filson's iconic Mackinaw Wool and reinforced with a layer of waxed cotton Tin Cloth over the shoulders and arms. This combination provides unrivalled protection against rain and snow while maintaining outstanding breathability through the torso.
This tough jacket is a true tool for every outdoorsman.
The foundation of the Double Coat is the Filson Mackinaw Wool Cruiser, patented in 1914 and engineered for Pacific Northwest foresters. The full-width back pocket was originally designed as map pocket for timber cruisers, and works just as well today for bulky items such as gloves and caps. The tightly woven 24-oz. Mackinaw Wool twill is highly durable, wind-resistant, and warm. This 100% wool is comfortable in a wider range of weather conditions than any other material.
The extra layer of Tin Cloth gives this tough coat an appearance of strength and ruggedness. Filson Tin Cloth is evolved from the waxed canvas used to make Filson jackets and pants for loggers and hunters as early as 1920. With an exceptionally tight weave and special treatments for durability and water resistance, Tin Cloth is legendary among those who make a living in rugged conditions. Sourced from Britain's oldest and finest mills, Filson Tin Cloth is often imitated, and never equaled for longevity and weather resistance.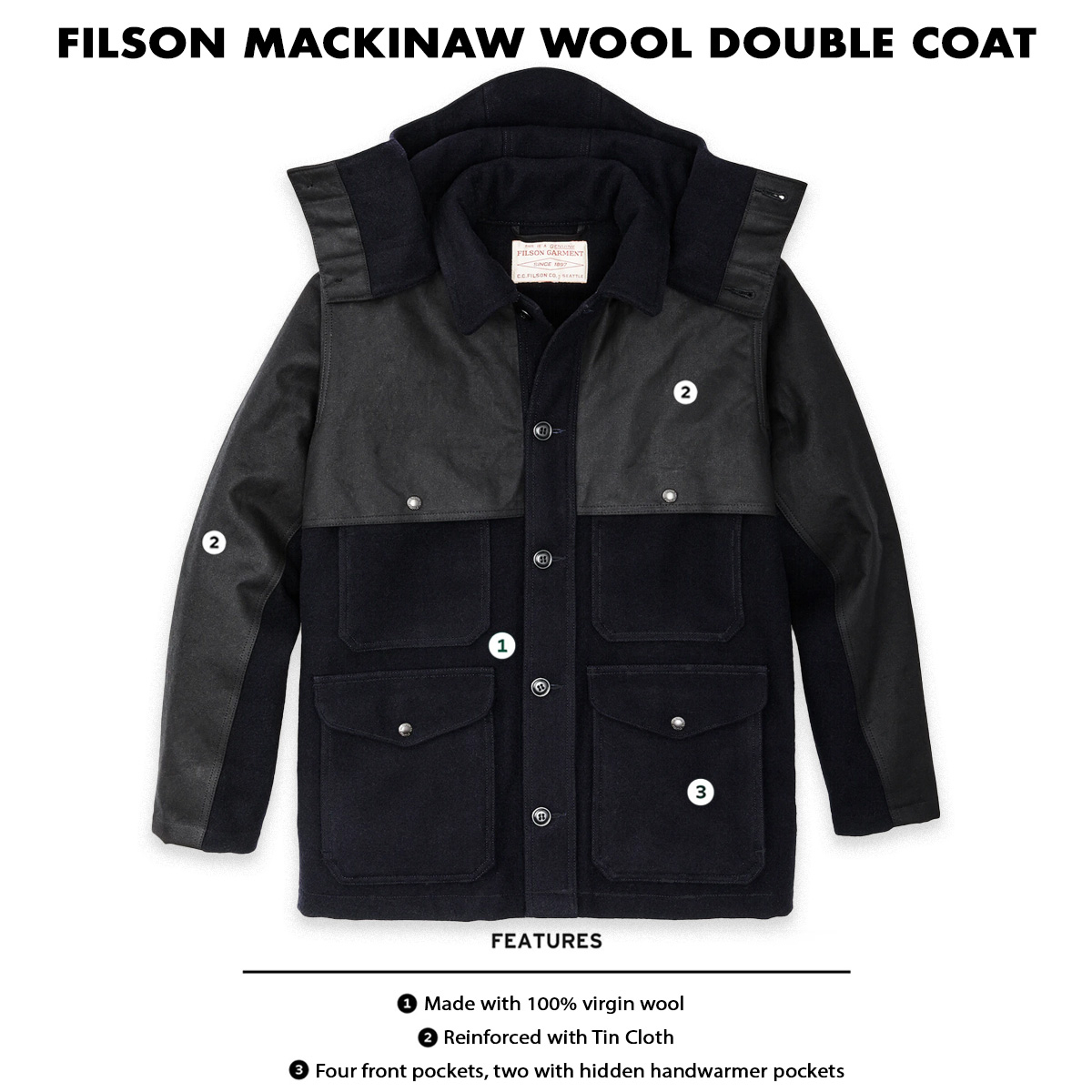 MACKINAW WOOL, world's best wool for all-natural comfort in the coldest weather
Filson Mackinaw Wool takes its name from the historic coats developed in the Mackinaw region of Michigan in the early 1800s. The fabric is a densely-woven twill constructed from the fleece of sheep raised in regions of the Pacific Northwest that encounter a wide range of weather throughout the year. The dramatic temperature swings force the sheep to develop a fleece that can protect them year-round in hot and cold weather, which is precisely why it does such a marvelous job of protecting us from frigid conditions. The uncommonly tight weave creates a barrier to wind and water while maintaining outstanding breathability.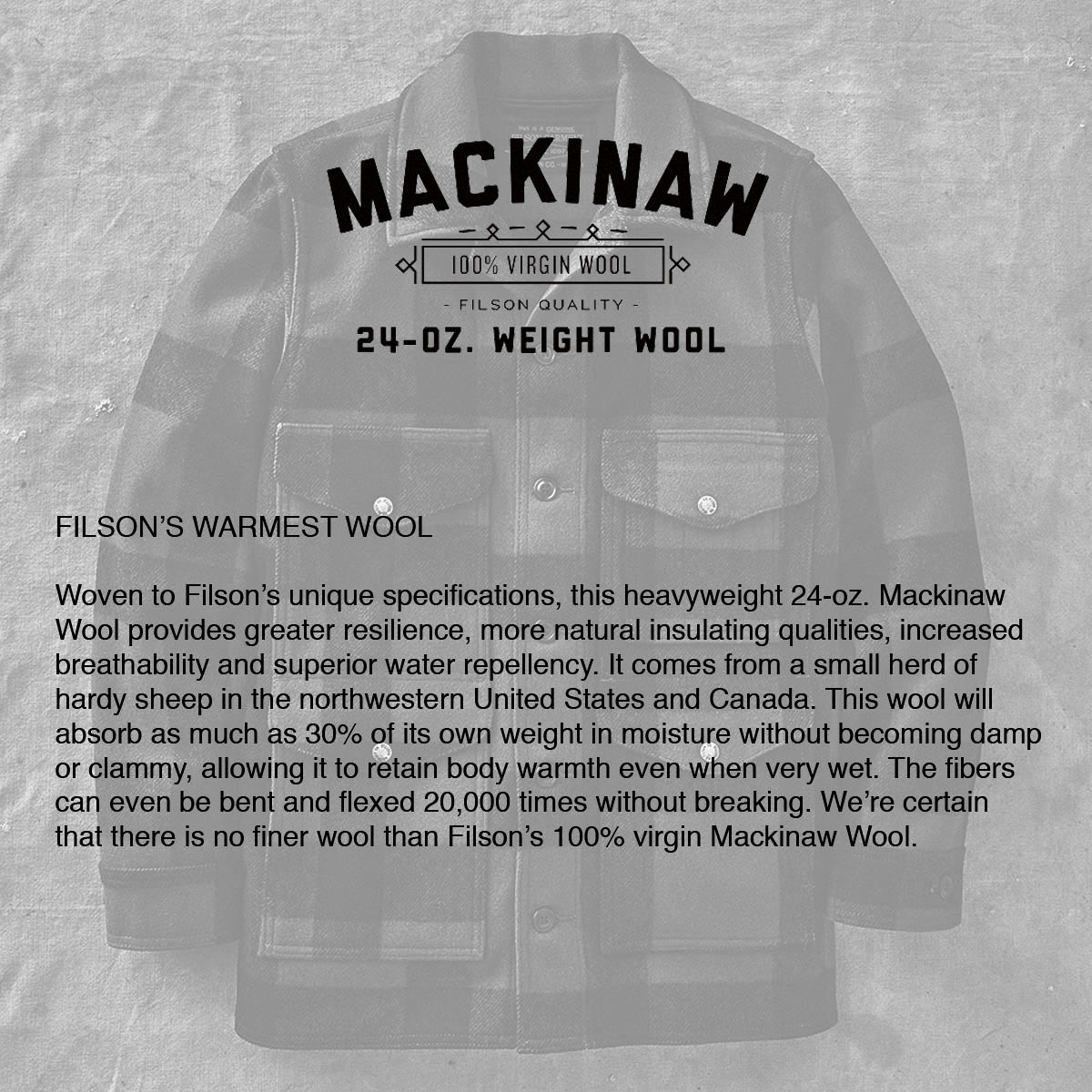 TIN CLOTH, great protector to all weather influences and wear
The reinforced parts are made from 'Tin Cloth', the legendary super strong, lightweight, and oil impregnated 14-oz. canvas. This 'oil finish Tin Cloth' offers the greatest protection against weather influences and wear. Filsons Tin Cloth is a tightly-woven duck canvas from England's British Millerain that's been thoroughly saturated with a paraffin wax formulation for maximum water repellency. Legendary, super strong, lightweight, and oil impregnated 14-oz., this 'oil finish Tin Cloth' offers the greatest protection against weather influences and wear. Also gives the layer of wax this Filson jacket a slightly darker and more used look, fresh out of the package itself.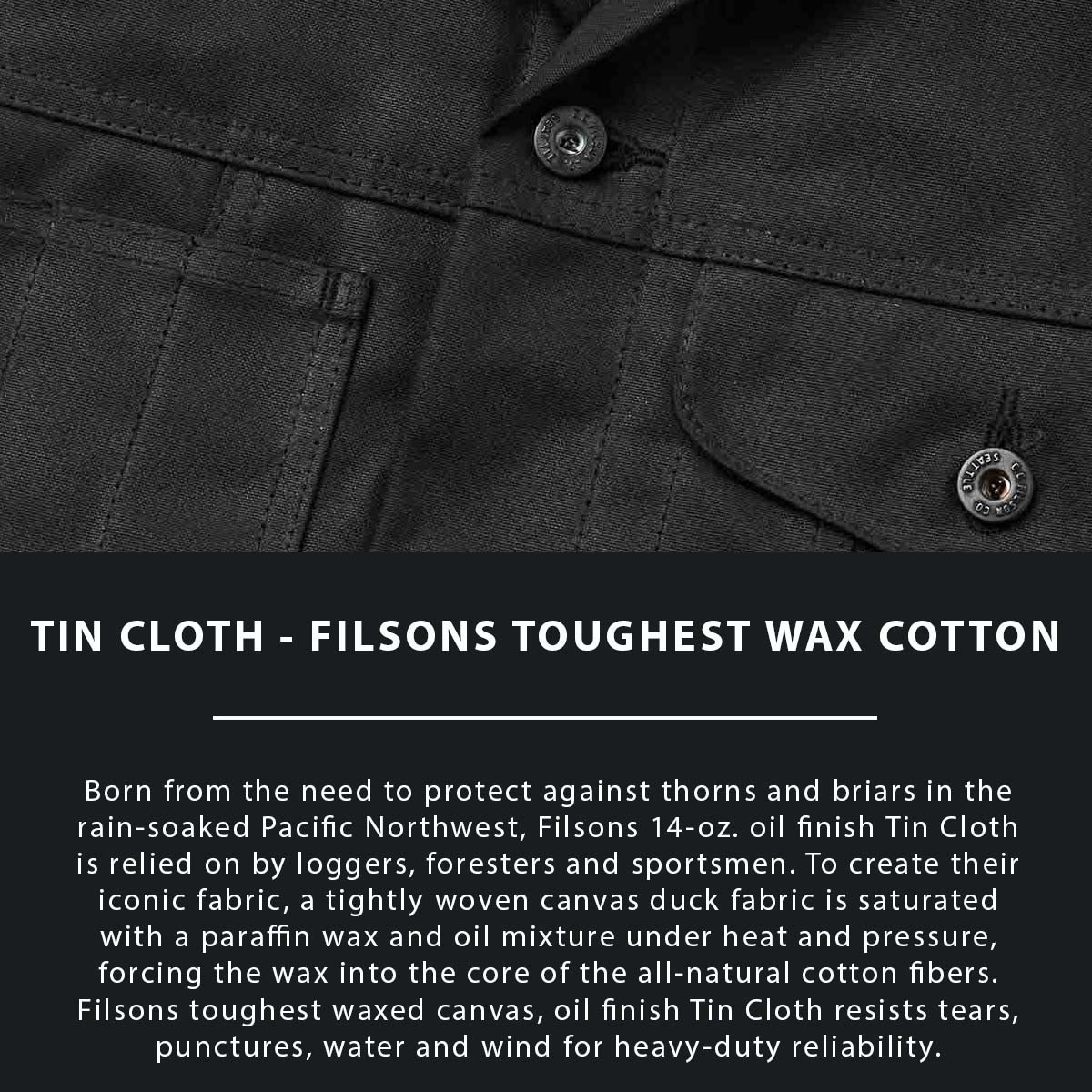 FILSON MACKINAW WOOL DOUBLE COAT FIT: Relaxed fit allows room for midweight layers underneath.
Filson Fit General: All Filson sizes are US sizes which can be larger for a European stature, so we recommend sizing down. Some people choose to wear Filson clothing slimmer, more fashionable, others prefer a wider fit for easy movement, for example during physical work. If you order your own size then the fit is generous. If you prefer a slimmer silhouette, order one or two sizes smaller.
On our special FILSON FIT GUIDE page, you will find all sizes: chest, waist, hip, neck and sleeve length.
MADE IN USA, legendary and indestructible.
All Filson Mackinaw Wool Double Coats are handmade in Seattle, USA.
HIGH QUALITY MATERIALS
Filson makes bags and clothes since 1897. They know exactly what they do at Filson. Filson transforms exceptionally warm 100% virgin Mackinaw Wool to a comfortable warm coat, perfect to protect your body in any weather.
FILSON GUARANTEE
Filson guarantees every item made by Filson. No more, no less. Filson believes in their products and stand by the materials, quality, and workmanship for the lifetime of the product. The product lifetime specifically refers to the time at which, through normal use, the product can no longer function in its intended purpose. Filson Guarantee covers: * Failure of materials * Failure of workmanship and craftsmanship * Manufacturer defects * Every item for the lifetime of the product. The life of the product, the normal wear and tear refers specifically to the time when the product can no longer function in its intended purpose due to normal use. The warranty does not cover damage caused by neglect, improper maintenance, accidents or normal wear and tear.
Filson Mackinaw Wool Double Coat, order at BeauBags, Authorized International Filson Dealer and your Filson specialist in Europe. Personal & expert advice | Europe's largest collection | Immediately available | Free delivery & return | 60-day return policy.
Filson Mackinaw Wool Double Coat is one of the many items of Filson in our large and carefully selected collection. Please check out the complete apparel collection of Filson in our online shop.
FILSON HERITAGE OF QUALITY, guaranteed excellence in outdoor clothing and bags
Absolutely wonderful coat


Review by

Stefan

Absolutely wonderful coat with all the ruggedness I need training my dogs. Extremely warm coat so when it's not cold, I wear it open, but in the snow today, it was absolutely amazing!!! (Posted on 22/11/2023)
Write Your Own Review
Brand
Filson
Filson Product code
20263381
Color
Dark Navy
Size guide
XS: 34-36 / cest: 85-92 cm
S: 37-39 / cest: 92-100 cm
M: 40-42 / cest: 100-110 cm
L: 43-45 / cest: 110-115 cm
XL: 46-48 / cest: 115-125 cm
XXL: 49-51 / cest: 125-130 cm
XXXL: 52-54 / cest: 130-135 cm
Material
24-oz./LY 100% Mackinaw Wool + 14-oz. 100% cotton oil finish Tin Cloth
Features
>Made from 24-oz. 100% wool reinforced with Tin Cloth
>Four front pockets, two with hidden handwarmer pockets
>Full-width pass-through rear pocket
>Removable hood with button-secure throat shield
>Button-close front
>Snap-adjustable cuffs
Guarantee
Limited Lifetime warranty against material and workmanship defect
Product care
Dry clean
Made in
United States